This open-faced chicken bruschetta sandwich is a simple, quick option for a busy weeknight. Leftovers also make for a great lunch the next day!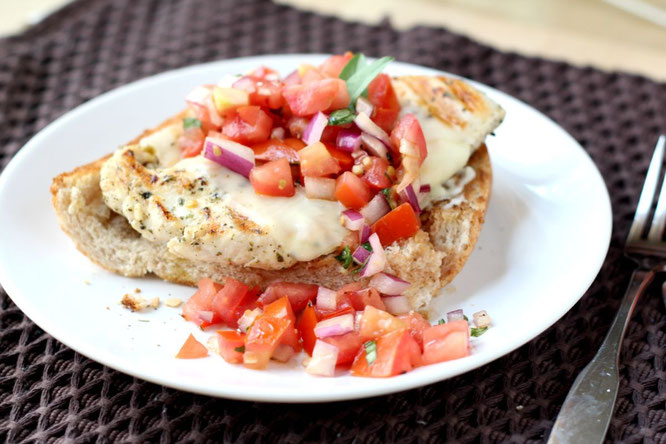 I love sandwiches.  I could eat them for every meal of the day and not get tired of them.  In fact, I have to make an effort to eat "normal" food that isn't something stuffed between two pieces of bread or in a wrap, especially at restaurants because my eyes always go straight toward the "sandwiches" section of the menu.  But hey, if you love something, why not embrace it, right?  So this post is yet another sandwich!  I've posted several sandwiches on the blog, and if you're a fellow sandwich-lover, you'll definitely want to check these out:
Lately I've been really into "open-faced" sandwiches, which are basically sandwiches that only have bread on the bottom.  I recently completed a 30-day protein challenge that encourages eating consistent amounts of protein throughout the day rather than eating small amounts at breakfast and lunch and then a whole bunch of protein at dinner time.  Research shows that spreading protein intake out throughout the day actually helps control hunger and consume fewer calories overall in the day.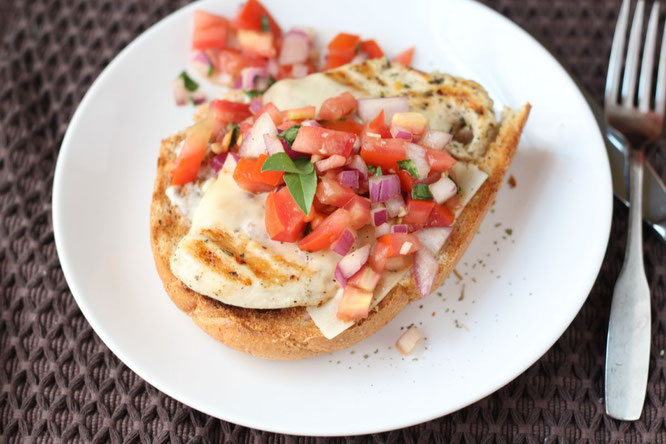 The interesting thing is that when I did this challenge, I learned that my love of sandwiches wasn't all about the filling...it was about the bread.  When looking at the overall nutrition of my normal, everyday sandwiches, I found that some of them weren't very full, and sometimes were even more bread than filling.  So I decided to make a change - I wanted to focus more on making sure to include plenty of protein and nutrient-dense veggies in my sandwiches and taking the bread back a notch - but of course still keeping one slice!  And it turns out, open-faced sandwiches are amazing! 
There's so much room for more flavor and beautiful color when focusing on sandwich fillings, and eating a sandwich with a fork and knife rather than picking it up really helps slow down meal time, which means it's easier to feel full on a smaller portion of food.  Now don't get me wrong, I still love my regular sandwiches, but this is a definitely a tasty change of pace!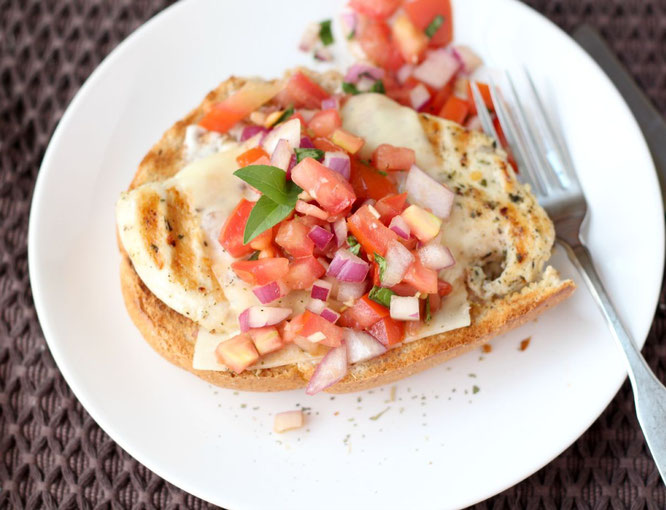 There are a lot of great things about this recipe:  It's light, fresh, and flavorful, and it only takes about 20 minutes to make.  The key is multi-tasking on this one.  First, add the seasonings to the chicken and preheat the oven to toast the bread. While the bread and chicken are cooking, chop the tomato, onion, and basil to make the bruschetta.  Then everything is ready to assemble and serve!  It's the perfect weeknight "fast food" everyone will love!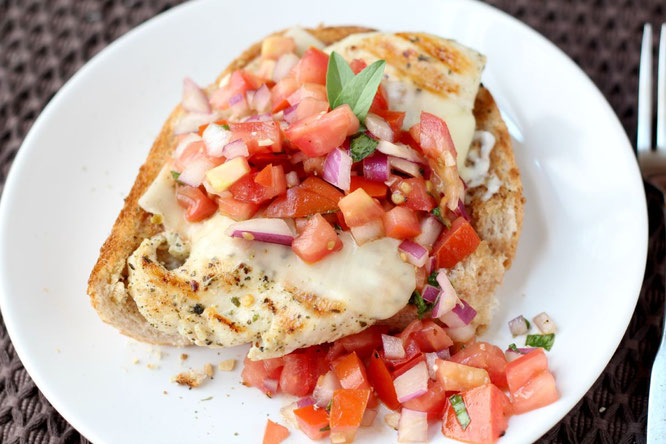 Open-Faced Chicken Bruschetta Sandwich
Makes 4 servings
For the chicken:
1 pound chicken breast cutlets
salt and pepper to taste

1 tablespoon canola oil

2 teaspoons Italian seasoning

For the bruschetta

3 roma tomatoes, chopped

1/3 red onion, chopped

1 clove garlic, chopped

2 teaspoons olive oil

1 teaspoon balsamic vinegar

1/4 cup fresh basil, chopped

For the sandwiches:

 4 slices whole grain bread or 1 whole wheat baguette, sliced

2 teaspoons olive oil

4 slices mozzarella cheese

Directions:
Preheat oven to 425 degrees.  Place the bread on a baking sheet and drizzle with the oil.  Place the bread in the oven and cook for 3-5 minutes, or to desired crispness. 
For the chicken, add the oil and seasonings and set aside.  Heat a grill, Panini press, or skillet over medium high heat.  Cook for 3-4 minutes per side or until the chicken is cooked through. 
While the chicken and bread are cooking, assemble the bruschetta by combining the tomatoes, onion, garlic, oil, balsamic vinegar, and basil in a bowl.  Mix well. 

To assemble the sandwiches, top each slice of bread with 1-2 chicken cutlets (depending on size), then place a slice of cheese over the chicken.  Just before serving, top each sandwich with the bruschetta. 

Happy Eating!
~Amber
---
---
---