Grilling peaches is one of my favorite ways to enjoy them.  This four-ingredient recipe for grilled peaches with yogurt and cinnamon is one perfect summer dessert that's ready in minutes!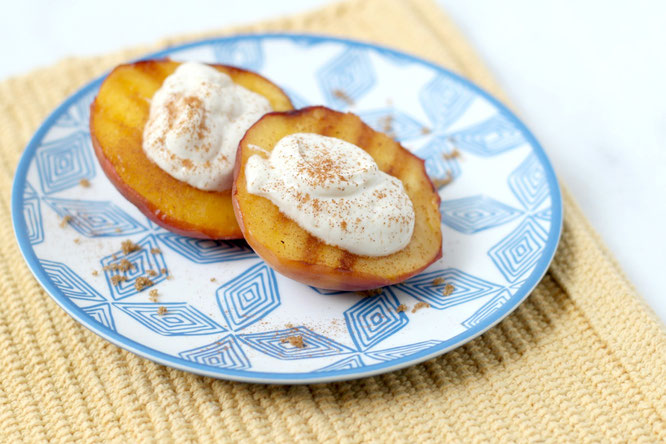 Summer is such a beautiful time of year for produce.  There are so many fresh fruits and veggies that are simply perfect to enjoy - and peaches are one of those sweet summer fruits (and they're one of my favorites!).  But peaches can go either way depending on the time of year:  they can be completely sweet, juicy, and perfect - or they can be hard and tasteless if you get them out-of-season.    So while they are in season, which is from about May-August in my area, I take full advantage of using them however I can.  Since it's July right now, I'm in peach-heaven! :)
This week, I had a whole lot of fresh peaches, so I decided to go with a theme of "Grilled Peaches" for all week on the blog.  Throughout the week, I'll be sharing several different recipes using grilled peaches that are perfect for breakfast, lunch, dinner, and even dessert!  
And speaking of dessert, this recipe for grilled peaches with sweet yogurt and cinnamon is the perfect light summer dessert!  It's sweet and has a lovely creamy texture from the yogurt and warmth from the cinnamon.  You just can't beat this four-ingredient healthy dessert!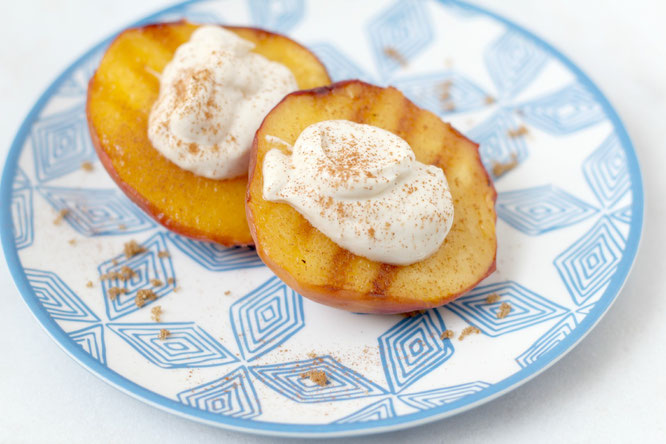 Grilled Peaches with Sweet Greek Yogurt and Cinnamon
Makes 2 servings

Ingredients:
2 ripe peaches, cut in half and pits removed




Cooking spray




¼ cup plain Greek yogurt




1 tablespoon brown sugar




Cinnamon to taste
Directions: 
Preheat grill, panini press, or non-stick skillet over medium-high heat.   Lightly spray the cut side of each peach half with the cooking spray and place on the grill, face-side down.  Cook for 5-10 minutes, or until the peaches are tender and have grill marks.  Remove from heat and set aside.




In a small bowl, combine the yogurt and brown sugar and mix well.




To assemble the dish, place 2 peach halves a plate or in a small bowl.  Dollop 1 tablespoon of the yogurt on each peach half and sprinkle with cinnamon to taste.  These can be served immediately or be refrigerated and served cold.  



 Happy Eating!
~Amber
---
---
---