You wouldn't guess that this creamy, dreamy orange smoothie is actually healthy! Five ingredients blend together to make this high fiber smoothie with apples, cinnamon, and carrots taste surprisingly like a dreamsicle / orange sherbet.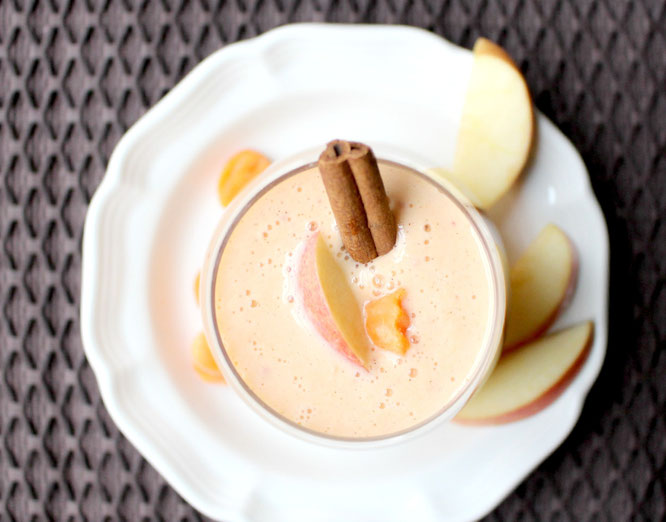 I spend a lot of time experimenting with different ingredients trying to come up with new healthy recipes, which means I tend to have lots of little suprises with how recipes turn out.  Most of the time I can predict what the finished product will taste like, but every once in a while, something totally unexpected comes out of a combination of ingredients I thought would come out completely differently.  Which is exactly how this recipe was born!
Looking to create  new healthy smoothie, I decided I'd go with an "apple cinnamon" theme, but also wanted to add a vegetable to make it a more complete smoothie. The average American doesn't even get close to the recommended amount of vegetables each day, which is at least 2 1/2 cups.  Plus, I love the feeling of accomplishment that comes from adding vegetables to a breakfast item, because that's one of the hardest places to sneak them in!  
Carrots were my veggie of choice for this recipe because I didn't want something that would turn the smoothie a color that would indicate it was filled with veggie goodness, like greens.  Green smoothies are awesome, but sometimes a change of pace with a different color and flavor is nice.   
The next thing I added was Greek yogurt, because it's an excellent source of calcium, protein, and brings a nice creamy texture to the smoothie.  Then there's a little 100% orange juice for a mild sweetness that I thought would go really well with the cinnamon. 
Little did I know, when all of those things got mixed together, the combination produced a smoothie that didn't taste at all like apples and cinnamon, but instead tasted very much like a dreamsicle or orange sherbet.  I was completely (and pleasantly) suprised by this result, and while it's not what I expected, I think it came out a huge success! 
There was one change I had to make that is important for this recipe.  I used uncooked frozen carrots in the recipe the first time I made it, but what I didn't think about at the time is that carrots are pretty hard in texture, so even if you grate them first or blend for well over a minute, they will still be a little grainy in texture preventing the smoothie from being as creamy as it could be; and let's face it, creamy smoothies are way better than chunky ones! 
So I made the smoothie again, this time simmering the carrots for about 10 minutes first so they were tender, and cooling them before adding them to the smoothie.  It worked!  It brought the creaminess needed to really pull this recipe off as a "treat!"  Plus, carrots are one of the few veggies that we actually absorb more nutrients from if they're cooked, so it's a double bonus!
I'd recommend cooking the carrots the night before and putting them in the fridge or freezer so they'll be ready to go when you want to make the smoothie.  The other option would be using no salt added canned carrots, because they're already cooked and tender.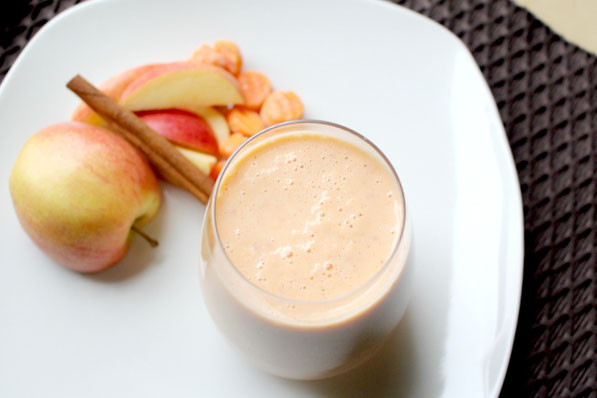 I've also got one final note on smoothie texture if you're using apple as a main ingredient:  As you might know, much of the fiber and nutrients in apples is found in the skin, so if you peel the apple, you lose a bunch of really good stuff. 
With that being said, I've noticed that certain apples seem to have thicker skins than others, which means they don't always break down completely into the smoothie.  This means you could end up with some small pieces of the apple skin in the smoothie, which can taste a little grainy.  I personally don't really mind it, but you really don't like any extra bits in your smoothie, you could peel the apple first.  I've noticed the really small apples tend to have the thicker skins that cause this, rather than medium to large apples. 
The variety of apple seems to make a difference too, so just keep that in mind when you're experimenting with adding them into your smoothies.  I hope you enjoy this delicious smoothie as much as I do!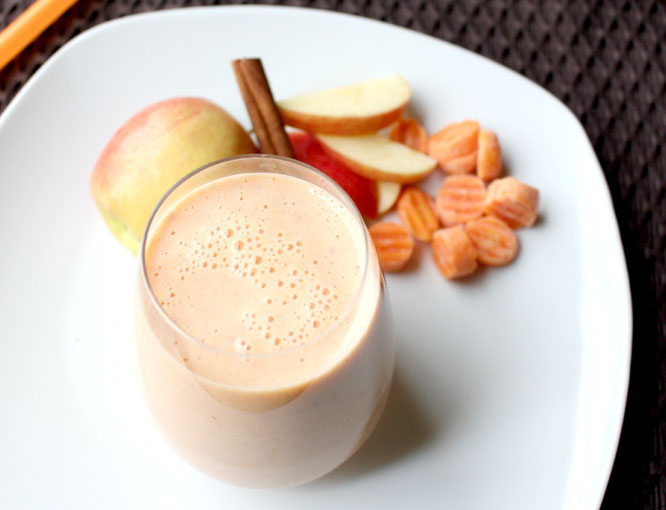 Healthy "Dreamsicle" Smoothie
Makes 1 Serving
 Ingredients:
1/2 cup chopped apple

1/2 cup cooked carrots (can use fresh, frozen, or no-salt added canned)

1/2 cup plain low fat Greek yogurt

1/2 cup 100% orange juice

1/4 teaspoon cinnamon

1 teaspoon honey (optional)

3-4 ice cubes
Directions:
If using fresh or frozen carrots, steam or boil them for about 10 minutes until they are tender and cool before adding to smoothie.

Combine all ingredients in blender and blend for about 1 minute or until completely smooth and creamy. 
Happy Eating!
~Amber
---