This chocolate pudding made with chia seeds is healthy enough to eat for breakfast even though it tastes like a dessert (which also makes it a perfect healthy dessert option!).  With just 4 ingredients, this recipe could not be easier.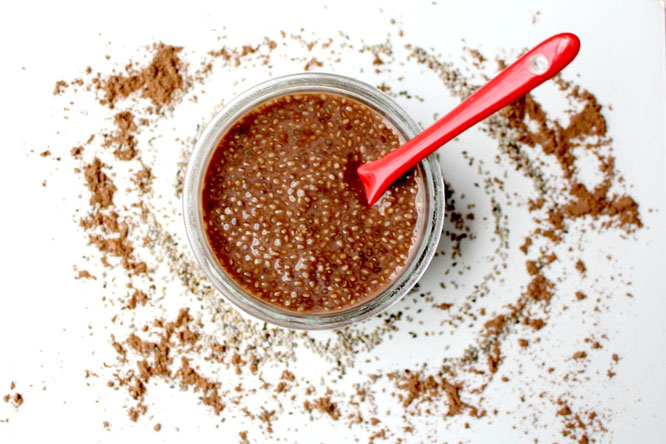 Chia seeds have been gaining huge popularity in the world of health over the past few years, even though they've actually been around for centuries.  If you haven't tried these delicious little nutrition powerhouses, I highly recommend it, and this recipe is a great introduction to them! 

There's a whole bunch of nutrition packed into these tiny seeds.  Just 1 tablespoon of whole chia seeds has about 60 calories, 3 grams of protein, 5 grams of fiber, and a healthy serving of omega-3 fatty acids, which are beneficial for heart health and have anti-inflammatory properties. 
The typical American does not get the recommended amount of omega-3 fats each day, likely because some of the best sources are fatty fish, like salmon, mackerel, or tuna.  Great plant sources include walnuts, ground flax seed, and chia seeds.  These healthy foods are gaining popularity in our diets these days, but I would venture to say they are not yet staples in our meat and potatoes diet.  So adding sources of omega 3 fats even in small items like chia seeds can be a huge boost to our health.  Plus the fiber in chia seeds is great for digestion and is another thing most of us need more of in our diets!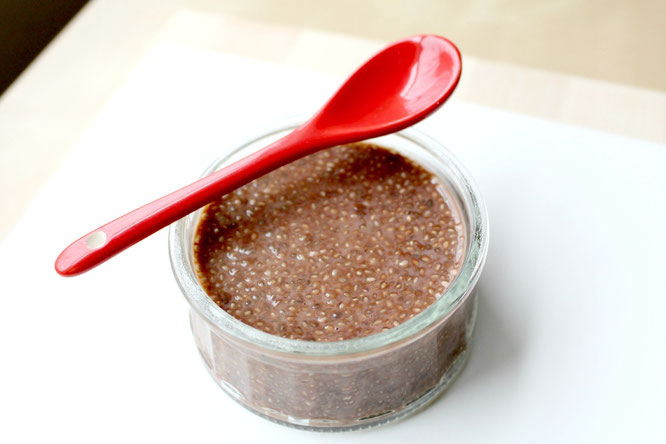 The other really interesting thing about chia seeds is their incredible ability to form a gel when mixed with liquids.  To me, it makes for a texture similar to tapioca pudding.  This chia seed "super power" allows for awesome recipes like this pudding because it requires no heat and only a few ingredients to create a product that would normally need something like cornstarch or cream to get the same texture.  So making a pudding with them seems natural to me!

To make this pudding, there are 4 ingredients, and about 2 minutes of prep time.  Literally the only thing to do to prepare this recipe is to combine the chia seeds, cocoa powder, maple syrup or other sweetener, and almond milk.  You just mix it all together, cover it and refrigerate for at least 4 hours or overnight.  Then when you come to check on it, you'll see that the liquid is almost completely gone and the seeds have expanded and formed a gel-like texture (aka pudding).  It's pretty neat!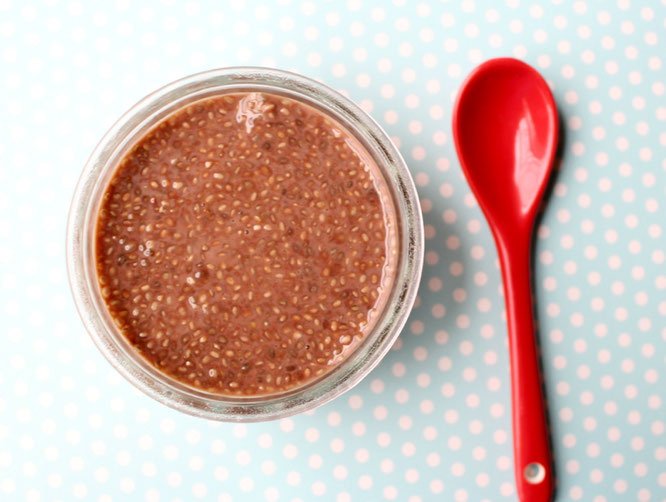 Easy Chocolate Chia Pudding
Makes 2 servings (about 1/2 cup each)
Ingredients:
1/4 cup chia seeds (use whole chia seeds, not ground)

1-2 tablespoons pure maple syrup, honey, or agave nectar (I use maple syrup)

2 teaspoons cocoa powder

3/4 cup unsweetened vanilla almond milk
Directions:
Place all ingredients in a medium bowl and whisk until they are combined.  It's okay if there are still some chunks of cocoa powder, they will disappear into the pudding as it sets. 

Cover and refrigerate for at least 4 hours or overnight.  Give the pudding a quick stir, place in a bowl, and enjoy!
Happy Eating!
~Amber
---