Short on time but still wanting something healthy for dinner?  This grilled zucchini panini has five main ingredients and takes just fifteen minutes to make.  It's a perfect healthy "fast food' option for a Meatless Monday or any lunch or dinner!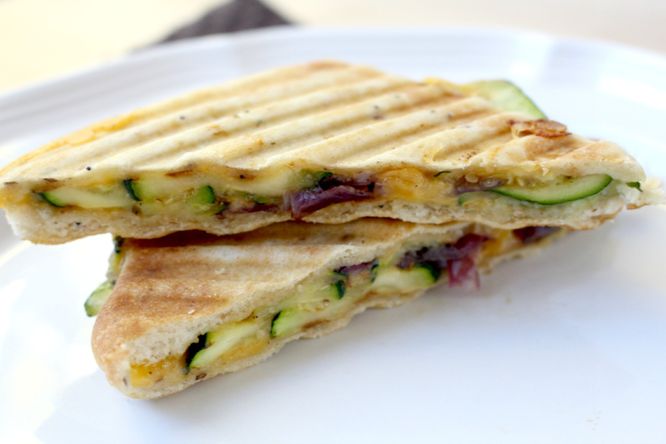 I really enjoy sandwiches, especially paninis!  I recently talked about just how much I love my panini press in my Apple Cheddar Panini post- check it out
here
in case you missed it!  I'm always looking for new quick sandwich options because they are an easy way to cover the nutrition basics - a healthy whole grain base, veggie, and protein. 
This sandwich was originally created out of the need for a quick dinner on a day I really needed to go to the store for the week, but also really didn't feel like going.  I'm sure someone out there can relate. ;)  So I began looking through my fridge and pantry to see if there was any way to get out of going anywhere and still have a delicious, hubby-approved dinner.  And boy was this one a success!

There are certain things I pretty much always have on hand that are super helpful in times like these.  I always keep a variety of whole grain bread and tortillas in the freezer - it keeps them fresh and allows me to have several different grain options available all the time.  I also always have different varieties of onions because I use them so much and they stay good in the pantry for a long time, and zucchini because it is one of our favorite veggies.  Oh yes, and I've always got cheese, because it's one of those ingredients that can be used in any meal of the day and adds some calcium, protein, and of course deliciousness!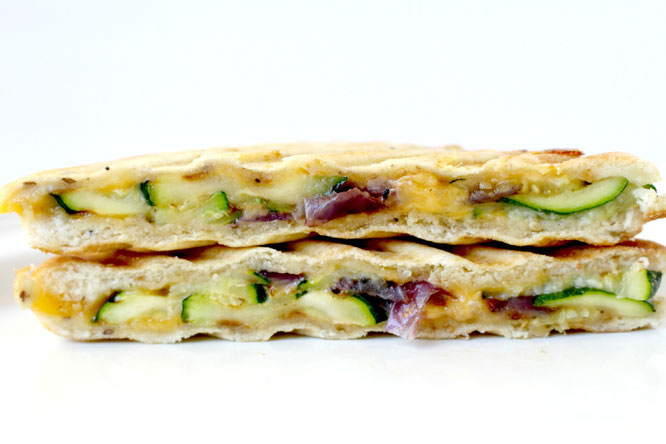 I love how fast this recipe comes together!  And if you don't have a panini press, no worries! You could make this very easily on an outdoor grill, grill pan, cast iron skillet, or even stainless steel skillet (you just won't get grill marks with a normal or cast iron skillet).  First cut the zucchini into thin slices (either round slices or long rectangular slices) and put it in a bowl.  Cut a few thick slices out of a red onion and put them into the bowl with the zucchini.  Toss those with some oil and the seasonings while you preheat the panini press or grill pan.  Then you put all the veggies on the Panini press and cook until they're tender.  While the veggies are cooking, use that time to grate the cheese and spread it out on all of the bread - as soon as the zucchini and onion are done, simply put them on the bread, close the sandwiches and put the sandwiches back on the panini press or skillet and cook until golden on both sides, and the cheese is melty.  That's it! :)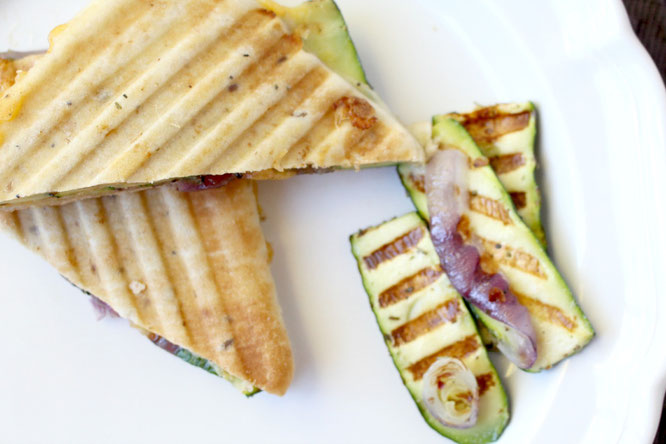 Quick and Healthy Grilled Zucchini Panini

Makes 2 Servings
Ingredients:
4 slices whole grain bread

1 large zucchini, thinly sliced

3 thick slices red onion

1/2 cup shredded reduced fat cheddar or mozzarella cheese

1 teaspoon canola oil

salt and pepper to taste

1/4 teaspoon garlic powder

1 teaspoon Italian seasoning
Directions:
Preheat Panini press or grill pan to medium high heat.  Toss the zucchini and onion slices with the oil and seasonings. 

Place the veggies in an even layer on the Panini press, close, and cook for about 5 minutes or until the veggies are tender and have grill marks.  If using a grill pan or skillet, cook for about 4 minutes on each side. 

Top each slice of bread with 1/4 of the cheese mixture.  When the veggies are done cooking, divide the mixture evenly among 2 slices of bread, then place the remaining slices of bread on top of each sandwich. 

Place the sandwiches in the Panini press and cook for about 5 minutes or until golden and the cheese is melted.  If using a grill pan, cook for about 4 minutes per side. 
Happy Eating!
~Amber
---