These delicious cookies have a soft, chewy texture, lovely flavor, and are a little healthier than your average cookie.  They are the perfect treat to satisfy your sweet tooth!

Sometimes you just need a good cookie.  As a dietitian, I'm all for experimenting with different ways to make cookies out of bananas and oats or throwing some spinach into chocolate cupcakes and other fun things like that (as a result my husband now gives me the "what's really in this?" look every time I make a dessert).  But sometimes, I just feel like making a "regular" cookie.  I say "regular" with quotations because I still make modifications for these to be healthier than your standard cookie, but they still taste like a normal cookie, not a "healthy cookie!"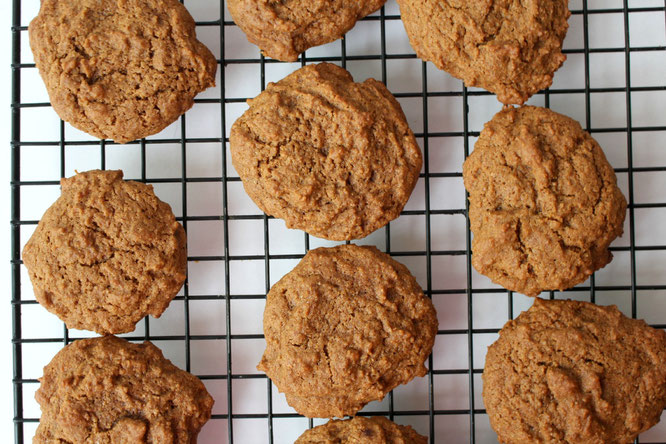 Pretty much any time I bake, I automatically reduce the amount of sugar in a new recipe by 1/3.  I've found that it really doesn't change the flavor and texture much, and it cuts back on some extra calories.  Next, I usually try to sub some of the regular flour for whole wheat flour to add some fiber, but for new recipes, I start out by replacing only 1/3 of the white flour with wheat so it doesn't change things too drastically.  Trust me on this, swapping all the flour out at once can make for a gross product;  I speak from experience. ;) 
For this recipe, I use 1/2 white and 1/2 whole wheat flour.  And if you happen to have whole wheat pastry flour on hand, you should be able to replace all of the white flour with that. 

Because this cookie has molasses, cinnamon, and other spices, it's got a dark color and bolder flavor that completely covers up any flavor coming from the whole wheat flour.  Don't say anything and no one will even know it's in there!

The molasses and brown sugar work nicely to keep these cookies moist and also make them a soft and chewy.  If you prefer a crisp cookie, just make the cookies half the size and use a fork to flatten the dough before you bake them.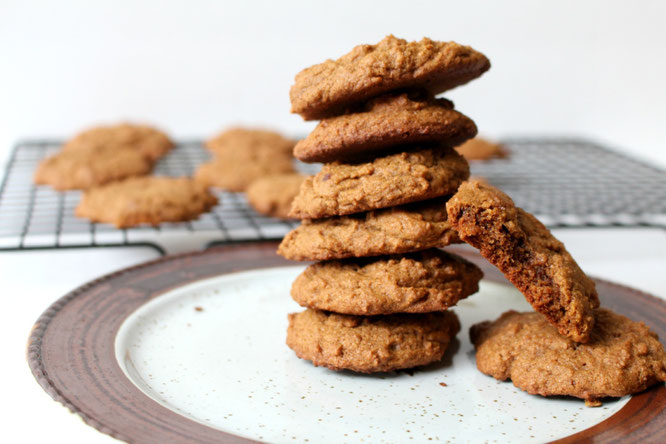 Chewy Ginger-Molasses Cookies with Cardamom
Makes about 24 cookies
Ingredients:

½ cup (1 stick) unsalted butter, at room temperature

½ cup dark brown sugar

½ cup unsulfured molasses

1 large egg

1 cup all purpose flour

1 cup whole wheat flour (preferably whole wheat pastry flour)

1 ½ teaspoons baking soda

¼ teaspoon salt

1 teaspoon ground ginger

1 teaspoon ground cinnamon

1/8 teaspoon ground cardamom

1/8 teaspoon ground cloves



Directions:
Preheat oven to 350 degrees.

In a mixing bowl, cream the butter and sugar with an electric mixer until light and fluffy. Add the molasses and egg and mix until combined.

In a separate bowl, whisk together the flour, baking soda, salt, and spices. With the mixer on low speed, slowly add the dry mixture to the wet, making sure all of the flour gets incorporated into the dough.

Spoon dough (about 1 tablespoon per cookie) onto a parchment-lined baking sheet. Leave about 2 inches of space between each cookie.

Bake for 10-12 minutes, or until the bottom is light brown but the cookies are still soft. Remove from baking sheet and cool on a wire rack. 
Happy Eating!

~Amber

---