One of the many awesome things about vegetables is that you can prepare them so many different ways!  Kale, oil, and a little salt and pepper come together to transform this healthy,hearty leafy green into "chips."  They are crisp, crunchy and are a perfect substitute for regular chips.  This snack is healthy, affordable, and packed with nutrients!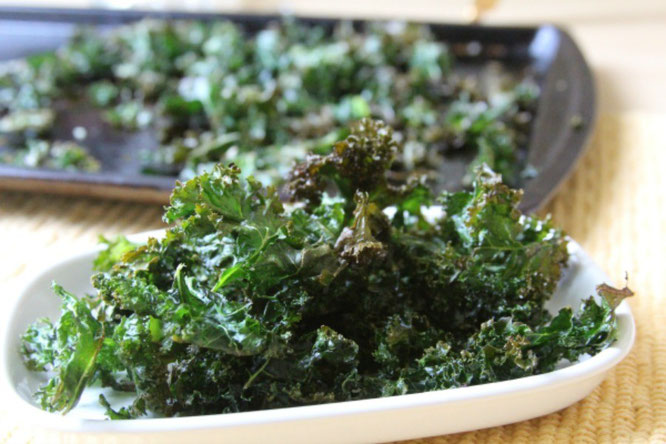 One of the complaints I hear most as a dietitian is that eating healthy is expensive.  That can get into a long discussion that would distract from these lovely kale chips, so I won't expand on it more now, but I bring it up because I got a giant bag of chopped kale at the grocery store for just $2.  And it made a lot of kale chips.  Last time I checked $2 is cheaper than a regular bag of potato chips so not only are these chips healthier than regular ones but they are in fact more affordable too!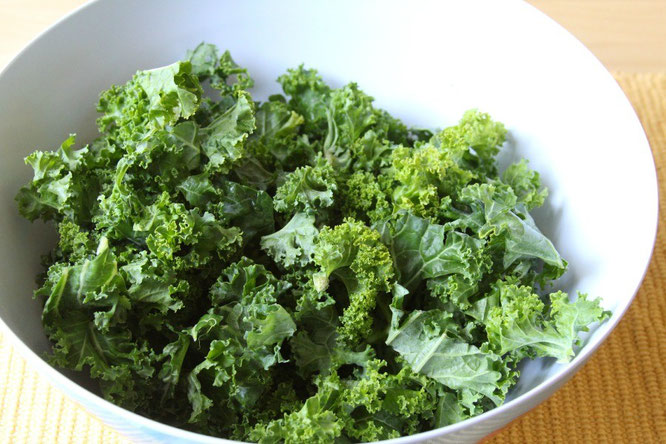 If you buy a bag of pre-washed, chopped kale, you'll have almost no prep work to make these chips.  But if you have a regular bunch of kale, just wash and dry it really well before starting, then chop it or tear it into large pieces.  I like to go through and tear the leaves off of any large stems because they can be a little tough, but you don't have to do that if the stems don't bother you.  The most important thing is to make sure the kale is completely dry, or it might steam in the oven instead of getting all crispy and yummy. :)
Take about 4 cups of the kale and put it in a large bowl, then, measure the oil into the bowl with salt and pepper (and any other spices you like), and then take a minute to massage the oil into all of the kale leaves.  This not only helps to coat all of the kale evenly, but I think it makes the leaves more tender.
The next thing to do is spread the kale out evenly on a baking sheet.  If there's too much to spread out, you might have to use two baking sheets. 
While this recipe is super simple, the hardest part making sure that the kale chips don't burn.  Once they're in the oven, keep an eye on them because they can go from perfect to black in what seems like a split second!  They will change color and get brown around the edges, but you'll know if they've gone too far!  Every oven is a bit different so note the amount of time that works for you so next time you'll have a really good idea of how long to expect the chips to bake. 
 Here's how they look before and after they come out of the oven: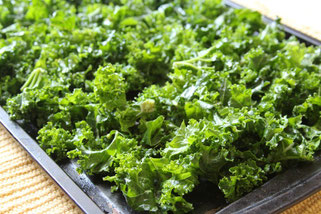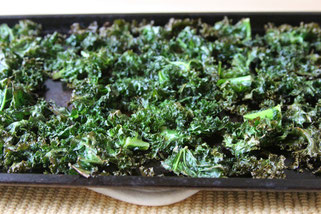 Once they're all cooked and out of the oven, these crunchy little beauties are ready to be eaten!  They are best enjoyed pretty soon after they're cooked, but I've found the best way to store them is in an air-tight container, and not more than a few days or they will smell weird.  :) 
Kale chips are the perfect way to satisfy that craving for a salty, crunchy snack - be sure to give these a try!
---
Crispy Kale Chips
Makes 4 servings
Ingredients:

4 cups kale, roughly chopped or torn into large pieces with stems removed

1 tablespoon canola oil

1/2 teaspoon salt

black pepper to taste

 Directions:
Preheat oven to 400 degrees.  Make sure kale pieces are completely dry, and place them in a large bowl. 

In a small bowl, mix the oil, salt, and pepper together.  Pour over the kale and massage the oil mixture into all of the kale. 

Spread the kale in an even layer on a baking sheet (use 2 baking sheets if necessary) and bake for 15-20 minutes or until the kale is slightly browned and crispy.  Keep a close eye on the kale in the last few minutes of cooking to make sure it doesn't burn. 


Once cooled, store in an air-tight container up to 3 days. 



Happy Eating!
~Amber
---