"Easiest dessert" award goes to this recipe!  This chocolate peppermint almond bark is simple to make and is absolutely beautiful.  It's the perfect holiday gift to share with friends and family!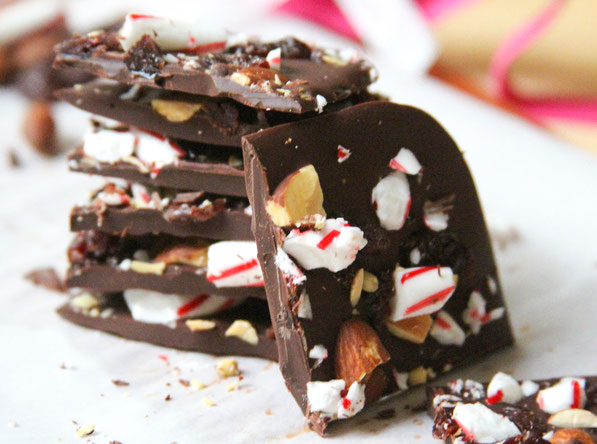 Most of the time, dessert means foods that are super sugar, fatty, and not so healthy.  I really like to find alternatives that satisfy my sweet tooth without all of the extra calories.  I also like desserts that are easy to make.  This chocolate bark is so simple and is even semi-healthy.  It's got some antioxidants from the dark chocolate, some fruit in the form of dried cherries, and healthy fat and protein from the almonds.  It's a nice change of pace from typical candies we make or give out at the holidays like fudge or brittle, and it's so much easier!

All you need are a few basic ingredients, and you can change them up to fit what you like!  You'll need dark chocolate (I like 60% dark chocolate for this, but you can go lighter or darker depending on your taste), dried cherries (you can also use dried cranberries or other dried fruit), crushed candy canes or peppermint candies, and almond extract (you can use peppermint extract for extra minty flavor).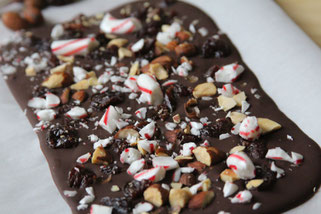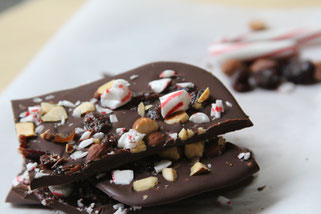 There are just a few steps to making these, starting with melting the chocolate in the microwave - do this carefully so you don't burn the chocolate!  The best way I've found is to melt the chocolate at 20 second intervals, stirring each time it stops.  The time it takes to melt will vary slightly based on your microwave, but it took about a minute in mine.  I like to take the chocolate out of the microwave when there are still a few pieces in there to be sure it doesn't burn.  Once you take it out, just gently stir it for about 30 more seconds and all of the remaining chocolate will melt right in. 
Next, add the almond or peppermint extract.  A little goes a long way, and the extract adds an extra dimension of flavor you don't normally get in chocolate bark. 
I think the combo of the almonds and peppermint is really special - to me it kind of tastes like those little mints you get at some restaurants after your meal.  You could also try different combinations of nuts and candies to make it your own!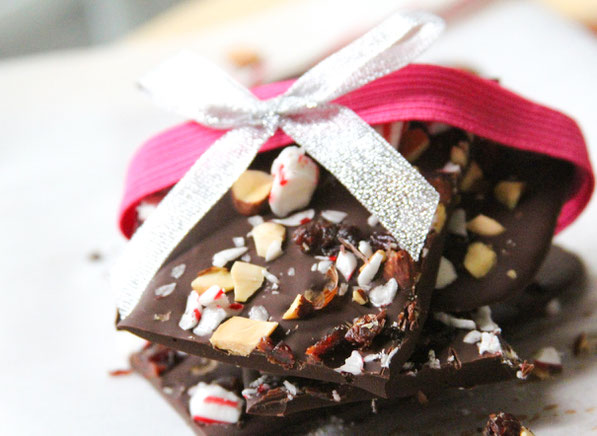 ---
Dark Chocolate Peppermint Bark with Almonds and Cherries

Makes 16 squares
Ingredients:
2 4-ounce dark chocolate baking bars (look for at least 60% cocao)

1/4 teaspoon almond extract

1/4 cup dried cherries

2 candy canes, crushed

1/4 dry roasted almonds, chopped
Directions:
Break up the chocolate bars and place in a glass microwave-safe bowl.  Microwave for 20 seconds at a time, stirring after each 20 seconds.  Do this until almost all of the chocolate is melted, then remove from the microwave then gently stir until all of the chocolate is melted.  Add the almond extract and stir to combine. 

Line a baking sheet with parchment paper, pour the chocolate on the paper, and spread into a rectangle about 1/4 inch thick, and sprinkle the almonds, cherries, and peppermint pieces all over the top. 

Place in the refrigerator for about 20 minutes, then it's ready to take out and cut into 16 squares.

Place the squares in an air-tight container with parchment paper between layers, and keep them in a cool place or refrigerate until ready to serve. 
Happy Eating!
~Amber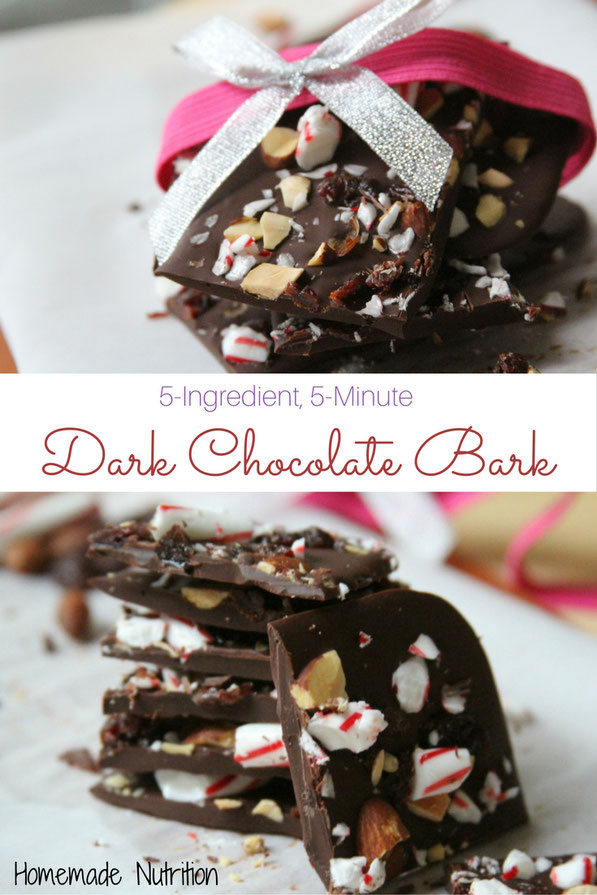 ---