This is a quick, hearty one-pot slow cooker meal.  It's a healthy twist on traditional baked beans or pork and beans!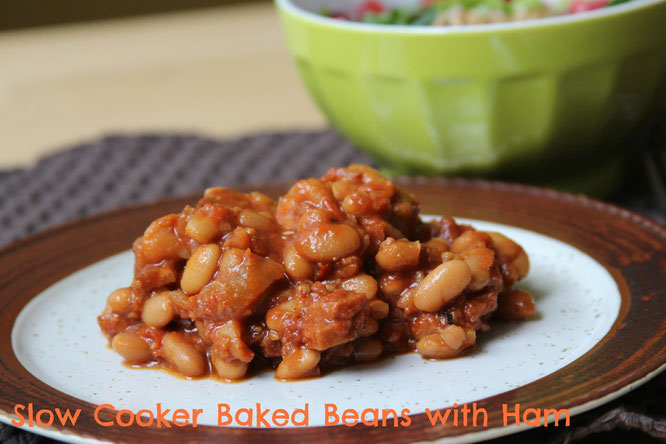 I think slow cookers are some of the most under-appreciated and under-used kitchen appliances - And I used to be one of those people who didn't use their slow cooker more than about twice a year, until I discovered how truly amazing they can be!  They really do make meal planning and food prep so much faster, and are perfect for busy families of all sizes.  Not to mention how nice it is to walk into your house at the end of a long day and it smells like slow-cooked deliciousness.... ;)
These days, I use my slow cooker at least once a week, sometimes even several times a week.
This recipe was inspired by one of my favorite dietitians, Ellie Krieger.  I made a few tweaks to her original version to better fit my family's taste buds, and also to make it a recipe that can be dumped into the slow cooker and left alone until dinner.  This is the kind of recipe you make when you want hearty leftovers that taste just as great a day (or a few) later.  It's perfect to pair with coleslaw or a nice salad.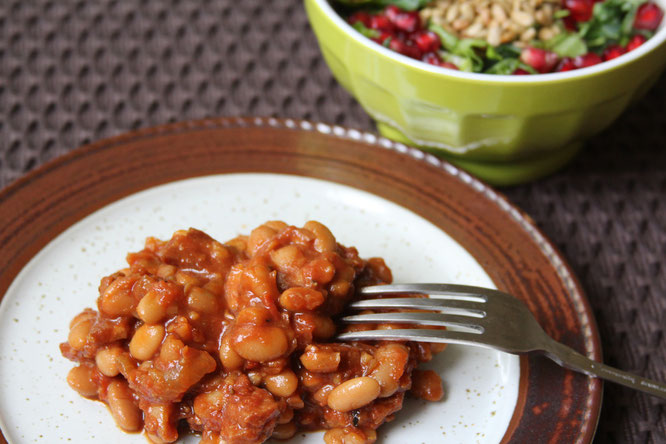 It's really easy - you just combine everything in your slow cooker and let it cook for about 6 hours on low or 3 on high.  The flavors are that of true comfort food, but it is also packed with protein, fiber, and complex carbohydrates from the beans!  And you can leave out the ham to make a vegetarian version!

When you look for ham to use in this recipe, try to find ham that is labeled "uncured" or "nitrate free" to avoid what I call a "red flag ingredient" - in this case, sodium nitrate. It's not the end of the world if you can't find uncured ham for this recipe, but definitely take a look at your grocery store!

So dust off that slow cooker and get ready to make this recipe!
---
Slow-Cooker Baked Beans with Ham
Makes 4 servings (about 1 1/4 cups each)
Recipe adapted from So Easy, by Ellie Krieger
Ingredients:
•      2 15-ounce cans low-sodium white beans (such as navy beans or great northern)
•      12 ounces thick cut ham, chopped (preferable uncured or "nitrate-free")
•      1 medium onion, chopped
•      3 cloves garlic, chopped
•      1 15-ounce can crushed tomatoes
•      1/4 cup water
•      1/4 cup molasses
•      2 tablespoons brown sugar
•      2 tablespoons pure maple syrup
•      1 tablespoon apple cider or white vinegar
•      2 tablespoons dijon mustard
•      black pepper to taste
Directions:
Combine all ingredients in slow cooker and cook on low for 6 hours or high for 3 hours. 

Serve with a green salad or coleslaw on the side for a complete meal. 
Happy Eating!
~Amber
---