This super healthy vegan version of tortilla soup that takes just 10 minutes to prep and finishes in the slow cooker.  Fabulous easy and affordable Meatless Monday recipe!
Tortilla soup is my favorite soup because I love the Southwestern flavors.  Maybe it's just the Texan in me, but every single thing about it, from the chili powder, to lime juice, avocado, and cilantro mean complete comfort food !  I actually make several different versions of tortilla soup, from slow cooker to stovetop to versions with chicken or cheesy avocado.   There are so many delicious variations!  But today I chose a simple and healthy vegan slow cooker version because in the winter we're surrounded by so much food, especially heavier "comfort food", and it's good to add some lighter alternatives to the mix.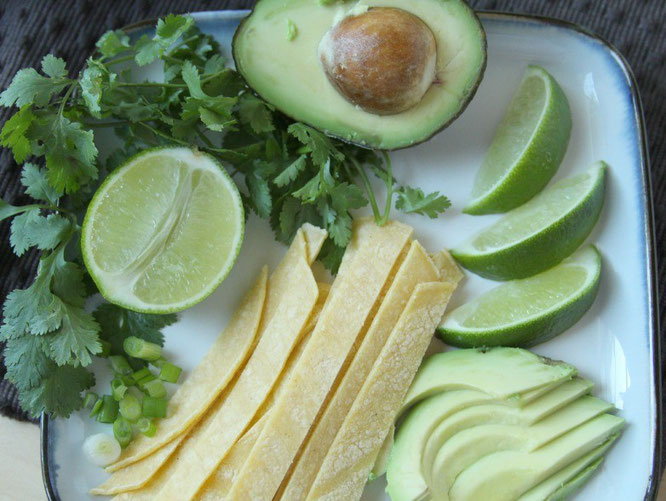 As I mentioned, this recipe prep time is 10 minutes (or less) and basically consists of dumping a bunch of stuff (that you might already have in your pantry) into the slow cooker.  The key to cooking healthy meals at home more often is making sure your pantry is always stocked with plenty of healthy kitchen staples.  I absolutely always have a variety of low-sodium canned beans in my pantry because they are among the most convenient protein and nutrient-packed foods to keep around and can be used for any meal of the day. 

I like to use 2 different kinds of beans in this recipe to add a variety of color and texture.  I chose black beans and kidney beans this time, but you could also use pinto beans, white beans, or any others that you like.  Kidney beans may sound a little weird, but they are one of my favorite beans because they are very hearty and I think they have an interesting color and shape.  They're perfect for making vegetarian dishes a little heartier. 

A lot of the flavor from this soup comes from the addition of low sodium vegetable broth, a can of diced tomatoes with chilies, and the spices.  But the real key is adding the cilantro, lime juice, and avocado at the end just before serving to completely bring this soup to life!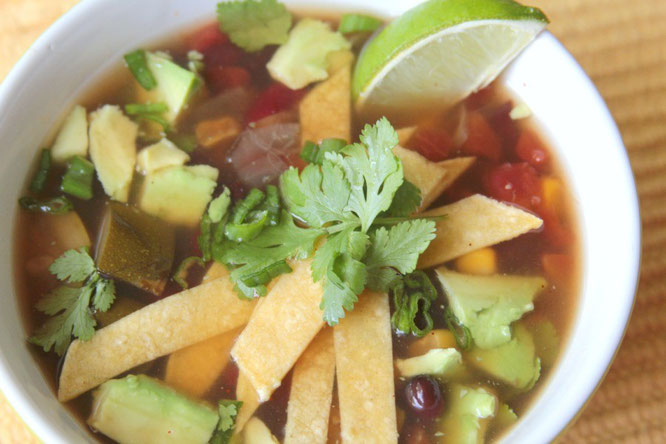 Vegan Slow Cooker Tortilla Soup
Makes 6 servings (about 1 ½ cups each)
For the Soup:

1 medium onion, chopped
1 medium zucchini, chopped

1 cup frozen corn kernels

1-15 ounce can low sodium black beans

1-15 ounce can low sodium kidney beans

1-10 ounce can diced tomatoes with green chilies

4 cups low sodium vegetable broth

2 teaspoons chili powder

½ teaspoon cumin

½ teaspoon garlic powder

Black pepper to taste
For Serving:
6 corn tortillas, cut into strips

2 small avocados, cut into slices or chunks
2 limes, cut into wedges
1 bunch cilantro, washed and with leaves torn off

3 green onions, sliced
Directions:
Combine all ingredients for soup in slow cooker.  Cook on low for 4-6 hours or high for 2-3 hours. 

To make baked tortilla strips for serving, slice the corn tortillas into thin strips.  Spread them out evenly on a baking sheet and bake at 350 degrees for about 10 minutes or until crispy. 

To serve, ladle the soup into bowls, then top with tortilla strips, avocado, green onion, cilantro leaves, and a squeeze of lime juice.  Enjoy!
Happy Eating!
~Amber
---
---