A one-skillet healthy lasagna you can make any day of the week!  This is a wonderful lighter, faster version of a beloved classic. Plus there's a secret ingredient you'll never guess!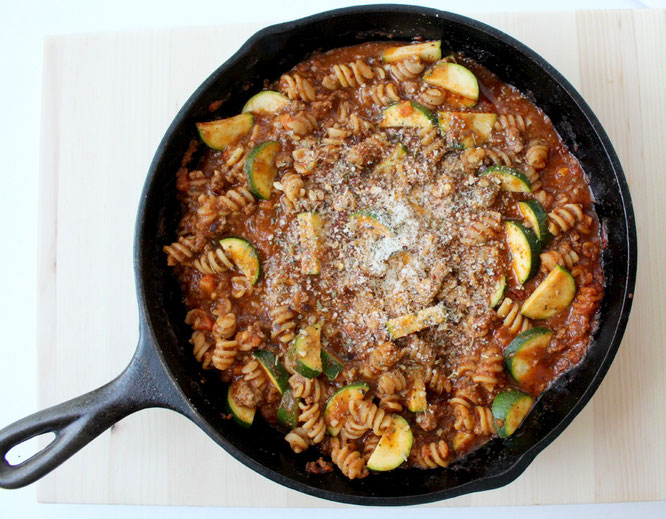 Lasagna is one of those things that everyone loves.  It represents comfort food across all boards, from the oozy cheese to the meat sauce and those yummy noodles separating all of the tasty layers.  But let's face it.  It's not usually the lightest dish and it takes a really long time to make.  So I decided to lighten it up and put it all in a skillet to make this a one-dish dinner you could actually cook on a week night! 
It's got a just a few steps and can be ready in about 30 minutes if you're in a rush, but if you let the sauce cook longer, it will taste even better! 

To make this lighter than a classic lasagna, I made a few tweaks.  The first is using extra lean ground beef (at least 90% lean) to reduce the amount of saturated fat and extra calories.  Next, I add onion and carrot, which is normal, along with my secret ingredient:  mushrooms!  Yep, that's right!  I've found that if you chop a bunch of mushrooms up super small or just toss them in a food processor for a few seconds, they will cook right in with the  meat and no one will even know they're there.  Really, it will look exactly the same!  It's a great way to add more vitamins, minerals, and fiber, along with using less meat.  I also threw in a zucchini for the same reason, but you can see that in there. :)  
Most of us need to eat a little less meat and a little more veggies, so this is the perfect way to have the best of both worlds! 

I also use whole wheat pasta noodles instead of regular white pasta, again boosting the nutrient, fiber, and protein content.  And lastly, there is no smothering of cheese here.  Instead, 1 cup of finely shredded parmesan melts right in to give the flavor without all of those pesky extra calories.  Making simple modifications like these is a great way to end up with a lighter meal that everyone will still love!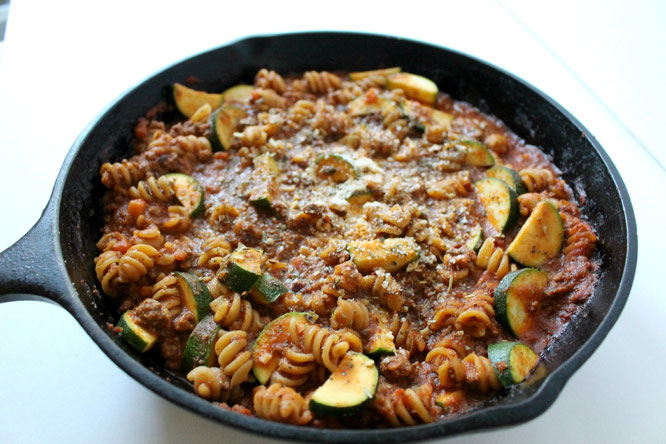 Healthy Skillet Lasagna
Makes about 6 servings
Ingredients:
1 teaspoon canola oil

1/2 pound lean ground beef (at least 90% lean)

1 medium onion

2 carrots, finely chopped

8 ounces (about 2 cups) sliced mushrooms, chopped very finely or pulsed into small chunks in food processor

1 medium zucchini, sliced

1 1/2 cups dry whole grain pasta (spiral shaped or penne works well)

16 ounces marinara sauce of choice

1-2 cups water

1 teaspoon garlic powder

1 tablespoon dried Italian Seasoning

red pepper flakes to taste

salt to taste

1 cup finely shredded parmesan cheese


Directions:
Heat large skillet over medium-high heat and add oil and beef.  Brown the beef, breaking up with a spoon or spatula and cook for about 5 minutes.  Add the onion, carrot, mushrooms, and zucchini and cook for about 5 more minutes.  Drain any excess fat. 

Add the pasta, marinara sauce, 1 cup of water, and seasonings and stir everything together. 

Bring to boil, then reduce to a simmer, cover, and cook for 20-25 minutes or until the pasta is tender.  Check on it every 10 minutes to make sure the water hasn't completely absorbed, and if it has, add the other cup of water.  If there is too much water at the end, simply remove the lid, turn the heat up to a boil and cook for about 5 minutes or until the excess liquid evaporates. 
**Note:  For an even more flavorful sauce, cook the meat with the sauce and spices for 30 minutes before adding the dry pasta and cooking for 20 more minutes. 
Happy Eating!
~Amber
---