It's like adding a touch of apple pie to anything.  Apple pie oatmeal.  Apple pie yogurt parfait.  Apple pie pancakes.  The possibilities are endless with these baked apples!  Not to mention 5 ingredients, vegan, and totally delicious!
There are two ways to make this recipe:  The slow way and the rushed way.  If you're around the house and not in a hurry, these apples can bake in the oven for about an hour and make the house smell completely festive and wonderful.  They can also be made in the microwave if you're in a bit of a time-crunch.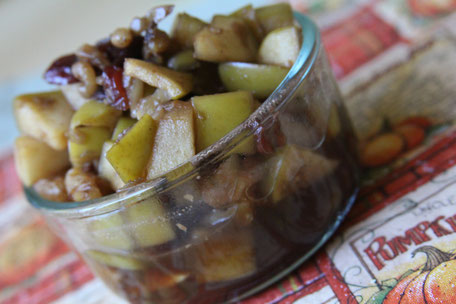 Once you've made a batch of these baked apples, all you need to do let them cool, put them in a container and pop them in the fridge to use throughout the week.  I kind of think these taste even better after they've been hanging out in the fridge for a day or two with all of their delicious apple juices!  My favorite way to eat these apples is with oatmeal in the morning.  All you have to do is add some of the cold apple mixture to some oats, add milk or water (whichever you prefer), and pop in the microwave until cooked.  The apples have enough sweetness and flavor so you don't need to put anything else in the oatmeal. 

It's also really good for yogurt parfaits!  Take some plain Greek yogurt, mix in a little honey and cinnamon, top with some of the apples, and sprinkle a little granola on top...Apple pie parfait!  Instant breakfast, lunch, or dessert!  :)
And if you think, that's nice, but what else can I use this stuff for?  My answer is an extra special holiday breakfast topping!  It is an awesome addition to pancakes or French toast for those relaxing weekend breakfasts with family or a brunch with friends.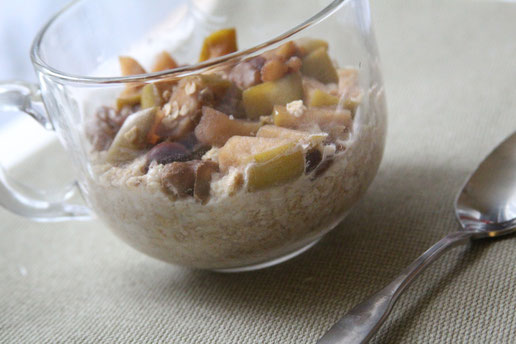 Cinnamon Cranberry-Walnut Baked Apples

Makes about 8 (1/4 cup) servings
Ingredients:
3 medium apples (gala or other sweet variety), chopped

1/3 cup chopped walnuts

1/3 cup dried cranberries (can also use raisins or cherries)

1/3 cup brown sugar or pure maple syrup

1 teaspoon ground cinnamon
Directions:
Preheat oven to 350 degrees.

In a large bowl, mix all  ingredients until combined.  Pour into a baking dish, add 3/4 cup of water, and cover tightly with foil. 

Bake for 45 minutes to an hour, or until the apple are soft, tender, and delicious!

To store, let the apples cool, transfer to container and refrigerate up to one week.
For the microwave version, place the ingredients in a large microwave-safe bowl or baking dish.  Microwave on high for about 20 minutes, stopping to stir the mixture every 5 minutes.   
Happy Eating!
~Amber