This recipe combines a few of my favorite things:  It's got coffee, chocolate, and is a smoothie.  A really, really good smoothie!  It's quick to make, can be used as a breakfast or snack, and is a festive healthy holiday treat!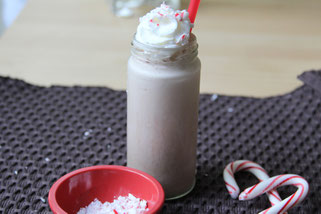 Now I make smoothies quite a bit.  I have a couple of favorites that are my usual go-to options, but lately I've been trying to branch out and try some new versions of my favorite smoothies.  And boy am I glad I did!  This smoothie is AWESOME!!  I was looking for a way to make a lighter, more refreshing version of a peppermint mocha (without all the sugary syrup), and one that can even be used as a quick breakfast.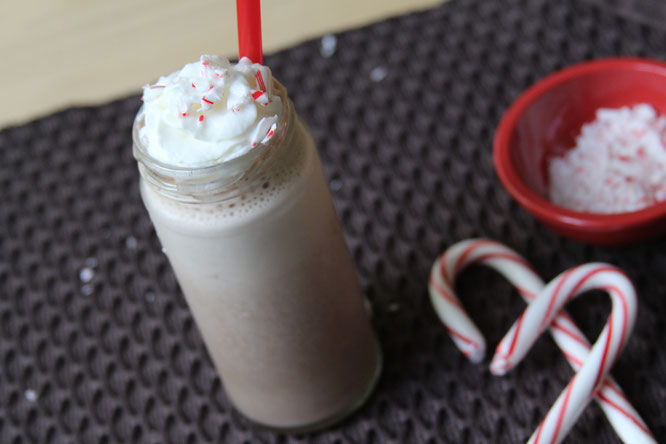 A few secret ingredients helped me pull this recipe off and achieve my goal of keeping it lighter but still delicious:  banana, peppermint extract, and cocoa powder.  The banana adds a subtle sweet creaminess, more substantial texture, vitamins, minerals, and fiber.  The combo of peppermint extract with cocoa powder is the perfect replacement for the sugary syrup normally used in drinks like this.  I added 1 teaspoon of sugar to this recipe to keep it sweet enough to classify as a true "mocha" experience, but if you don't need the extra sweet, then skip it!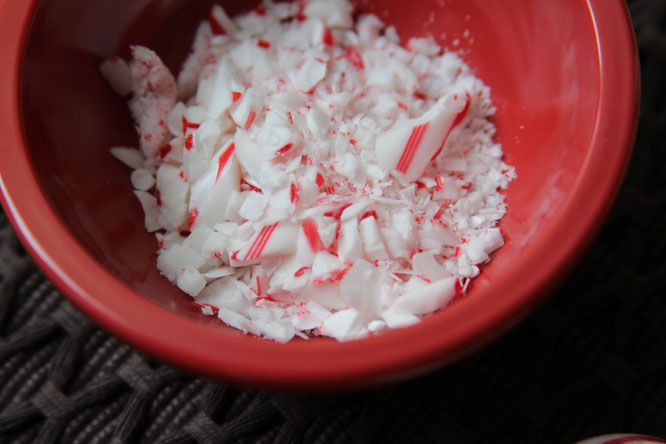 I also added bits of crushed candy cane to the top.  This is super easy to do:  Just take a candy cane, put it in a zip-lock bag, and then use a rolling pin or skillet to take out all of your aggressions on it.  ;)  It's ready in about 10 seconds. 

Now, in the picture, you'll notice some whipped cream on top of this smoothie - you might be thinking, "I thought this was supposed to be healthy?"  But here's the cool thing:  That little bit of whipped cream only adds about 25 calories, but it's got so much flavor, visual appeal, and is such a special touch that I feel it is worth the splurge! 

Iced Peppermint Mocha Smoothie

Makes 1 Serving

Ingredients:

1/2 banana




1/2 cup coffee




1 cup low fat milk (can also use almond or soymilk)




1 teaspoon cocoa powder (or more if you like!)




1 teaspoon sugar (can also use honey or stevia)




1/8 teaspoon pure peppermint extract




3-5 ice cubes




crushed candy cane pieces to taste




1 tablespoon whipped cream (optional)



Directions:

Combine all ingredients except whipped cream and candy cane pieces in blender and blend for about 30 seconds or until smooth.  Top with the whipped cream and candy can pieces and enjoy immediately! 



Happy Eating!

~Amber

---