These stuffed dates are a simple sweet appetizer or quick snack.   Perfect last minute recipe to bring to a holiday gathering!  A beautiful dish with Just five ingredients and only takes a few minutes to prepare!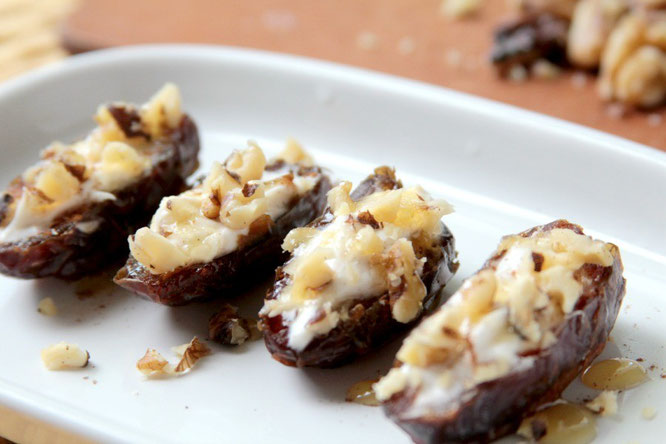 Stuffed dates are a popular holiday appetizer because let's face it, they're delicious. :)  However, these little bites of yummy typically come wrapped in bacon and stuffed with goat cheese and sometimes other heavy additions. 

So I decided to take it upon myself to lighten up this treat just a little bit.  Saving a few calories here and there can really add up, especially during the holidays!  And as always I made a goal of not sacrificing the flavor, so don't worry, these still taste really good!

The first substitution I made was to use reduced fat cream cheese in place of the goat cheese that would normally go in the middle of the dates.  This cut back a bit on the sodium and the calories.  Also, I like goat cheese, but if you aren't a huge fan of it due to the strong flavor, then you're welcome. ;)  Cream cheese is much milder.  

I like using the whipped cream cheese because you don't have to wait for it to soften since it's always at a nice spreadable consistency.  I added just a touch of ground cinnamon in the cream cheese to give a really nice flavor to these dates.  Dates and cinnamon go really well together, so it is the perfect subtle background flavor here, especially since I didn't use bacon in this recipe. 

The next two additions also go really well with all of the other flavors going on here - Finely chopped walnuts and a drizzle of honey.  The combination of all of these flavors make these dates really sweet and satisfying, but without all of the guilt!  Not to mention replacing the bacon with walnuts adds healthy fat and takes out some of the saturated fat that would normally come from the bacon.  If you still want a little hint of saltiness, you could sprinkle a few pieces of coarse sea salt over the top of each date, but I think they're great as they are!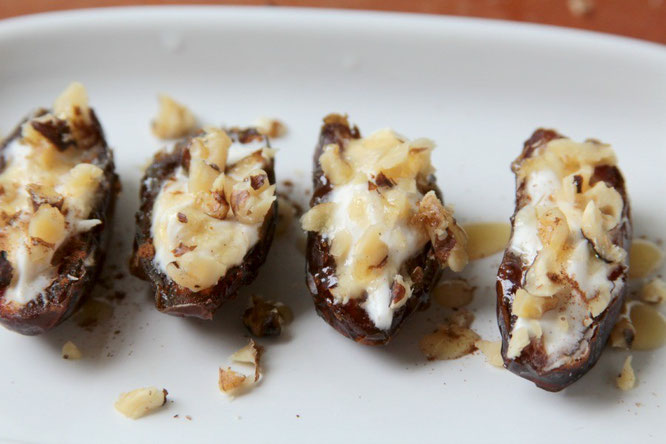 As far as assembly goes, this recipe is about as easy as it gets.  You start by cutting each of the dates in half and removing the seed from each one.  I like to use medjool dates because they just seem to be much juicier, more flavorful, and easier to work with.  I'm able to find them in the bulk bins at my grocery store, but you can usually also find them either on the dried fruit aisle or near the produce section. 

Then mix the cream cheese and cinnamon together, and put about 1 teaspoon of the cream cheese mixture in each date-half.  They get topped with the walnuts, and then comes the hardest part - using a steady hand to drizzle honey over the top of all of them!  (It's actually really easy!)

And that's it!  In just a few minutes, you've got a sweet, healthy holiday appetizer!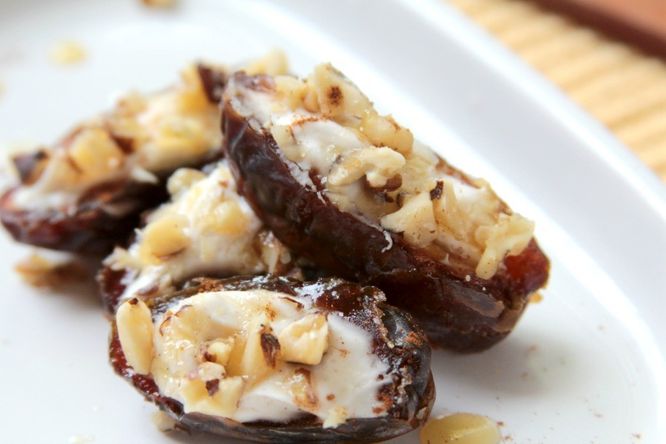 Cinnamon Cream Cheese Dates with Walnuts and Honey
Makes 24 stuffed date halves (12 servings)
Ingredients:
12 medjool dates

1/2 cup reduced fat whipped cream cheese

1/4 teaspoon cinnamon

1/4 cup walnuts, very finely chopped

honey to drizzle, about 1 tablespoon
Directions:
Cut all of the dates in half long-ways, and remove the seed from the center of each one. In a small bowl, mix the cream cheese and cinnamon until combined. 

Scoop about 1 teaspoon of the cream cheese mixture into each date-half. Arrange the

dates on a serving platter.

Next, sprinkle the chopped walnuts over the

dates, and carefully drizzle honey over the top of all of them.

Cover the serving platter with plastic wrap and refrigerate until ready to serve.

 

Happy Eating!

~Amber

---