Looking for a boost of energy?  This refreshing vegan green smoothie will give you the natural energy you need to start the day!  Just five ingredients and under five minutes to a healthier you!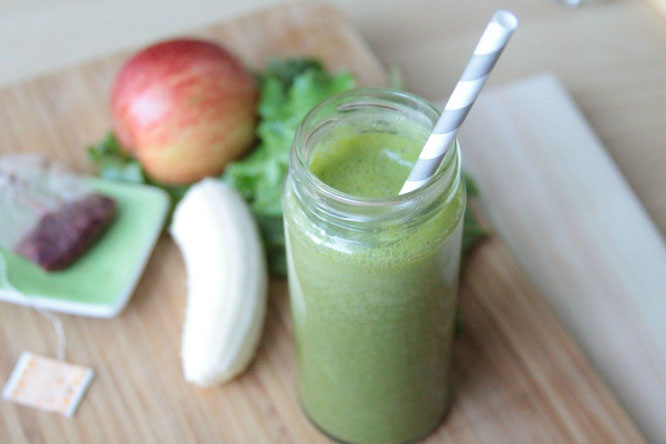 I'm really starting to get into smoothies.  I used to stick with just one or two recipes for them, but the more I try, the more I love the variety they can offer!  Smoothies can be an awesome way to boost your morning, provide an afternoon pick-me-up or healthy evening sweet treat.  This year one of my cooking goals is to try many, many new smoothie recipes, so be prepared for lots more of these! 

One of the reasons I like green smoothies is that they're a great way to get more leafy greens into your day.  Leafy greens can sometimes get boring to eat as salads all the time and can seem bulky and never-ending on your plate if you're not in the mood for them.  But put them in a smoothie with some fruit, and you won't even taste them!  Plus, they don't have many calories but are so, so packed with nutrients that most of us are lacking! 

You can customize this smoothie by using different kinds of tea.  Green tea would be great here, but I also like an unflavored peach tea because the subtle peach flavor went really well with the rest of the flavors and I was able to use less honey since the peach tea has a slightly sweet flavor all on it's own.  For the quickest prep time, brew your tea the night before, let it cool, and then refrigerate it until morning.  That way there's no waiting for the tea to cool! 

Energizing Green Smoothie

Makes 1 Serving
Ingredients:
1/2 small apple, chopped

1/2 banana

1 cup baby spinach or spring mix

1 teaspoon honey or stevia

10 ounces freshly brewed green tea or fruit tea of choice (such as peach tea), cooled

4-6 ice cubes
Directions:
Combine all ingredients in blender and blend for about 1 minute, or until completely smooth and the greens have mixed all the way into the smoothie. 
Happy Eating!
~Amber
---