This Panini is a simple, delicious vegetarian meal that is ready in ten minutes or less!  The flavor combination of the apple, cheddar, and cracked black pepper is beautiful because it is both sweet and savory at the same time.  Perfect Meatless Monday meal!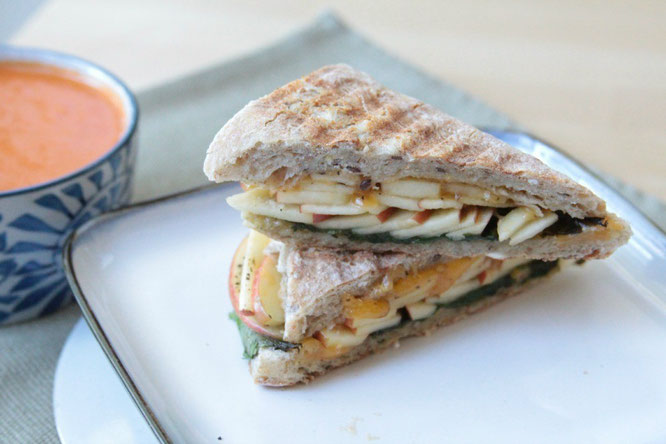 I got a Panini press as a wedding gift several years ago, and have used it so much it recently started coming apart and I had to do some repair work to it!  No joke, I usually use it several times a week making anything from sandwiches to grilled chicken or steak, grilled mushroom burgers, vegetables, and even pizza!  When we lived in an apartment, I used to take it out onto the patio and use it as a make-shift "BBQ pit."  So I am pretty attached to it, and have to say it is one of the few large pieces of kitchen equipment I really love and use a lot (that and my slow cooker). 

But even if you don't have a Panini press, you can get pretty  much the same result by using two heavy skillets - one to cook your sandwich in, and the other to squish the sandwich into a Panini.  Either way, this sandwich recipe is a great one!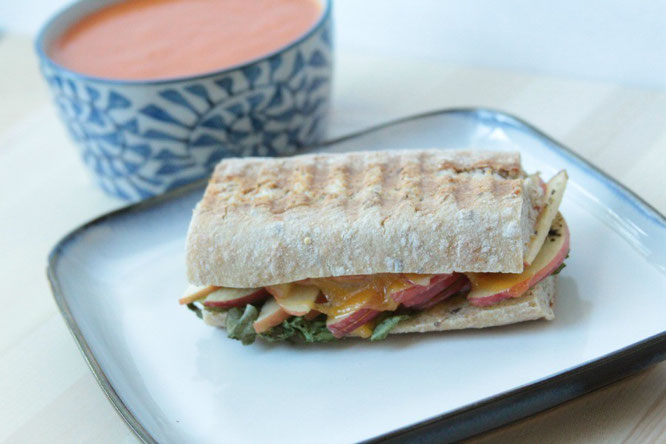 Sandwiches are delicious.  I don't mean the standard ham and cheese or bologna from your childhood lunchbox, I mean delicious, flavorful combinations of healthy foods that can be eaten anytime of day because they are just that good. 

There are a few strategies for building the perfect, satisfying sandwich.  First, you've got to have good bread.  I prefer using a heartier multigrain bread, ciabatta, or sourdough because they add way more texture than a standard soft wheat or white bread and stand up much better to all of the delicious filling in the middle. 
Second, apply heat.  Even if your sandwich has to go back into the fridge because it's for lunch or a later meal, cooking a sandwich does magical things to both the bread and the filling.  Even if you just toast the bread, it makes the finished product taste that much more special. :)
And finally, put healthy stuff in the middle of that bread.  Sandwiches can quickly turn into a conveniently packaged source of extra calories and fat if you're not careful.  So make sure what you put in is light and healthy, and skip the heavy dressings, sauces, fatty meat, or huge amounts of cheese.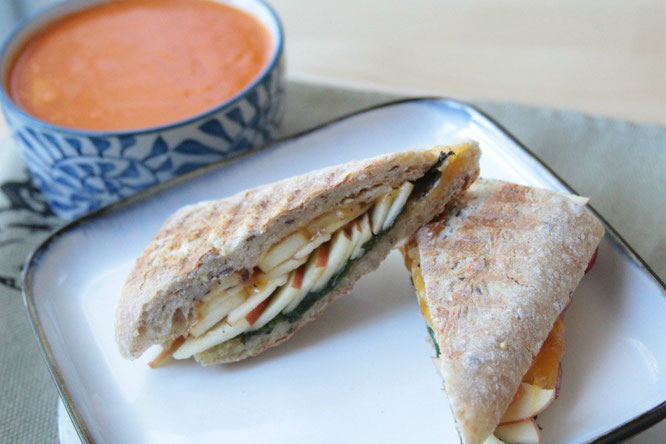 Apple Cheddar Panini

Makes 1 serving

Ingredients:

2 slices hearty whole grain bread




1 small apple, thinly sliced




1 slice reduced fat cheddar cheese




1/4 cup baby spinach leaves




freshly cracked black pepper to taste



cooking spray

Directions:

Heat Panini press or non-stick skillet over medium-high heat. 




Place the spinach on 1 slice of bread.  Arrange the apple slices evenly over the spinach, and sprinkle the apple with black pepper.  Top with the cheese, then the remaining slice of bread. 

Lightly spray the outside of the sandwich with cooking spray and place in the Panini press or skillet. 

If using a skillet turn the sandwich over after about 3-4 minutes and with a spatula or a heavy skillet, press the sandwich down to mash it together.  If using a Panini press, remove from the press after about 5 minutes or when the cheese is melted and the bread is light golden in color. 

Serve with a small bowl of soup or salad on the side.

  Enjoy!

Happy Eating!

~Amber

---