This one-skillet cauliflower and chickpea curry has amazing flavor from the combination of spices, garlic, ginger, and coconut milk.  It's a light, healthy vegetarian and vegan dinner option for Meatless Mondays, and is ready in under 30 minutes!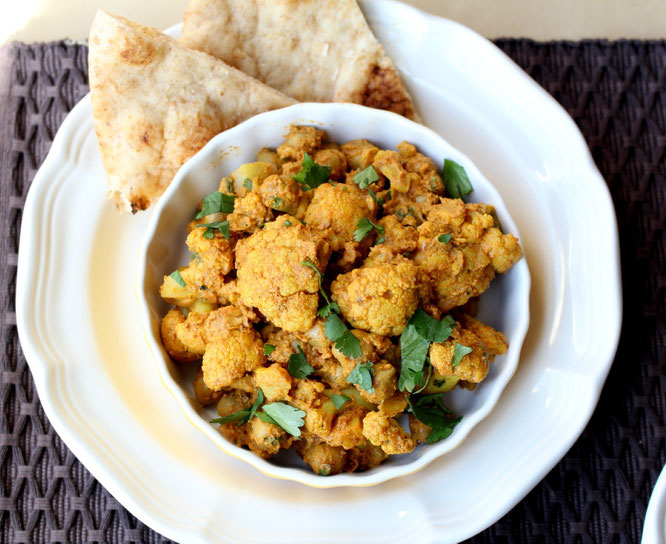 Cauliflower is a really interesting vegetable because it looks like white broccoli, but it really doesn't taste that much like broccoli, meaning it doesn't have quite as strong of a broccoli smell and strong flavor.  It acts more like a blank canvas for picking up different flavors you add to it, which makes a versatile veggie filler option in all sorts of meals!  Cauliflower also has a hearty texture, and is packed with fiber and nutrients which is a must in meatless meals.  In this recipe, it soaks up all of the spicy goodness of the Indian-inspired spices and tastes absolutely wonderful!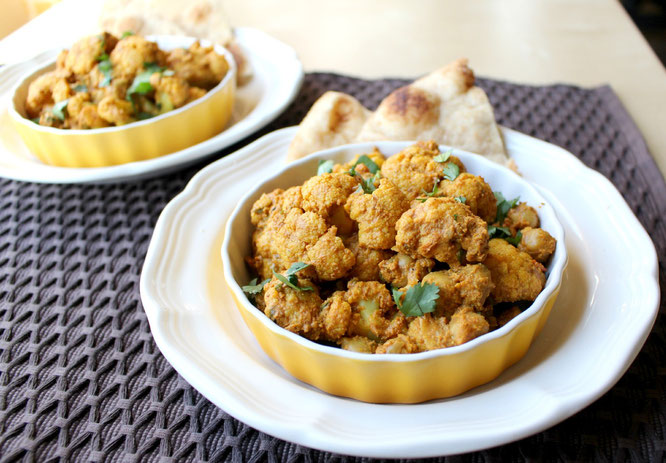 Being a native Texan, Indian food wasn't a big part of my upbringing and in fact, it really didn't come into my life until a couple of years ago.  I love watching cooking shows on TV, and one day was lucky enough to stumble across an awesome cooking show based on Indian cuisine called the Spice Goddess with Bal Arneson.  I was immediately captivated by the different spices and flavor combinations in the dishes, and was also impressed with many healthy additions to the meals like yogurt in most of the sauces.  So I got super excited and went out and got a cookbook and a bunch of new spices like turmeric, curry, cardamom, and garam masala (which is a blend of many spices such as cumin, cardamom, coriander, cinnamon, and nutmeg).
These flavors have really transformed the way I cook because it got me out of my old salt, pepper, and garlic powder rut.  Now I try new spices all the time, and am (almost) always pleasantly surprised at the delicious flavor combinations that come from them.  Using spices is a fantastic way to add flavor to dishes without having to use a excess salt, oil, cream, or other high calorie additions. 

This recipe is also simple to prepare.  I had some fresh cauliflower on-hand from my Aunt's garden, but if you don't have fresh, I think frozen cauliflower would work just fine here.  Just thaw and drain it before adding it to the dish.  The basic method of preparation begins with heating a little oil with the spices, which helps bring out all of the flavor from them.  Then you add everything else to the skillet, give it a little stir, and let it simmer for about 25 minutes or until the flavors have all come together perfectly.  It really is that simple!  I think the best way to finish this off is to serve it as the main dish with some whole grain Nann or Pita bread on the side, or even over a bed of brown rice.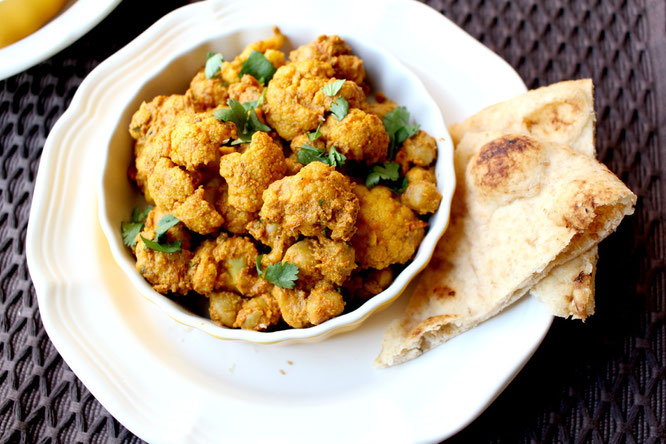 Cauliflower Chickpea Curry

Makes about 4 servings

Ingredients:
1 teaspoon canola oil

2 teaspoons garam masalsa

1 teaspoon curry powder

1/2 teaspoon turmeric

1 garlic clove, chopped

1 teaspoon fresh ginger, finely chopped or grated

1 small head of cauliflower (about 3 1/2 cups), cut into florets

1 cup low sodium cooked chickpeas (garbanzo beans), rinsed and drained

salt and pepper to taste

1 cup low sodium canned crushed tomatoes

1 cup coconut milk

chopped cilantro for garnish (optional)

Directions:
Heat a skillet over medium high heat.  Add the oil, garam masala, curry powder, and turmeric and stir for about 30 seconds. 

Add the garlic, ginger, cauliflower, and chickpeas, and stir until the cauliflower  and beans are evenly coated with the spices, about 2 minutes

Add the crushed tomatoes, coconut milk, salt and pepper, reduce heat to low and simmer for about 25 minutes, stirring occasionally.  Garnish with fresh chopped cilantro.  Serve with whole grain naan or pita bread, or over a bed of brown rice.  
Happy Eating!
~Amber

---