Just six ingredients and fifteen minutes to these delicious breakfast tostadas!  This is a quick healthy meal option for anytime of day: breakfast, lunch, or a busy weeknight dinner!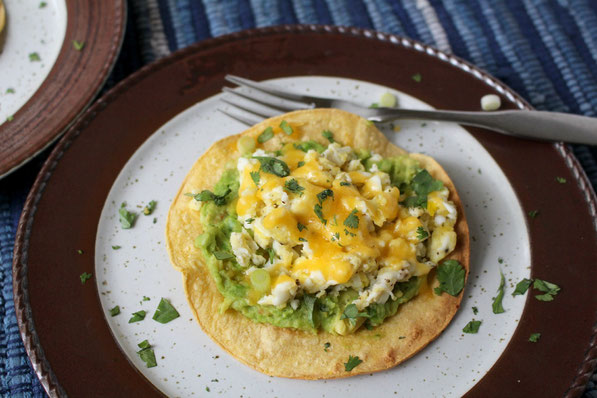 Being from Texas, Southwestern food is definitely a huge part of my life, and one of my favorite cuisines.  The flavors are so versatile and can be used any time of day.  I'm always looking for quick recipes using these flavors that are also healthy, affordable, and delicious.  This recipe is all of these things!
This recipe is really healthy because it combines whole grains (from the corn tortillas) which have complex carbs that give long-lasting energy, a quick healthy protein source from the eggs, healthy fat from the avocado, and a little extra calcium, protein, and flavor from the cheese.  If you're having this for breakfast or brunch, serve some fruit on the side.  And if it's dinner, serve with a side salad and/or fruit.  And it all comes together in 15 minutes or less!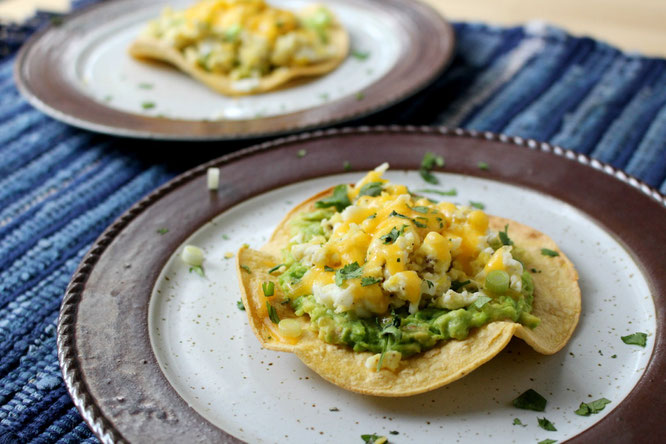 The prep is quite simple.  The first thing to do is make the tostadas (which are basically just crunchy corn tortillas).  In restaurants these are made by frying the tortillas, but of course we aren't doing that!  ;) 
Instead, I've found that corn tortillas bake up perfectly crispy all on their own, without any oil at all!  They taste just as delicious and aren't all soggy and greasy from being bathed in oil.  Just bake them at 350 degrees for about 10 minutes or until they are to the level of crispiness that you desire. 
While those are cooking, you'll have time to complete the rest of the prep for this recipe.  Scramble the eggs, mash the avocado and add some fresh cilantro, and grate the cheese. Use the time to cut any fruit or make a quick side salad. 
Once the tostadas come out of the oven, it's time to assemble!  Simply spread each crispy tortilla with the avocado mixture, top with the eggs and cheese, and that's it! 
I recommend salsa with this meal to make it even more delicious, but eat it however you like!  This is so much faster than eating out, costs less, and is a perfect way to stay on track with your healthy eating plan!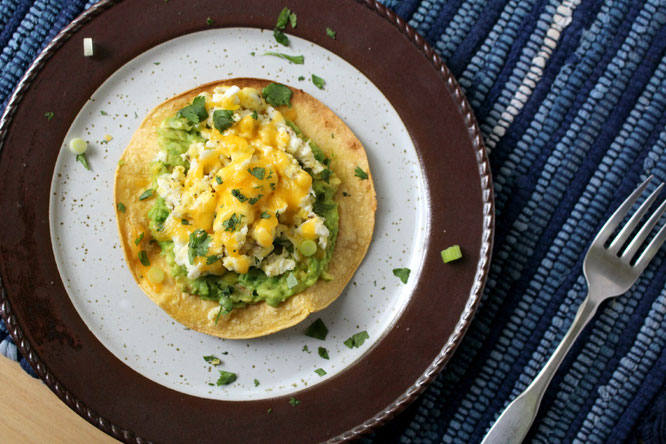 Southwestern Breakfast Tostadas
Makes 4  servings
Ingredients:
4 corn tortillas

cooking spray

2 green onions, thinly sliced

4 eggs

salt and pepper to taste

1 medium avocado

1/4 cup fresh cilantro, chopped

1/2 cup reduced fat cheddar or pepper jack cheese, shredded

Salsa (optional)
Directions:
Preheat the oven to 350 degrees.  Place the corn tortillas on a baking sheet in an even layer, and bake for about 10 minutes, or until crispy.

Meanwhile, preheat a non-stick skillet over medium heat. 

In a medium sized bowl, crack the eggs and whisk to break the yolks and mix them very well.  Coat the pan with cooking spray, add the eggs, green onions, salt and pepper, and stir the eggs until they are cooked through, about 3-5 minutes. 

Remove the flesh of the avocado and place in a small mixing bowl.  Use a fork to mash the avocado, add salt and pepper to taste, and 1/2 of the chopped cilantro. 

Once everything is prepared, assemble the tostadas by spreading each tortilla with 1/4 of the avocado mixture, egg, then top with the cheese.  Use the remaining cilantro for garnish, and top with salsa if using.  Enjoy!
Happy Eating!
~Amber
---