This cheeseburger spaghetti squash casserole is a healthier twist on a homemade hamburger helper recipe.  
I know this isn't very dietitian-like, but does anyone else secretly really like the taste of hamburger helper?  I haven't had it in years, but there's just something about it that says "comfort food" to me.  
That comfort-factor was the inspiration behind this recipe.  I had some lean ground beef on-hand and thought, how perfect would it be to turn this into some sort of cheeseburger casserole?  And you know, I'm really happy with how this recipe came out!  It was so good, I ate it for breakfast the next day!  
The keys to keeping this recipe a little lighter is using lean beef, reduced fat cheese, and the star ingredient - spaghetti squash, which is the perfect substitute for noodles.  
If you haven't had spaghetti squash before, it's a very unique winter squash that when cooked, the flesh literally looks like spaghetti when you scoop it out.  It's a great high fiber, lower carbohydrate substitute for pasta.  Plus it has vitamins, minerals, and antioxidants that you can't get in pasta.  It also makes a tasty veggie side dish with pretty much any meal.  
Once thing to keep in mind when choosing a spaghetti squash is that makes a lot of "spaghetti" so you'll be able to get multiple servings even from a smaller squash.  In fact, I used the smallest spaghetti squash I could find for this recipe, and I still had leftover squash!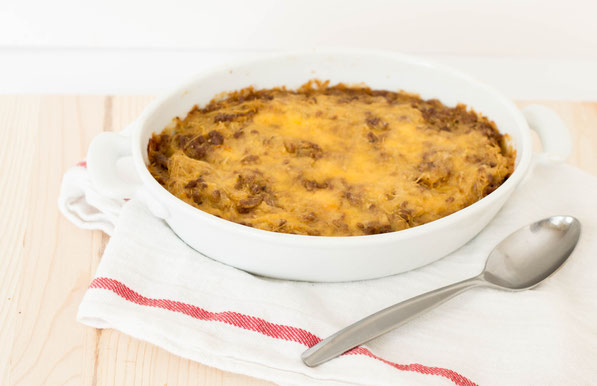 There are several different ways to cook a spaghetti squash.  I'll share two methods I've used that work great for me, and both involve starting with a whole spaghetti squash instead of cutting it in half before cooking...because if you've ever tried to cut raw spaghetti squash before, you'll know it's ridiculously hard and dangerous.  :/  
If you have your own way to cook it, feel free to go that route! No matter how you decide to cook the squash, I'd recommend cooking it a day or two in advance so when you're ready to prepare this meal, the hardest part is done and the remaining prep time will be about 10 minutes!
---
Update!  I recently did a Spaghetti Squash Spotlight cooking segment on Great Day SA, where I talk all about spaghetti squash nutrition and share the cooking tips that are detailed below.  Check out the segment here or keep reading for the cooking tips!
---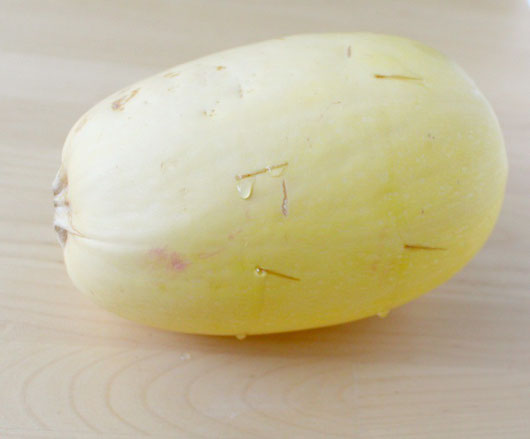 Spaghetti squash method 1:  use the tip of a sharp knife to carefully poke holes all around the squash.  Place on a baking sheet and bake at 400 degrees for 35 minutes to an hour (depending on the size of the squash) until you can easily pierce the squash with a fork.  Then let it cool slightly, cut in half and scoop out the seeds.  Once the seeds are removed, use a fork to scoop out all of the "spaghetti" from the squash. 
Spaghetti squash method 2 (the shortcut method):  use the tip of a sharp knife to carefully poke holes all around the squash.  Place in a microwave-safe plate or casserole dish and microwave for 2-3 minutes.  Turn the squash over, and continue to cook in 2-3 minute intervals until the squash can easily be pierced with a fork.  Once it's cooked, carefully cut it in half and scoop out the seeds with a spoon.  Then use a fork to scoop out the "spaghetti." Note:  A small spaghetti squash took about 8 minutes to cook in my microwave, so larger ones might take anywhere from 12-20 minutes total.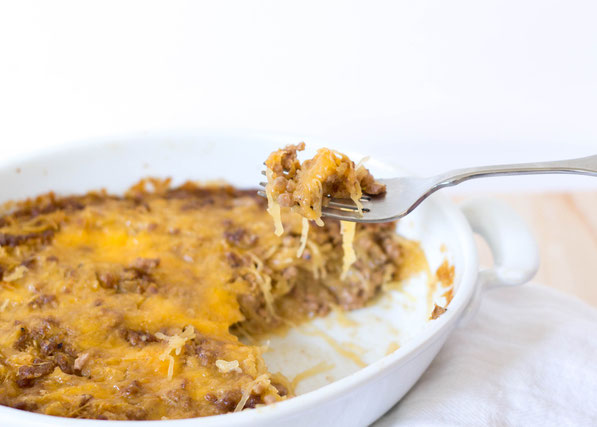 Cheeseburger Spaghetti Squash Casserole
Makes 4-6 servings

Ingredients:
1 pound lean ground beef (at least 90% lean)

1/2 teaspoon salt
pepper to taste
1 teaspoon garlic powder
2 teaspoons onion powder
1 teaspoon paprika
1 cup grated reduced fat cheddar cheese
1 tablespoon corn starch
2/3 cup water
1 small cooked spaghetti squash (about 1-1 1/2 pounds), cooked - about 4 cups "spaghetti"*
Directions:

Preheat oven to 350 degrees.  Heat a large skillet over medium high heat.  Add the beef and spices and cook for 5-7 minutes, or until the beef is browned (It doesn't have to be cooked through yet).  Drain any fat from the pan. 
Return the pan the stove and heat over medium heat.  Add the cornstarch and water to the beef mixture and stir to combine.  Add the cheese and mix until the cheese has melted into the mixture. 
Add the spaghetti squash to the pan and mix everything to combine.  
Place the mixture into an 8x8 baking dish or small casserole dish and bake for about 20-25 minutes, or until the casserole is bubbly and slightly golden on top.  
*see spaghetti squash cooking method options above the recipe
Tip:  Make the spaghetti squash a day or two in advance and keep in the fridge until you're ready to prep this recipe.  The recipe will come together very quickly if you pre-cook the squash!

 Happy Eating!
~Amber
---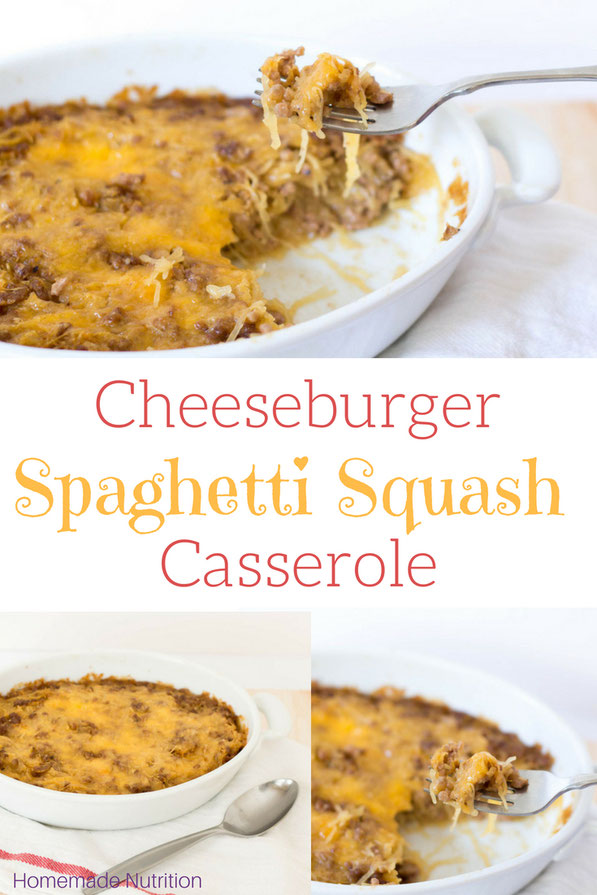 ---
---