These easy tuna cakes with southwestern flare are a great new twist on classic tuna cakes. They can be made in advance and stored in the freezer so are a quick weeknight meal and fun way to add more seafood to your week!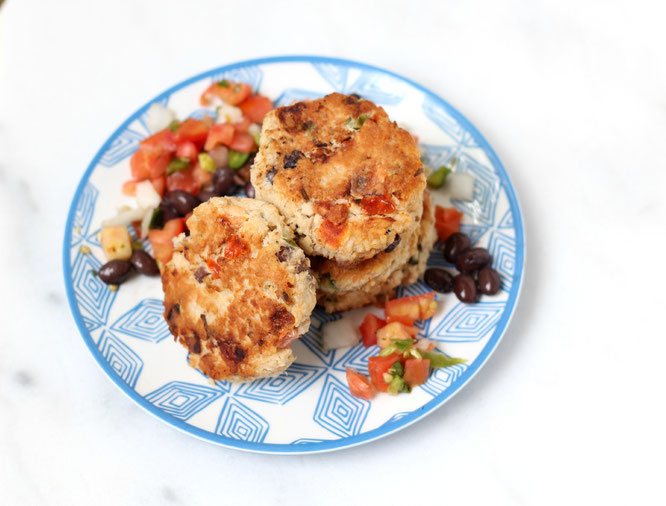 By posting this recipe I am entering a recipe contest sponsored by Bumble Bee Seafoods and am eligible to win prizes associated with the contest. I was not compensated for my time.

This is the second recipe I created for the Bumble Bee Seafoods Recipe Redux Challenge.  Bumble Bee Seafoods challenged us to come up with new recipes that will get people excited about eating more seafood.  Since canned tuna is already one of my favorite forms of seafood, I've been having a great time experimenting with different ways to prepare it outside of the standard tuna salad, casserole, or sandwich.  Now I have at least 5-6 different ways I like to use tuna on a regular basis, so it's never the "same old tuna" recipe here!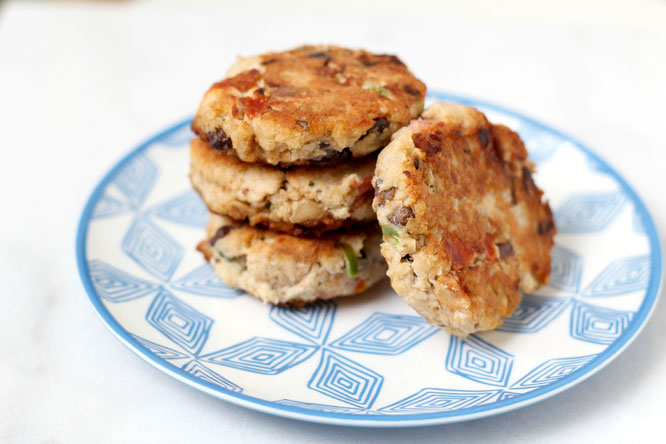 Previously I discussed the importance of getting 2-3 servings of seafood each week, and how tuna is an excellent source of protein and other essential nutrients.  But to emphasize it's importance even more, I thought I'd share a few more interesting facts about tuna.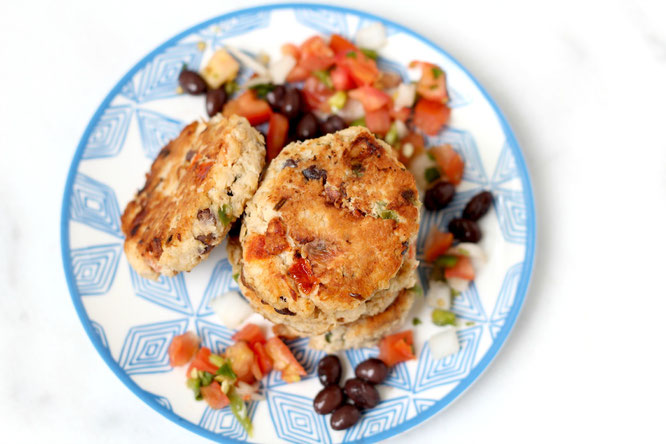 A researcher at the Harvard School of Public Health stated that "seafood is likely the single most important food one can consume for good health" and that moms-to-be in particular should be eating more seafood.  
Research has shown that pregnant women who eat 3-4 servings of seafood per week, such as canned albacore tuna, are more likely to have children with a slightly a higher IQ scores than those who don't consume adequate servings of seafood during pregnancy.  Yet another reason to love this delicious, easy to prepare, and affordable fish option!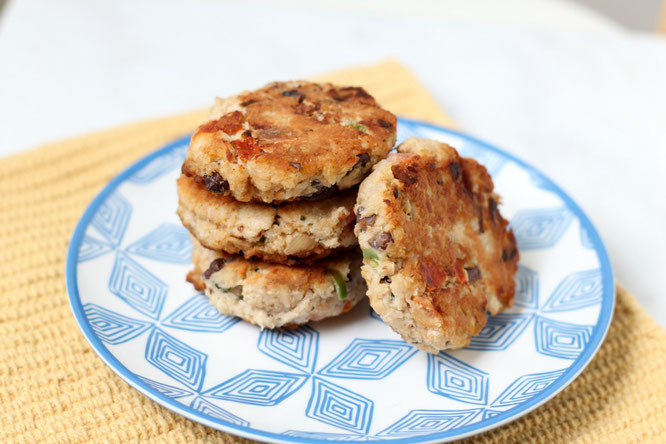 This is my new favorite recipe for tuna cakes.  It's got a nice twist of flavor coming from fresh pico de gallo (which is made of chopped tomato, onion, cilantro, and jalapeno) and black beans, giving it a great Southwestern flare from these fresh ingredients.  I like to add fresh veggies to tuna or any canned foods I cook with because I feel like it adds an extra special something to "wake up" canned foods.  
The easiest way to make this recipe is to buy pre-made pico de gallo, which is usually found in the produce section of the grocery store, but if you decide to make your own, just combine 1 chopped roma tomato, 2 tablespoons chopped onion, 2 tablespoons chopped cilantro, and 1 small chopped jalapeno for heat (optional).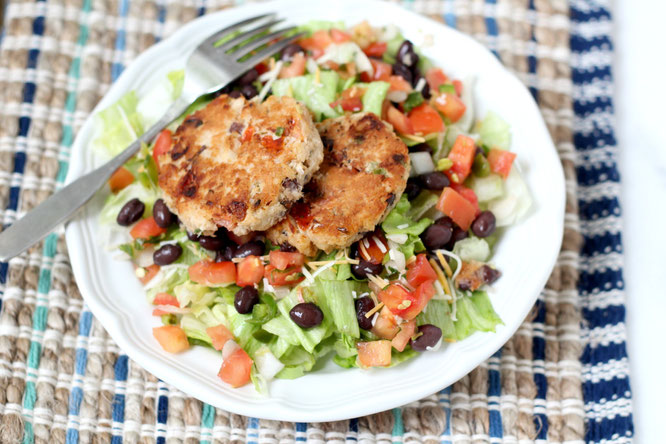 The other great thing about this recipe is that you can prepare the tuna patties and instead of cooking them right away, pop them in the freezer for up to 2 months (freeze in a single layer on a baking sheet, then transfer to container or bag).  You can cook them straight from frozen - just put them in the pan and they'll cook right up in 10-12 minutes.  Serve these little gems over a bed of romaine with extra beans, pico de gallo, and your favorite dressing, or add to sandwiches, wraps, or eat all on their own.  Enjoy! :)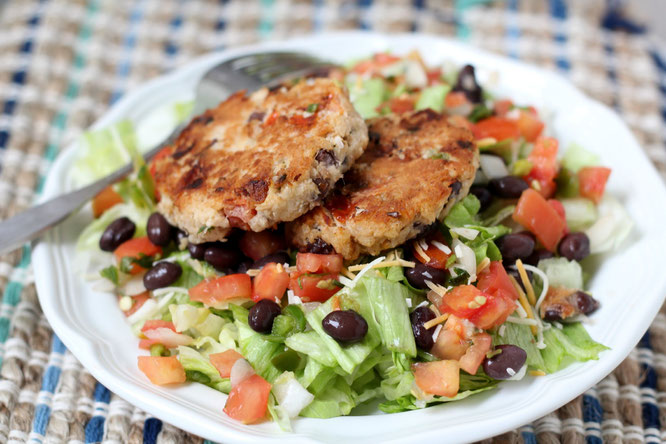 ---
Southwestern Tuna Cakes

Makes 4 servings, 2 tuna cakes each

Ingredients:
2 5-ounce cans Bumble Bee® Solid White Albacore Tuna in Water, drained
1/2 cup pico de gallo (purchased or homemade)
1/4 cup cooked black beans, rinsed and drained
2 tablespoons mayonnaise
pepper to taste 
1 egg, cracked and slightly mixed
1/4 cup panko breadcrumbs
2 tablespoons canola oil
Directions:

Place the tuna in a medium bowl.  Add the pico de gallo, beans, mayo, pepper, egg, and breadcrumbs and mix to combine well.
Using a 1/4 cup measure, scoop out 1/4 cup of the tuna mixture at a time, and shape into a patty about 1 inch thick.  Place on a baking sheet.  Repeat with the remaining tuna mixture, which should yield 8 patties.  
Cover the baking sheet lightly with plastic wrap or foil and place the baking sheet with the tuna patties in the freezer for at least 30 minutes, or overnight.  
When ready to cook the tuna cakes, preheat a large cast-iron or non-stick skillet over medium high heat.  Add the oil to the skillet, and cook the tuna cakes for about 5-7 minutes per side, or until they completely heated through and have a golden crust on each side.  
Serve in a wrap, on a salad, sandwich, or even on their own as an appetizer.  
Happy Eating!
~Amber
---
---
---
Check out the recipes below for some additional seafood inspiration!