Apple pie for breakfast?  You bet!  This apple pie breakfast smoothie tastes like a treat, but it's healthy and ready in under 5 minutes!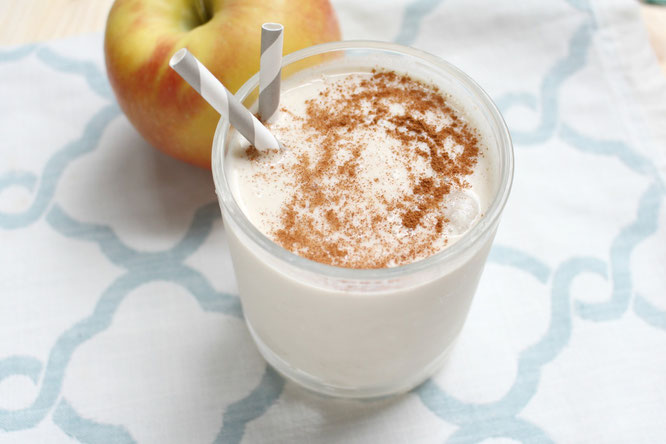 Pie is delicious.  And it's also a perfect summertime dessert (although, let's face it - pie is good any time of the year!).  But making pie from scratch can take a really long time, and it's not exactly the healthiest dessert - it's got that high-fat crust, sugary filling, and whipped cream or ice cream on top.  So I wanted to figure out a healthy way to enjoy the flavor of pie any time I want, and without getting off track from a healthy eating pattern.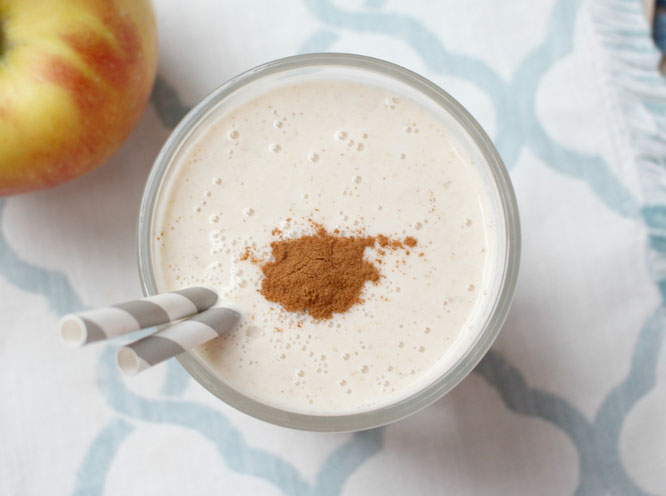 When trying to decide how to come up with a healthy pie concept, I automatically started thinking in terms of a smoothie.  If you've followed my blog for a while, you've probably noticed that I make a lot of smoothies.  
I think smoothies are an easy way to combine different flavors with healthy ingredient bases that create recipes with really interesting flavor profiles.  For example, cocoa powder, bananas, milk can create a chocolate milkshake taste without using ice cream. Orange juice, carrots, and cinnamon make a smoothie that tastes like you're eating a dreamsicle, even though you're actually eating (or drinking) carrots.  
And this smoothie came out even better than I thought it would!  My overall goal was that this smoothie not only came out tasting like pie, but was also healthy and balanced enough to have as a healthy meal substitute.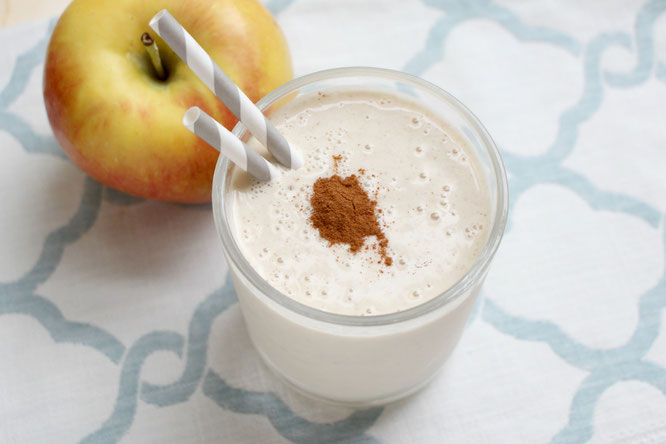 For this recipe, instead of using whole apples and peeling them (because the skin can come out a little chewy in smoothies), I decided to use apple sauce.  Greek yogurt adds a great boost of protein plus calcium (and creaminess), and cinnamon creates the classic "apple pie" feel.  
The other ingredient that really rounds out this recipe is the oats.  Using quick-cooking oats makes the smoothie even thicker and also adds a nutty grain flavor that to me tastes kind of like pie crust.  Plus, the whole grains add complex carbohydrates which are great for a boost of lasting energy and fiber.  
This smoothie is really healthy, quick to make, and totally hits the spot for those pie cravings.  I hope you enjoy this delicious breakfast treat as much as I do!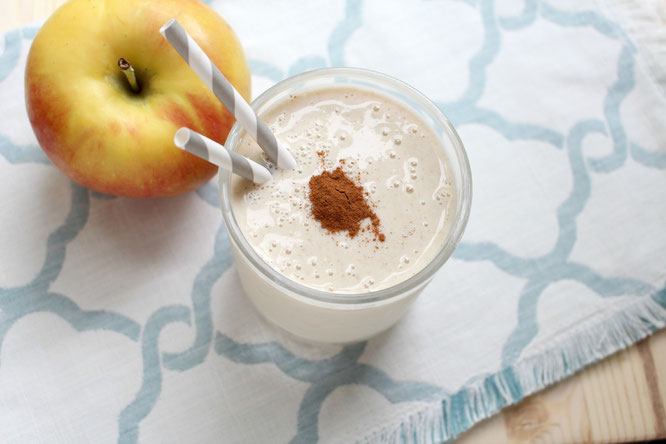 Apple Pie Breakfast Smoothie
Makes 1 smoothie

Ingredients:
1/2 cup plain Greek yogurt
1/2 cup unsweetened applesauce
1/4 cup quick cooking oats (uncooked)
1/4 cup 100% apple juice
1/8 teaspoon ground cinnamon, or more to taste
1 teaspoon pure maple syrup (optional)
4-5 ice cubes
Directions:

Place all ingredients in a blender and blend at least one minute or until the ingredients are completely combined and the smoothie is creamy.



 Happy Eating!
~Amber
---
---
---
Check out some more tasty (and healthy) pie recipes below!