This easy and healthy upside down turkey nacho recipe is a nice change of pace if you're looking to get out of that weeknight meal rut.  It's also ready in about 20 minutes!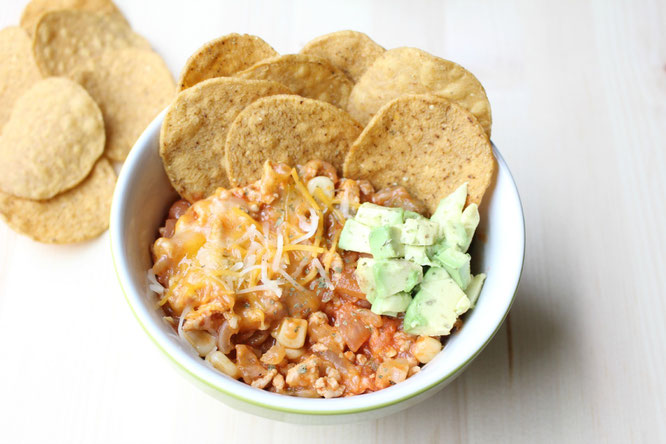 People tell me all the time that that they have trouble with two things when it comes to cooking more meals at home:  Time and variety.  Most of us are pretty busy between home and work life, and finding balance can be a challenge, especially when it comes to spending time in the kitchen at the end of a long day.  Then there's the variety factor.  Many of the people I work with have a few go-to recipes for busy weeknights, but get bored with making the same meals over and over.  That's why I make it my mission to create recipes that can actually fit into everyday life for most people.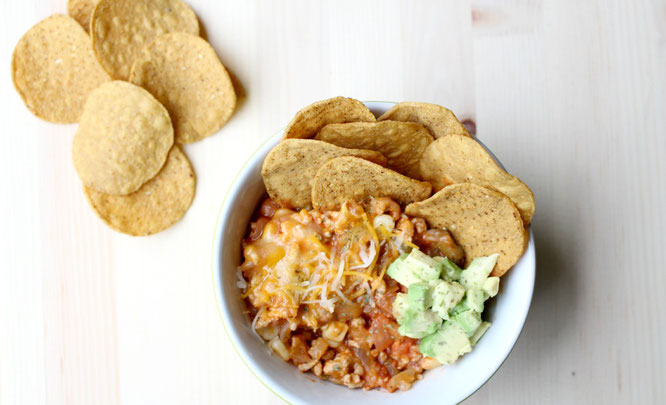 These upside down turkey nachos are a cross between two foods I really like - Tacos and Nachos.  The reason I made them "upside down," meaning the chips are on top instead of the bottom like regular nachos, is that I've found if you see more of the chips on top and use them for dipping or mix them into the meat, it's easier to feel satisfied with less chips and more of the healthy meat mixture.  Sometimes I use lean ground beef to make this recipe, so that's always an option here too.  But a few things that keep this lighter than a regular taco dinner is that the meat is extra lean, the cheese is reduced fat, and the chips are whole grain and have been portioned out for each serving. 

If you're feeling extra adventurous, there are a couple of different options for chips.  These days you can usually find sweet potato tortilla chips instead of just the plain corn variety, which is a really yummy change that's still pretty healthy.  Or, you can make your own baked corn tortilla chips by cutting corn tortillas into triangles, spreading them out on a baking sheet, and baking them at 350 degrees for about 10-15 minutes or until crispy.  The choice is yours - any tortilla chips you use will be delicious for dipping in this amazing taco mixture! 

---
Healthy Upside Down Turkey Nachos

Makes 6-8 servings

Ingredients:
1 teaspoon canola oil

1 pound ground turkey breast (at least 90% lean)

1 medium onion, chopped

1 cup frozen corn

1 15-ounce can low sodium pinto beans

2 cups salsa

1 teaspoon garlic powder

1 teaspoon chili powder

1/2 teaspoon cumin

10-12 corn tortilla chips or sweet potato tortilla chips per person

3/4 cup shredded reduced fat cheddar cheese

1 large avocado, chopped
Directions:
Heat a skillet over medium high heat.  Add the oil, turkey, and onion. Start breaking up the meat and stir the mixture as it browns. 

Add the corn, beans, salsa and seasonings to the skillet, reduce the heat to low and simmer for about 15 minutes, stirring occasionally. 

To serve, scoop some of the turkey mixture into a bowl, top with 2 tablespoons of cheese, 2 tablespoons avocado, and 10-12 tortilla chips on top per serving. 



Happy Eating!
~Amber