This 5-minute salmon salad with avocado is fast, affordable, and with only five main ingredients, is the perfect option for a healthy on-the-go lunch or dinner.  This is healthy "fast food" at it's finest!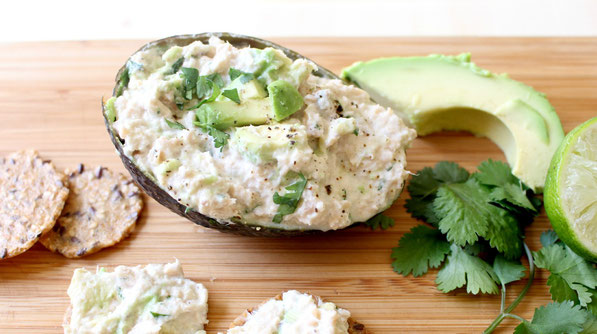 Salmon is an excellent source of omega 3 fatty acids, which are well known as heart-healthy fats due to their amazing anti-inflammatory properties.  The problem is, most of us don't eat much fish, especially salmon.  I find there are two main reasons for this.  First, salmon has a stronger "fishy" flavor than some of the other milder fish, like almost every white fish.  Second, it's pretty pricy, especially if you opt for a wild caught variety. 
Canned salmon solves one of these problems beautifully  (unfortunately, it's not the fishy taste, so if you've got issues with salmon flavor, sorry!).  It turns out, much like tuna, buying canned salmon is a much more affordable way to get the heart-healthy benefits of the omega 3 fats in a convenient, easy to prepare form.  I use the de-boned version, which is a little pricier than the other version with skin and bones.  This is an important note if you've never bought canned salmon before, and I definitely experienced it first-hand:  when you're looking at the canned salmon in the store, you'll see most of it labeled simply as "salmon" or "pink salmon."  Almost all of these contain little bones and pieces of skin from the fish, so when you open it, you will have some extra little treasures waiting for you along with the salmon. 
The skin and small bones are actually edible, and the bones are among nature's best sources of calcium, so if it doesn't bother you, then go for it!  You can also pick out the bones and skin, but this will take time.  So I make sure the can is labeled as "salmon meat only" which will also have just "salmon" on the ingredient list.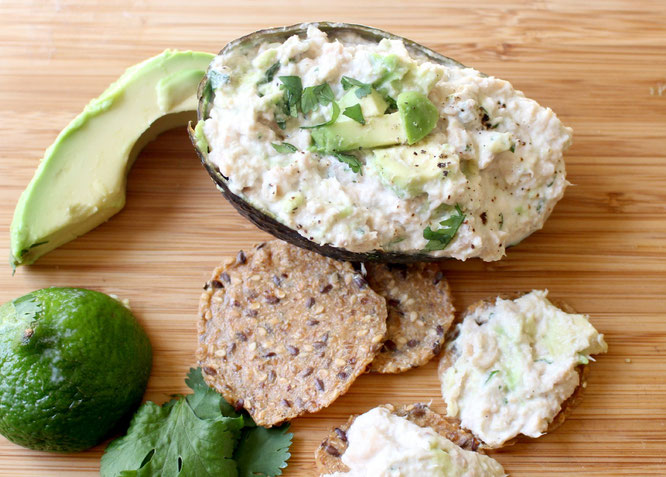 Prices will vary based on where you live and shop, but I paid just $2.50 for 6 ounces of canned salmon , which comes down to about $0.42 per ounce.  When I buy whole, uncooked salmon fillets, I pay about $1 per ounce where I live.  So for me, canned salmon is less than half the price of fresh or frozen.  I do buy whole salmon fillets on a regular basis, but the canned variety is so much more affordable, it's also entered my regular fish rotation. 
Then comes the preparation of this salmon salad:  With all that healthy goodness in the fish, I thought, why make a salad swimming in mayo (like tuna or chicken salad) that would just bring a bunch of extra calories and fat to the recipe?  Instead, Greek yogurt brings the creamy texture, and avocado can add even more creaminess and healthy fat, but in a more natural form than the mayonnaise.  And with the lime juice, you won't be able to tell there's yogurt in there, so as long as you start with plain yogurt, you won't have a problem!
This meal really does take just 5 minutes to make.  It's simply a matter of mixing everything together, and that's it.  To me that's one of the beautiful things about starting with a pre-cooked protein like canned salmon - it's one of the fastest, easiest things to prepare.  I hope this recipe becomes a regular addition to your lunch or dinner rotation!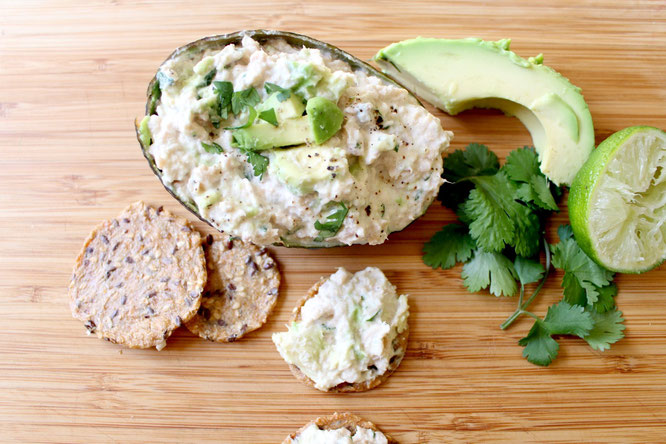 No-Mayo Salmon Salad with Avocado
Makes 2 servings
Ingredients:
1 6-ounce can boneless, skinless salmon packed in water, drained

3 tablespoons plain Greek yogurt

1 tablespoon freshly squeezed lime juice (about ½ small

lime)

2 tablespoons chopped cilantro (optional)

1/4 cup chopped avocado

Pepper to taste



Directions:
In a medium bowl, mix together the yogurt, lime, and cilantro. Then flake the salmon into the bowl and mix everything together.  Gently fold the avocado into the mixture. 

Serve with whole grain crackers, on a multigrain wrap, or over a bed of

romaine or baby spinach.   Enjoy!
Happy Eating!
~Amber

---