These homemade Southwestern fish sticks are easy to make with just five main ingredients and taste so much better than any frozen store bought version!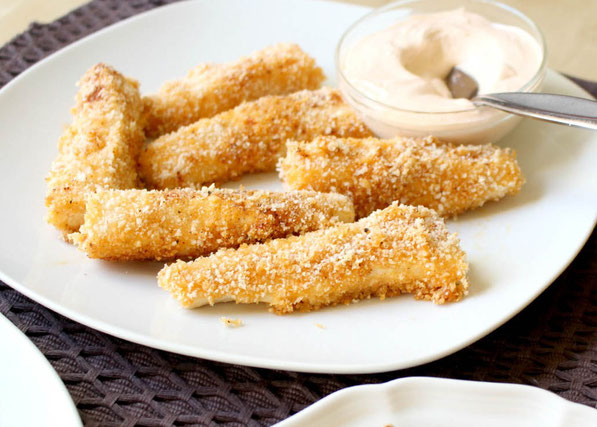 Fish sticks.  Most of us grew up eating lots of them, and to be honest I think many grown ups enjoy them just as much as kids do!  But when it comes to store bought frozen fish sticks, there are a couple of things to watch out for.  The first one is nutrition.  Most of the time, when you buy pre-made frozen fish sticks (or pretty much any breaded fillets), they've been fried before they're frozen. 
I've had many clients say, "but I bake them, I don't fry them," not thinking about the fact that they've actually already been fried, regardless of how you cook them to reheat.  It's also important to check the sodium content of frozen fish sticks, because just like most frozen pre-made foods, they can be pretty high in sodium.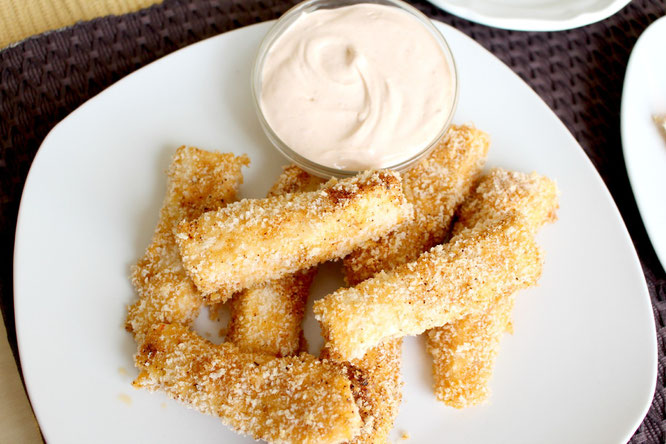 Now I'm not saying that you should never buy frozen fish sticks, they can be a quick and affordable weeknight dinner that's a tasty treat.  But making your own version at home is actually really fast easy, and the whole family will love them - so be sure to incorporate these into your fish rotation as well! :) 
These fish sticks are very simple to make and have a nice Southwestern kick!  There are two key ingredients that make this recipe so delicious:  panko bread crumbs and salad dressing.  Yes, salad dressing.  It's delicious.  Panko breadcrumbs are light and crispy, so foods taste fried even if they're baked.  And the salad dressing has great flavor and helps the fish sticks brown in the oven since there's oil in the dressing.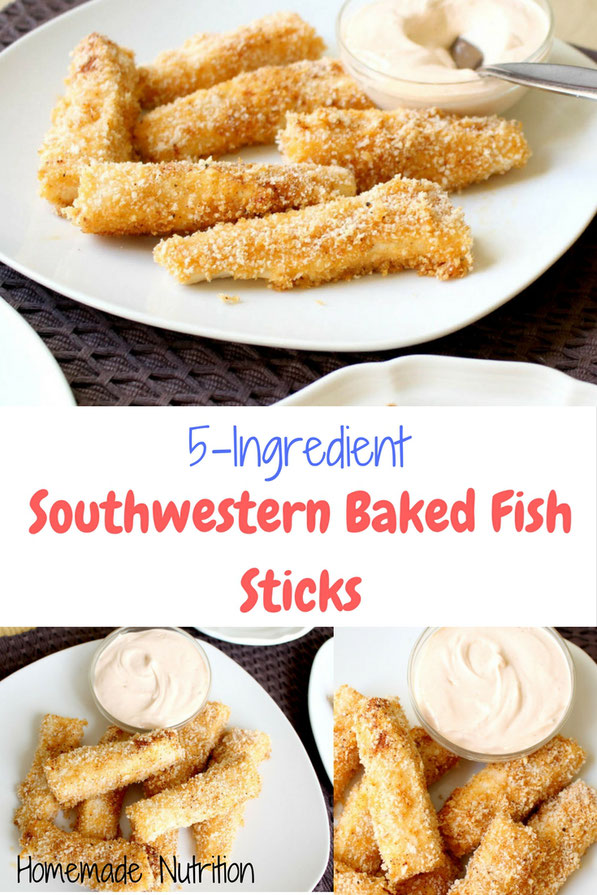 The last element to make this meal over-the-top delicious but still healthy is the dipping sauce.  No mayo-based, regular old tarter sauce here! 
Instead, I mixed a little of the same Southwestern salad dressing used for the fish sticks with plain Greek yogurt.  Then for some fun spice I added a little Sriracha sauce, which is a hot chili sauce often used in Asian food, but it goes well with pretty much anything you'd add hot sauce to. 
If you don't have Sriracha sauce, you could use any hot sauce you have on hand, or if you don't like hot sauce, just skip it and replace with extra dressing, and you'll have a mild Southwestern-flavored dipping sauce.  No one will notice yogurt is the base of this sauce!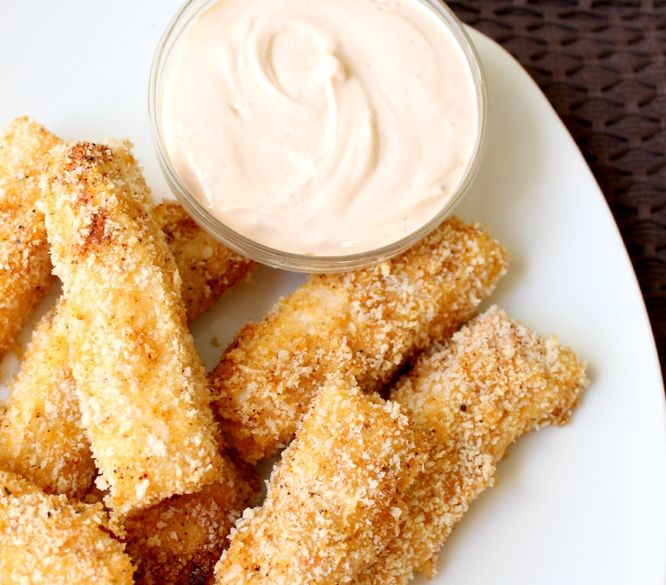 Southwestern Baked Fish Sticks with Creamy Dipping Sauce
Makes 4 servings
For the Fish Sticks:
4 fillets of white fish of choice (tilapia, mahi mahi, catfish, etc), about 1 pound total, cut into strips*

1/4 cup Southwestern ranch salad dressing (can also use regular ranch)

1 1/2 cups plain panko bread crumbs

1 teaspoon chili powder

1/2 teaspoon ground cumin

salt and pepper to taste
For the Dipping Sauce:
1/2 cup plain Greek yogurt

2 tablespoons Southwestern ranch dressing (or whatever dressing used above on the fish)

1 tablespoon Sriracha (hot sauce), or more or less to taste
Directions:
Preheat the oven to 400 degrees.  Place the salad dressing in a medium bowl, add the fish strips, and toss to coat all of the fish with the dressing. 

In a shallow container, mix the breadcrumbs, chili powder, cumin, salt, and pepper. 

Place each fish stick in the breadcrumb mixture, rolling it around to coat completely in breadcrumbs.  Place the fish sticks on a baking sheet lined with foil, and bake for about 10 minutes, or until the fish flakes easily with a fork. 

To make the dipping sauce, combine the yogurt, dressing, and hot sauce in a small bowl and refrigerate until ready to use.  Serve these fish sticks with a salad on the side, carrot sticks, or other veggie your family loves!
*Note:  if you're looking for a more classic rectangular shape for your fish sticks, first cut each fillet into a rectangular shape by cutting off the smaller edges on both sides of the fillet.  Then cut the large rectangle long-ways into 2-3 strips.  Use the ends of the fillets you cut off as "nuggets," breading them just like the fish sticks and cooking them at the same time as the rest of the fish.  The result will be 8-12 fish sticks with 8 small fish nuggets from the end pieces. 
Happy Eating!
~Amber
---