Pork tenderloin, garlic, asparagus, and orange are the perfect combination for the base of this easy dinner-in-a-bowl!   If you're looking for a fun healthy recipe to change up your dinner routine, this meal is a must-try!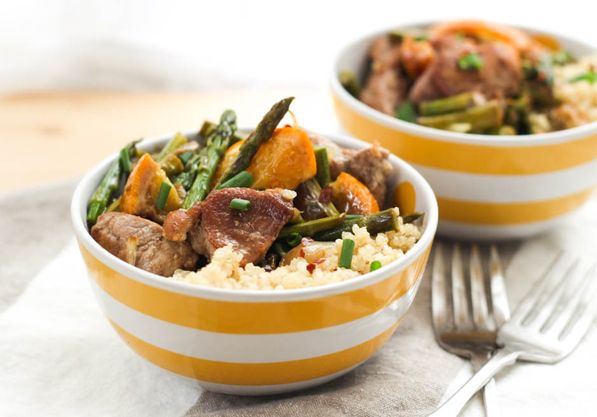 Disclosure: I received a free sample of Kikkoman soy sauce mentioned in this post. By posting this recipe I am entering a recipe contest sponsored by Kikkoman and am eligible to win prizes associated with the contest. I was not compensated for my time.
If you're looking for something that's just a little different when it comes to weeknight dinners, this meal is for you!  Sometimes we get into a rut of eating the same meals every week at our house, with the same spices, same proteins...I'm sure you know how that goes!  So when looking for something different to work into the dinner routine, I started out with choosing a different protein and some different flavors to jazz up the dish.  
Instead of beef or chicken, I changed it up by using pork, which we love but I tend to not make as often.  I usually cook whole pork tenderloin (like in my one-skillet pork tenderloin with baby potatoes), but for this recipe, I decided to cut it up into chunks (about 2 inches each) and it worked out perfectly because the pork and the veggies were done at the same time!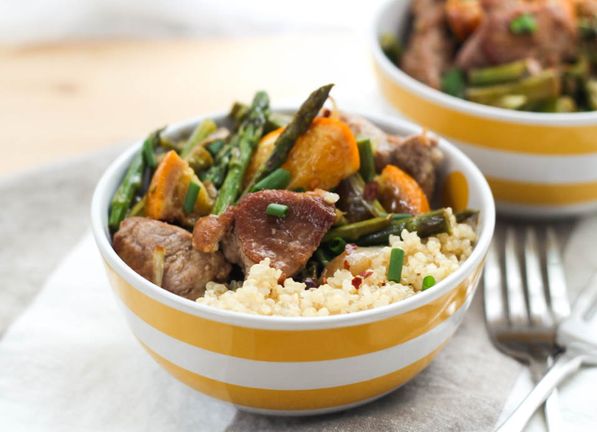 This meal has two parts that happen at the same time so everything is ready all at once.  The first part is boiling whatever quick-cooking grain you want.  I chose 10-minute quinoa this time around, but brown rice, farro, or barley would be great with this!  Side note here, if you think whole grains take too long to cook, you seriously have to give the "quick cooking" versions a try.  
They're right on the same aisle as the other grains, the only difference its that they've been parboiled (or partially cooked) so you're basically just finishing them off at home.  There's also some great pre-bagged fully cooked grains that simply need to be  microwaved and are ready to serve, and others in the freezer section that also just require heating up.
Once the pot gets going with the grains, the rest of the meal comes together on a sheet pan and is baked in the oven.  All that goes into it is tossing the orange, asparagus, onion, and pork in a quick sauce before dumping it out on a sheet pan to bake.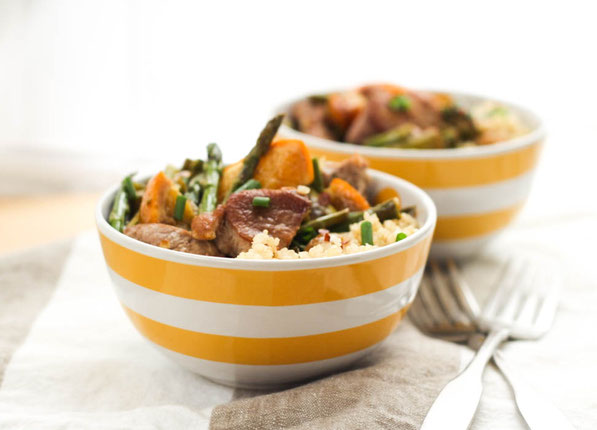 The sauce has garlic, a little orange juice (from the other 1/2 of the sliced orange in the dish), red pepper flakes, a touch of oil, and soy sauce. The soy sauce not only adds flavor, but it replaces the salt in this recipe - Most people think of soy sauce as being a very high-sodium food, but I learned something really interesting about it recently as part of this recipe contest:  By using 1/2 teaspoon of Kikkoman Soy Sauce in place of 1/2 teaspoon of table salt, the sodium content of the recipe is cut by 1000 mg!  That's right, there's actually less  sodium in the soy sauce than in the same amount of table salt.  
This opens up a new window of opportunity for cooking because using soy sauce instead of salt is a great way to add more flavor to dishes and still have less sodium in the end-product.  And let me tell you, the flavor of the soy sauce in this dish compliments the other ingredients in a way that is just culinary perfection (in my opinion).  :)  Enjoy!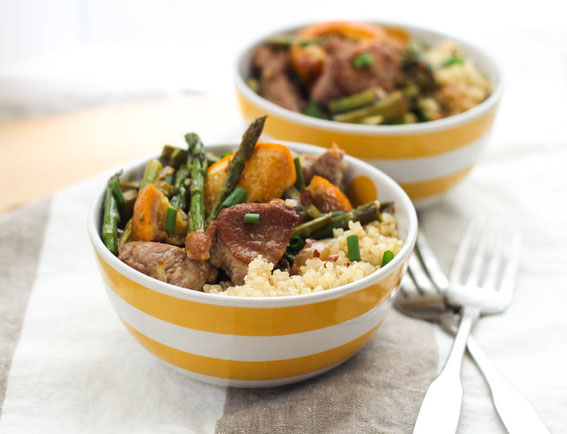 Garlic-Orange Pork Tenderloin Bowls with Asparagus
Makes 2 servings
Ingredients:
1 cup quick-cooking quinoa or other whole grain of choice
1/4 cup orange juice ( from about 1/2 of a medium orange)
2 tablespoons light olive or canola oil
1 tablespoon Kikkoman less sodium soy sauce
red pepper flakes to taste
1/2 pound pork tenderloin, trimmed and cut into 2 inch chunks
1/2 medium orange, sliced and cut into bite-sized pieces
1/2 bunch of asparagus, chopped into bite-sized pieces (about 2 cups)
1/4 onion, sliced (about 1 cup)
1 clove garlic, finely chopped
sliced green onion for garnish (optional)
Directions:
Preheat oven to 425 degrees.  While the oven preheats, start a pot with the quick-cooking quinoa according to the package directions. 
In a large bowl, combine the orange juice, oil, soy sauce, and red pepper flakes.  Add the pork, orange slices, asparagus, onion, and garlic and toss everything to coat in the sauce.  
Pour the mixture out onto a sheet pan lined with foil or parchment paper and spread all ingredients out into an even layer.  
Bake for 15-20 minutes, or until the pork is cooked through and the vegetables are tender.  
To serve, place a bed of the quinoa in a bowl or on a plate and top with half of the pork/veggie mixture.  Garnish with sliced green onion if desired. 
 Happy Eating!
~Amber 
---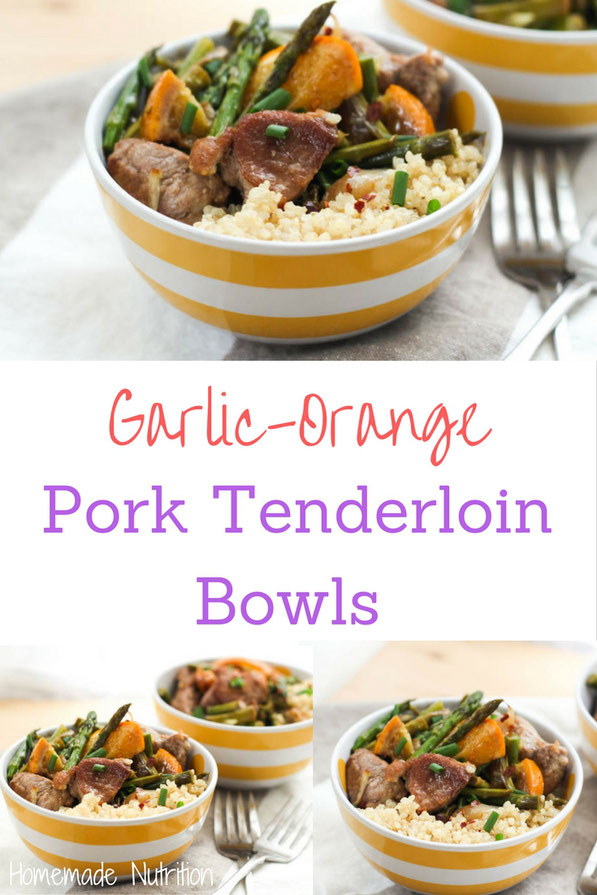 ---
---
---