These healthy pistachio-crusted chicken tenders come together in just a few minutes, and the homemade BBQ honey-mustard dipping sauce is the perfect fun addition to this tasty dinner!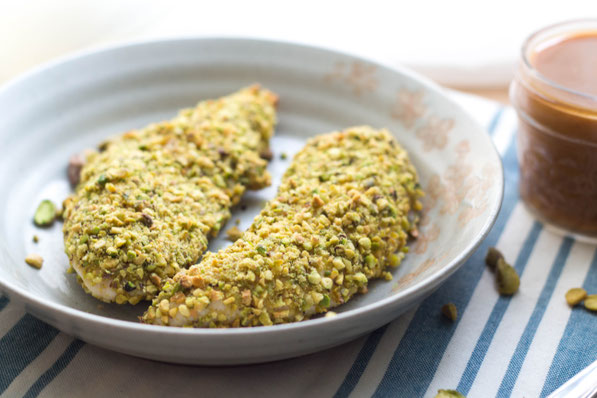 Does anyone else ever get in a chicken rut?  Sometimes I just get bored with the same old grilled or baked chicken, so I decided a new (and easy) chicken recipe was long overdue. 
Lately,  I've been cooking more with chicken thighs instead of chicken breast meat for some variety, and my easy one-skillet lemon-garlic chicken thighs with creamed spinach has been on our regular dinner menu for the past couple of months (it literally tastes like rotisserie chicken!).  But this time, I wanted something that would cook quickly, so I turned to chicken tenders. 
The "breading" for this recipe couldn't be easier.  It has just 4 ingredients:  pistachios, salt, pepper, and garlic powder.  I love using ground nuts to coat chicken or fish because it's naturally crunchy, and you don't need to add extra oil because the oil in the nuts makes the outside lightly golden in color and helps keep the meat moist.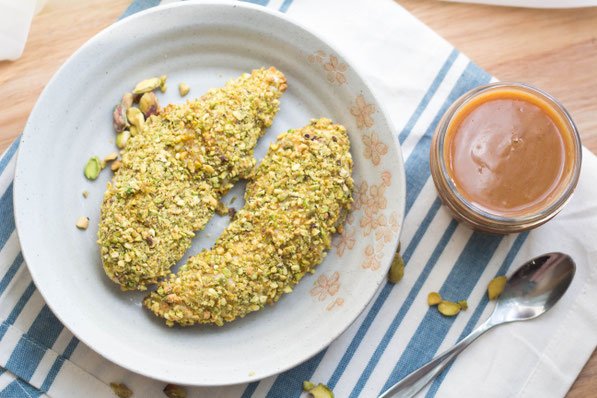 I buy unsalted shelled pistachios from the bulk bins at my grocery store, toss them into the blender or food processor with the seasonings, and that's it!  A quick dip in a beaten egg followed by a coating of the nut mixture is all the chicken tenders need to be ready to bake. 
The day I wanted to test and photograph this recipe, I really didn't feel like cooking.  It had been a long day working and the last thing I felt like doing was spending the evening in the kitchen.  But I'm so glad I decided to try it anyway, because I was honestly surprised at how fast this recipe came together.  Start to finish, it was only around 20-25 minutes, which included about 15 minutes of baking time in the oven.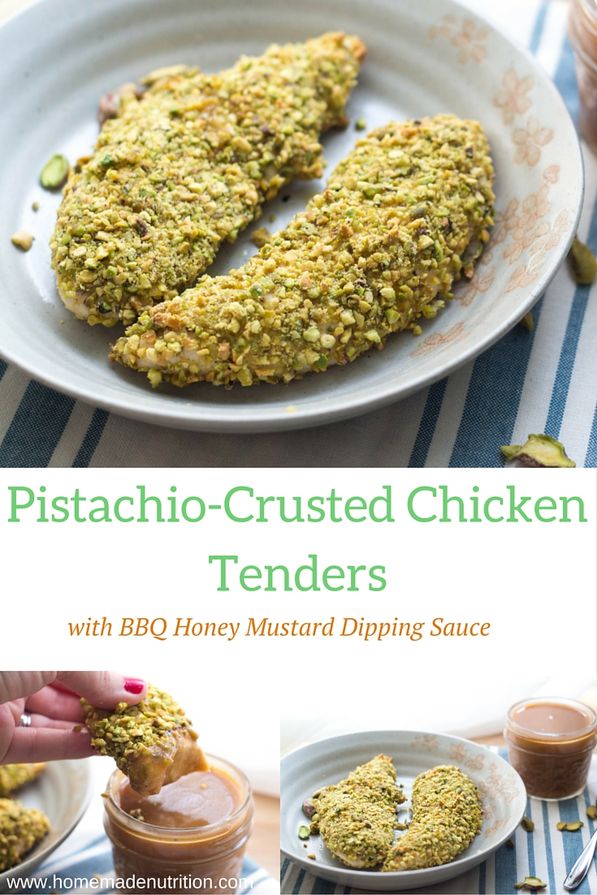 It gives me a great feeling of accomplishment when I can classify a recipe as "healthy fast food" and this one definitely is just that!  It's also a naturally gluten free recipe and is low in carbohydrates.
As for the sauce, I love a good honey-mustard dipping sauce, and this time I added a little bit of BBQ sauce to change it up a bit, and it came out SO good! 
I try to not add too much honey to the sauce, but  if you like it a little sweeter, keep stirring in more honey a teaspoon at a time until you reach that perfect sweetness for your taste buds.  Here's to healthy (and fast) weeknight cooking! :)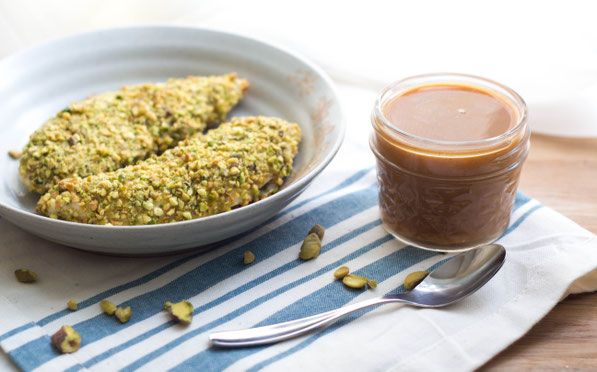 Pistachio-Crusted Chicken Tenders with Honey Mustard Dipping Sauce
Makes 4 servings
For the chicken:
1 cup unsalted pistachio pieces (no shells)
1/8 teaspoon pepper
½ teaspoon salt
½ teaspoon garlic powder
1 egg, cracked and mixed
1 pound raw chicken tenders
For the honey-mustard sauce:
1/3 cup Dijon mustard
 3 tablespoons honey
2-3 tablespoons BBQ sauce of choice
 Directions:
Preheat oven to 400 degrees.
In a food processor of blender, combine the pistachios, pepper, salt, and garlic powder. Pulse until the mixture is a course powdery texture. If you don't have a food processor or blender, you can place the ingredients in a zip lock bag and use a rolling pin to crunch the nuts to desired texture.
Dip each chicken tender in the egg mixture, then roll in the nut mixture, pressing into the pistachios to evenly coat the chicken.
Place on a lightly greased baking sheet and bake for about 15 minutes or until the chicken tenders are cooked through.
While the chicken is cooking, prepare the dipping sauce by add the Dijon mustard, honey, and BBQ sauce in a small bowl and mixing well to combine.
Happy Eating!
~Amber
---
---