Peanut butter and jelly overnight oats are a tasty twist on the classic PB&J.  It's the perfect quick and healthy new lunch recipe!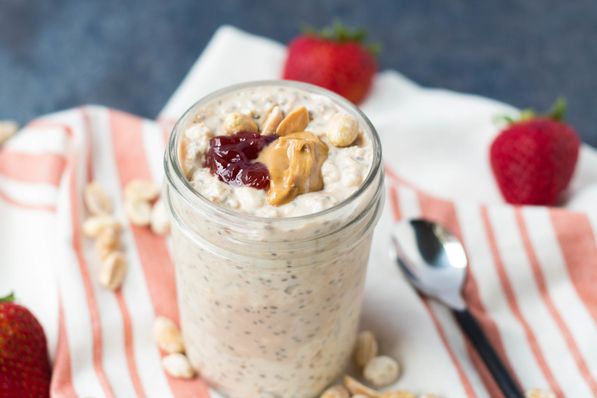 Yes, I just posted an overnight oats recipe earlier this week (chocolate-cinnamon overnight oats)....and no, I'm not ashamed at all to be posting another one so soon!  I have been going overnight-oat-crazy the past month or so and have been trying all sorts of variations on this tasty twist on oatmeal.  
Lately I've actually transitioned to eating overnight oats for lunch instead of breakfast.  I know it sounds a little weird, but it totally works!  And my new favorite lunch couldn't be more perfect for this month's Recipe Redux theme.  Each month, The Recipe Redux challenges members (dietitian and nutrition food bloggers) to come up with a healthy recipe based on a certain theme.  And here is this month's theme:  
"Ever get in a lunch rut? Need new ideas for packing your kids' or your own lunch? Are packable noontime options dwindling? Surely you've met the 'What shall I pack for lunch?" question head-on with creative ideas. Please share your healthy lunch recipe – so we can swap it into our own rotation."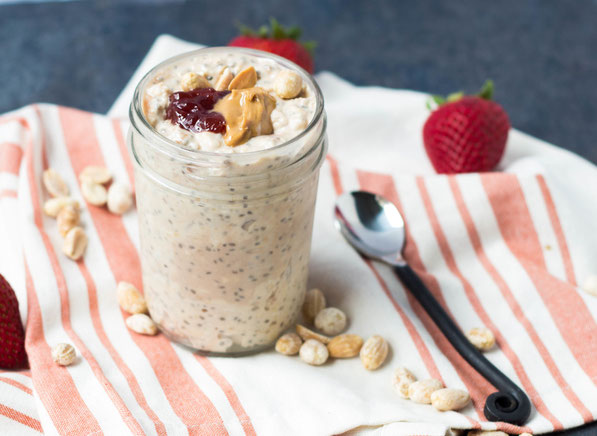 Even though overnight oats are usually thought of as a breakfast recipe, I ended up trying them for lunch one day out of necessity - it was one of those mornings when I was in a rush to get ready for work, it was the end of the week, and I didn't have much in the kitchen when it came to lunch options.  
At this point most people would probably say, "oh well, I'll just eat out for lunch today..." but that's just not my thing.  I'm one of those people who brings my lunch everyday....everyday single day.  Don't know why, it's just my thing... ;)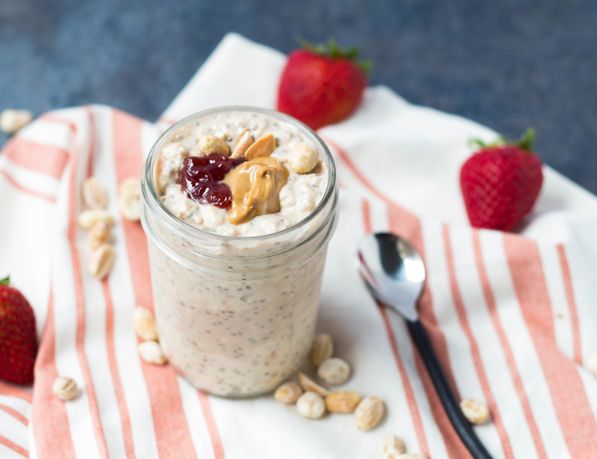 So I took it upon myself to quickly scrounge around the kitchen until I realized I had the basics on hand for overnight oats - oats, milk, and yogurt.  I always have chia seeds around and like to put those in my overnight oats because they add nutrition and a great texture.  From there I added one of my favorite lunch combos:  peanut butter and jelly. And this delicious recipe was born!
Overnight oats are usually made the night before you need them (which you can absolutely do for this recipe), but if you find yourself needing them the same day, they take less than five minutes to put together and they will be ready by lunchtime!  I find this is also a very filling lunch that keeps me full for several hours, so it's perfect for getting through a busy afternoon!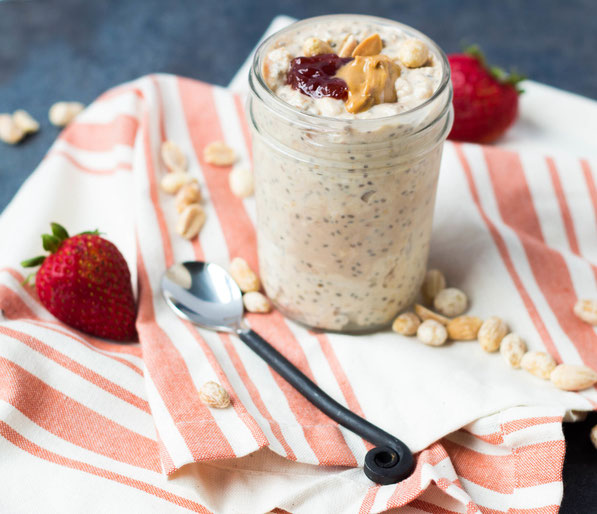 Peanut Butter and Jelly Overnight Oats
Makes 1 Serving
Ingredients:
1/3 cup instant or quick-cooking oats (can also used steel cut or rolled oats)
1 tablespoon chia seeds
1/3 cup vanilla Greek yogurt
2 tablespoons natural peanut butter
1/3 cup milk
small splash of vanilla, about 1/8 teaspoon (optional)
2 teaspoons jam of choice
unsalted peanuts for serving (optional)
1/4 cup sliced strawberries or banana  (optional)
Directions:
In a small bowl, mix the oats, chia seeds, yogurt, peanut butter, milk, and vanilla if using.  Mix well so the peanut butter is evenly mixed into the oats.  
Once combined,  transfer the mixture to a mason jar or container with a lid, top with the jam, cover, and refrigerate for at least 2 hours or overnight. 
When ready to eat, stir in the jam, and top with peanuts and sliced strawberries or banana if using.  
Happy Eating!
~Amber
---
---
---
For more lunchtime inspiration, check out the recipes below from fellow healthy food bloggers!
---