These easy vegetarian roasted poblano peppers stuffed with beans and cheese are a lighter twist on traditional chile rellenos.  They have only five ingredients and are ready in about 30 minutes!  Perfect gluten free weeknight dinner!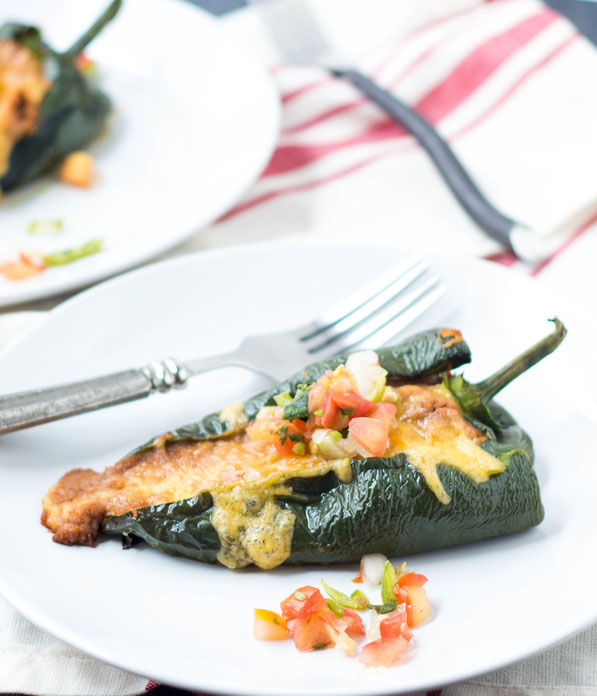 Poblano peppers have been in-season lately and I'm loving it!  A couple of weeks ago, I made a simple (and lighter) creamy roasted poblano soup recipe, which has been very popular on the blog and has gotten great reviews from those who have tried it - so be sure to check that recipe out after this one! 
Since roasting these beautiful peppers is a great way to bring out their flavor in a milder, more mellow way, I roasted them for today's recipe.  This recipe is a much lighter version of classic chile rellenos (which is a dish commonly found in Mexican restaurants).  
Chile rellenos is basically a dish made of poblano peppers that have been roasted, stuffed with cheese, than battered and fried.  Which, don't get me wrong....is pretty tasty.  But not exactly a weeknight-friendly meal in terms of preparation or nutrition.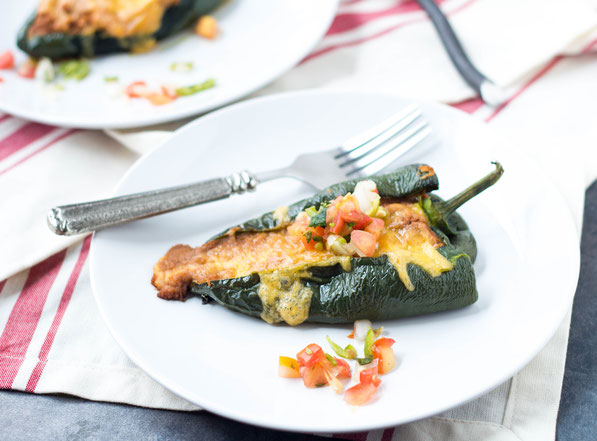 Instead of frying the peppers, I just stuff them and bake in the oven.  You'll notice in the directions that there's actually one more step in this recipe before the peppers go in the oven, which is boiling the peppers.  I know, sounds really weird, but I've made these peppers many times over the past few years (because they're so yummy!) and I find that if you boil the peppers before stuffing and baking, they become much more tender and delicious in the oven.  And they cook faster, so you eat sooner.  :) 
The other big difference in my version of this recipe is the beans.  I love using fat free refried beans for cooking - not because they're fat free, but because regular canned or fresh refried beans usually have lard or bacon grease in them, which is not the lightest way to eat beans. ;) 
So buying the fat free variety ensures that you've got beans, some spices, and not a bunch of added grease-factor or animal fat if you're trying to keep things vegetarian.  Once these peppers are stuffed with the beans, all that's left to do is top them with cheese and bake until melty and delicious.  One other bonus to this recipe - leftovers reheat beautifully for lunch the next day.  Enjoy!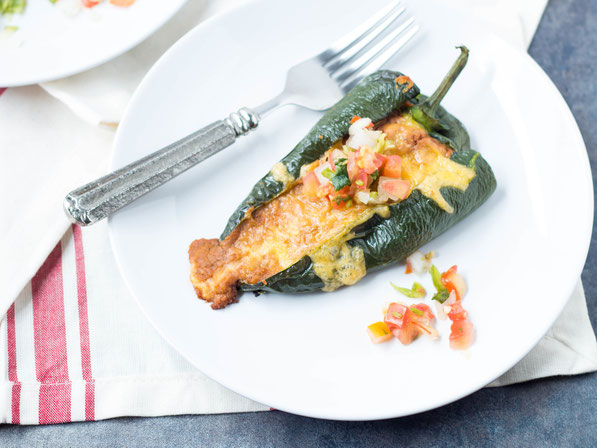 Roasted Bean and Cheese Stuffed Poblano Peppers
Makes 4 servings
Ingredients:
4 fresh poblano peppers
1-15 ounce can fat free refried beans
1/2 teaspoon chili powder
1/2 teaspoon garlic powder
1/2 cup sharp cheddar cheese , shredded
optional topping:  homemade or store-bought pico de gallo
Directions: 
Preheat oven to 400 degrees.  Bring a medium pot filled about half way with water to a boil over medium-high heat.  Add the whole peppers to the water, and boil the peppers for 10 minutes, using a pair of tongs to turn them once half-way through the boiling time. 
Meanwhile, add the beans, chili powder, and garlic powder to a medium bowl and mix to combine. 
Remove the peppers from the water, and use a paring knife to make a  slit down the top of each pepper from the stem almost to the bottom tip of the pepper (don't slice all the way through to the bottom of the pepper).  Use a spoon to scoop the seeds out of the peppers.  You can run them under water to easily remove any additional seeds. 
Place the peppers on a baking sheet lined with foil and lightly greased or sprayed with cooking spray.  
Add about 1/4 of the bean mixture to each of the peppers, then top each with 1/4 of the cheese.  
Bake for 15-20 minutes or until the peppers are completely tender and the beans and cheese are melted and slightly bubbly. 
Happy Eating!
~Amber
---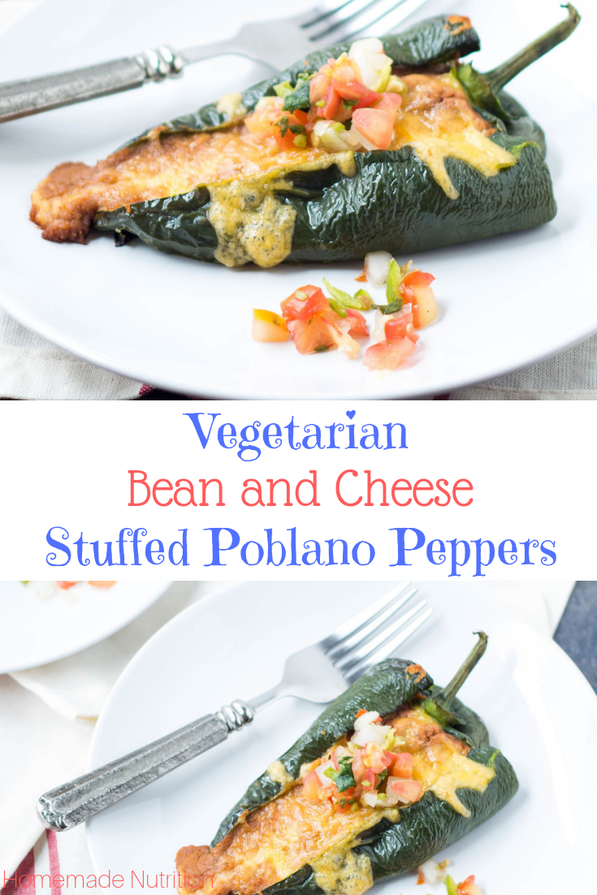 ---