This quick blueberry mango smoothie is packed with protein and flavor.  It's a fantastic 5 ingredient, 2 minute breakfast that will give you an energy boost to start the day feeling great!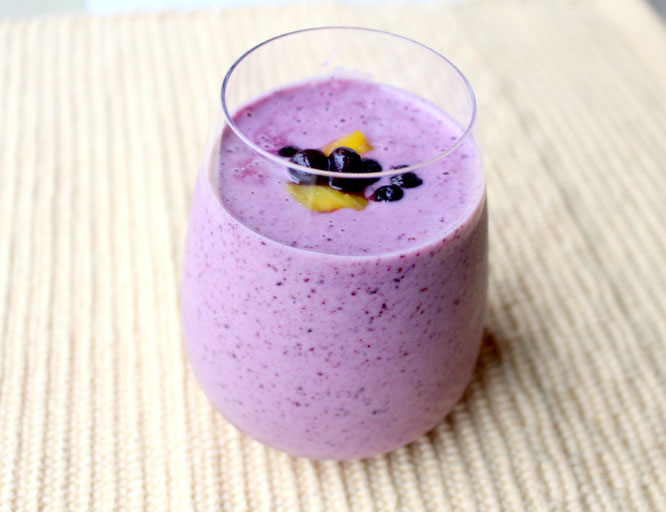 This delicious smoothie has recently entered my life and my breakfast routine!  As I was digging through my freezer one morning, I found some frozen blueberries I had forgotten were in there.  This is unusual for me, because I'm in the kitchen so much I generally know exactly what I have at all times.  But alas, the blueberries were there, and it was at that moment I knew I would eat them for breakfast! ;)
So I combined them with a few other delicious and nutritious items I always have on hand:  frozen mango, banana, and Greek yogurt.  The combo of these three fruits is the best!  It's very refreshing and sweet.  Plus the Greek yogurt adds a nice boost of protein that lets this smoothie pass as a small meal option rather than just a snack.  I generally try to find ways to add protein in my smoothies to make them more filling, and I've found that yogurt is one of the best ways to do this.  It provides a creamy texture, packs a big punch of protein, plus is a great source of calcium to support bone health.  Other ingredients I frequently use in smoothies to give them a boost of protein include peanut butter (or PB2, which is de-fatted powdered peanuts), flax, chia seeds, soymilk or 1% milk, oats, and nuts.  I've even considered adding beans to my smoothies for protein, but haven't quite  had the courage to try it yet, so stay tuned because if that works, I'll let you know!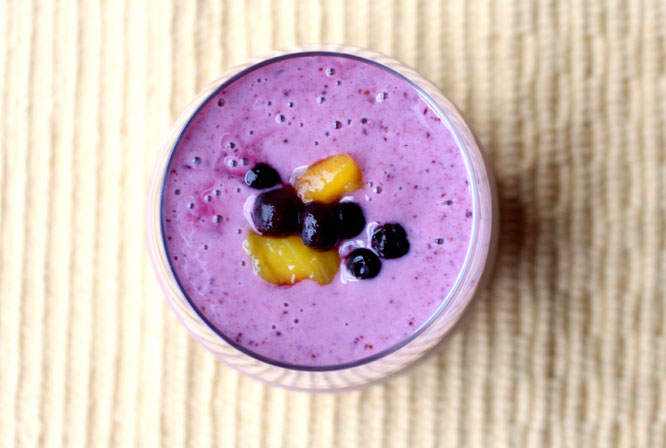 If you aren't a huge fan of smoothies for breakfast, no problem!  They can be a great option as a small meal or snack anytime of the day.  In fact, my most frequent smoothie-drinking time is actually mid to late afternoon because I find the fruit (plus sometimes veggies) combined with protein source gives great energy and doesn't make you feel bad later like a candy bar or bag of chips would.  They are even a good dessert option!  The biggest thing to watch out for when adding smoothies to your daily routine is keeping the portion size in-check with a smoothie that's about 8-10 ounces in size, not a huge 32 ounce version!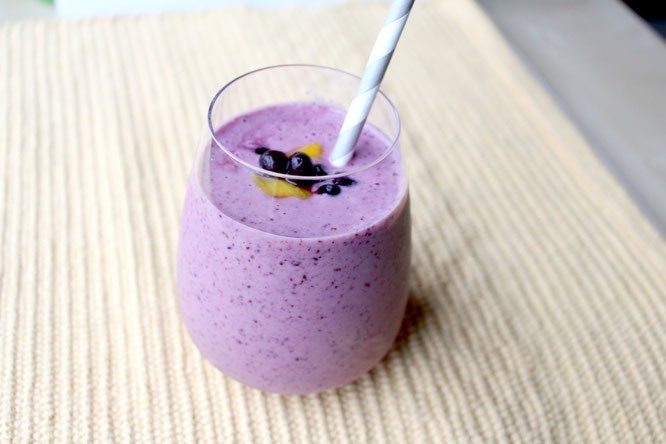 Refreshing Blueberry Mango Smoothie

Makes 1 Serving
 Ingredients:

1/2 banana

1/2 cup frozen blueberries

1/2 cup frozen mango chunks

1/2 cup plain Greek yogurt

1/2 cup 100% orange juice (can also use water)
Directions:
Combine all ingredients in blender and blend for about 1 minute or until completely smooth and creamy. 
Happy Eating!
~Amber

---