These dark chocolate bars with crunchy quinoa and robust coffee have a beautiful blend of flavors and natural boost of energy to get you through a busy afternoon.  Plus, they've only got 3 ingredients and take less than 5 minutes to make!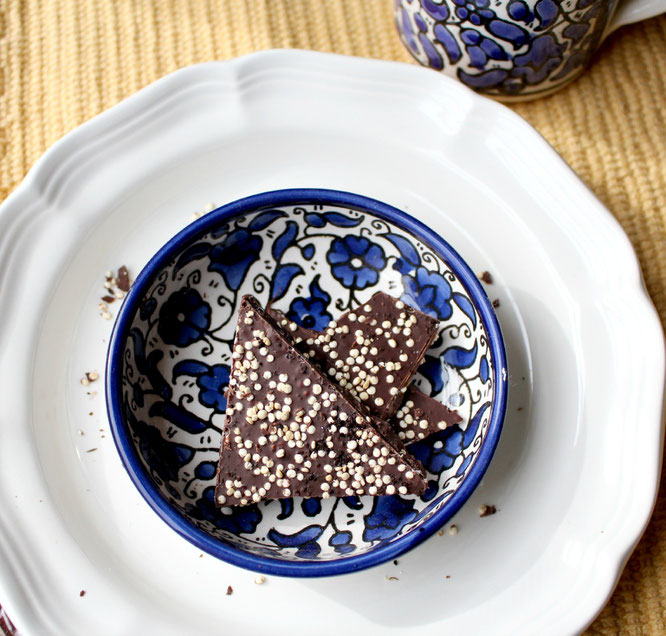 We all need a little energy pick-me-up sometimes, especially in the afternoons, but the biggest mistake I see when people reach for random stuff like energy drinks, soda, cookies, chips, candy, etc.  The problem is that these things are filled with empty calories, possibly artificial sweeteners, lots of refined carbohydrates, and generally not great ingredients.  These snacks we tend to reach for are sometimes out of boredom, habit, or cravings  because we're stressed out at the time.  They might provide short-term satisfaction, but the fact is, most of the time we end up feeling hungry again soon after eating these foods and they can contribute to weight gain.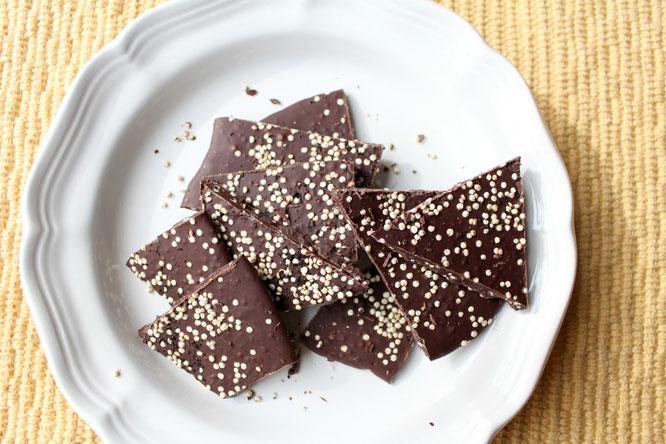 I wanted to come up with a snack that is still very satisfying as far as getting that sweet (but not too sweet), crunchy, and flavorful food experience, but without a bunch of extra ingredients and artificial stuff.  Now there are ways to get more nutrition out of your snacks, like making sure you get plenty of fruits, veggies, healthy whole grains, and lean protein.  But this recipe is the perfect pick-me-up when you need something a little extra special.

This recipe really is one of my new favorites!  Not only is it delicious, it only has 3 ingredients and takes under 5 minutes to make!  Ingredient 1 is dark chocolate.  This is a way better option in terms of nutrition than something like a milk chocolate bar or other chocolate coated or peanut butter filled candies - those tend to have a lot of sugar and other ingredients like food coloring, preservatives, and chemicals.  If you like intense, dark chocolate flavor, then go as dark as you like - for this recipe I used 60% dark chocolate which is not very sweet, but I like it that way.  You can definitely start with a semi-sweet chocolate if you're not used to the more bitter dark chocolate. 
Ingredient number 2 is coffee - decaf coffee to be specific.  The reason I use decaf coffee in this recipe is that first of all it is very concentrated since it is powdered and going directly into the chocolate, and secondly because dark chocolate naturally has some caffeine in it, so adding more from the coffee might be enough to disturb your sleeping pattern if you eat this in the afternoon or cause an energy crash later in the day.  In fact, most decaf coffee actually still has a little bit of caffeine, so trust me - you will get that little energy kick from this recipe!  Note:  If you're not a big fan of coffee, no worries!  Just leave it out, and you'll still have a delicious product of chocolate-quinoa bars.
And the final ingredient is quinoa -  uncooked quinoa!  It may sound a little weird, and this concept was new to me, but adding some uncooked quinoa adds an amazing crunch but in a natural way!  It's surprisingly, amazingly good!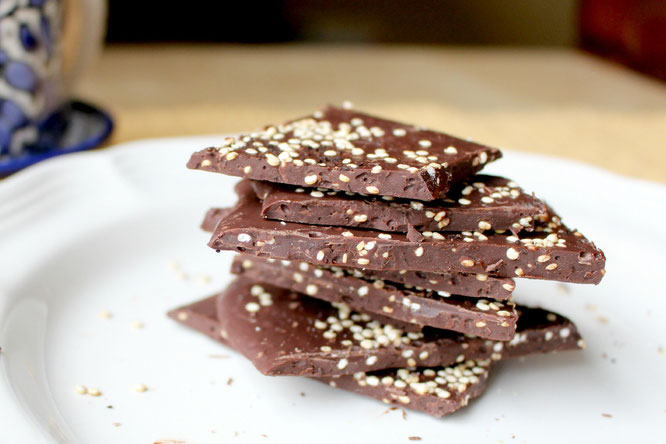 Dark Chocolate Quinoa Coffee Bars

Makes 8 servings

Ingredients:
1 4-ounce bar dark chocolate (60% works well, or use semisweet for sweeter flavor)

1 teaspoon decaf coffee grounds

1 tablespoon uncooked quinoa

Directions:
Break up the chocolate into several pieces and place in a microwave-safe bowl.  Heat in 20 second intervals, stirring between each interval.  Depending on your microwave, it should take 45 seconds-1 1/2 minutes to melt the chocolate.  Be careful not to overheat the chocolate or it will burn. 

Mix in about 3/4 of the quinoa and coffee to the chocolate.  Spread into a thin rectangle (about 1/4 inch thick) on a sheet of parchment or wax paper, and sprinkle the top with the remaining quinoa and coffee.   

Refrigerate for 15-20 minutes or until the chocolate has set.  Cut or break the chocolate into 8 roughly even pieces, place in a container or bag and store in a cool place. 

Happy Eating!
~Amber

---