This healthier version of pop tarts are a fun dessert idea or even special breakfast treat.  They've got a healthy boost from oats and  ground flaxseed but still the delicious flavor of brown sugar and cinnamon in the middle and flaky pastry on the outside!  You won't want the standard box version after trying these!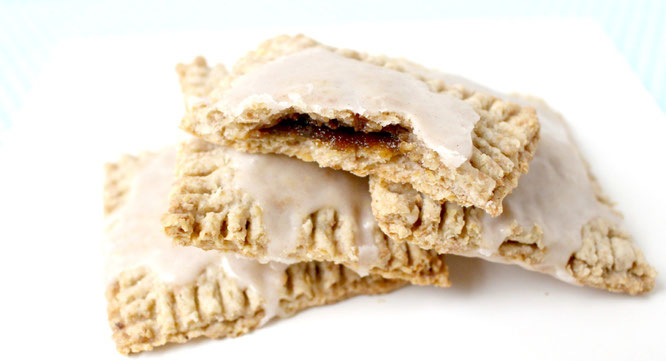 Pop tarts are not exactly health food.  In fact, one of my biggest pet peeves about them is that they are though of as a breakfast food (probably because they're sweet and resemble a pastry), but the reality is they should be considered to be more of a dessert/treat, since they usually have quite a bit of extra sugar and not a lot going on in terms of protein, fiber, and other nutrients. 
But alas, pop tarts are yummy and are probably not going anywhere anytime soon.  So I took it upon myself to create a lighter version of these that would make for a tasty dessert or treat that is definitely healthier, but could also squeeze by as a breakfast option (just not everyday!) :)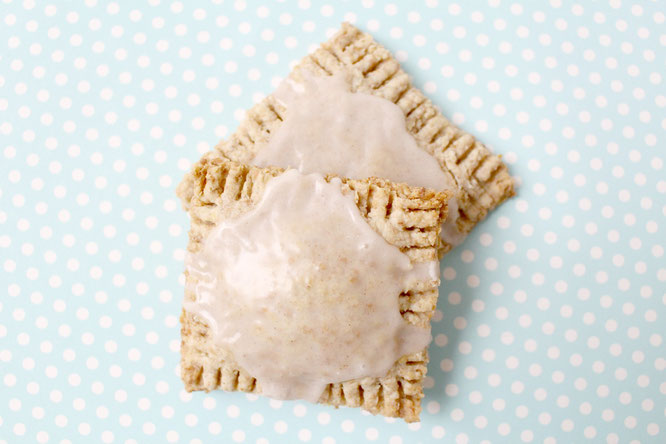 The first thing in re-inventing this popular pastry is changing up the flour.  White flour just doesn't cut it when you're trying to make things healthier since much of the nutrition has been stripped out of the wheat to make it light and fluffy.  So instead I used a combo of oat and whole wheat flour with just a bit of white flour for a better texture.  I wanted to use oat flour so the whole wheat flour didn't become over-powering, and the oats add that classic breakfast taste along with extra fiber and protein.  You can buy oat flour or take some quick cooking or rolled oats and pulse them in a food processor until they are very finely ground. 

I still used real butter because it is really good for making a flaky pastry, but I've decreased the amount from traditional recipes and added ground flax seed, which provides some healthy fat and nutty flavor. 

And lastly, I did use brown sugar and cinnamon in the middle, with some frosting on top, but that is exactly why I made them "mini!"  By making these treats smaller in size, you can still have the satisfaction of the sweet flavors, but with fewer calories simply because you are eating less.  So savor these mini treats and you won't need a lot to feel satisfied!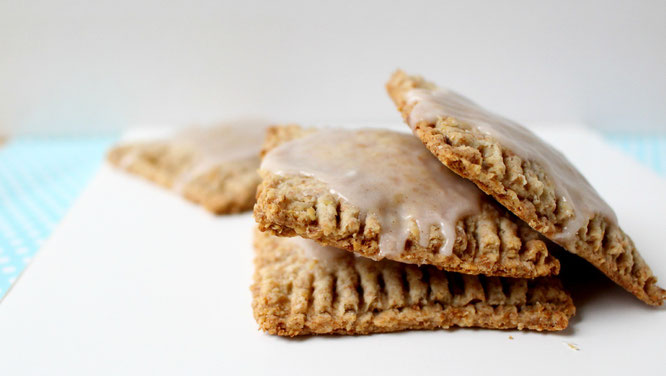 Healthy Homemade Mini Pop Tarts with Brown Sugar and Cinnamon

Makes about 10 mini pop tarts
For the dough:
1 cup oat flour (or finely ground oats)

1/2 cup whole wheat flour

1/2 cup all purpose flour

2 tablespoons ground flax seed

1/4 teaspoon salt

6 tablespoons unsalted butter, cut into cubes

2 tablespoons pure maple syrup

2-6 tablespoons ice water
For the filling:
1/4 cup brown sugar

1/2 teaspoon cinnamon
For the frosting:
1/2 cup powdered sugar

1-3 teaspoons of milk

cinnamon to taste
Directions:
Start with the dough.  Combine the flours, flax, and salt in a medium bowl.  Using a pastry cutter or fork, cut the butter into the mixture until there are pea-sized pieces throughout the dough.  Add the maple syrup and mix to combine.  Next, 1 tablespoon at a time, add the ice water and mix until a dough comes together and can hold its shape.  Cover the dough with plastic wrap and refrigerate for 15-30 minutes. 

Meanwhile, combine the brown sugar and cinnamon in a small bowl for the filling and set aside. 

Combine the powdered sugar, milk, and cinnamon in a separate bowl for the frosting.  Add the milk 1 teaspoon at a time when whisking the frosting together - it's better to have it be thick and spreadable versus runny.  If you add too much milk, simply add more powdered sugar until it thickens again. 

Preheat the oven to 350 degrees.  Remove the dough from the refrigerator, and place on a floured cutting board or piece of plastic wrap.  Lightly flour the top of the dough and roll out into a rectangle about 1/4 inch thick.  Use a knife to cut a large rectangle with smooth edges.  Then, cut the rectangle down the center long-ways, then cut in the other direction to make several mini squares.  Each small square should be roughly 3 inches wide and 3 inches long.  Bring the extra dough together, re-roll into another rectangle and repeat the process until you've made small squares out of all the dough.  There should be about 20 small squares, which will make 10 pop tarts. 

To assemble the pop tarts, place 1/2 of the rectangles on a lightly greased baking sheet, and top each one with 1 teaspoon of the brown sugar-cinnamon mixture.  Then top each one a second dough square, and use a fork to press the edges of the two pieces together and seal the pop tart.  Use a fork to poke one set of holes in the top of each pastry to let steam out as they bake. 

Bake for 15-20 minutes, or until they are light golden.  Remove from oven and let cool on wire rack. 

Once cooled, spread frosting on each one and enjoy! 
Happy Eating!
~Amber
---