Four ingredients come together in minutes to make this delicious, affordable, gluten free, vegetarian meal.  Mini Frittatas are perfect anytime of the day!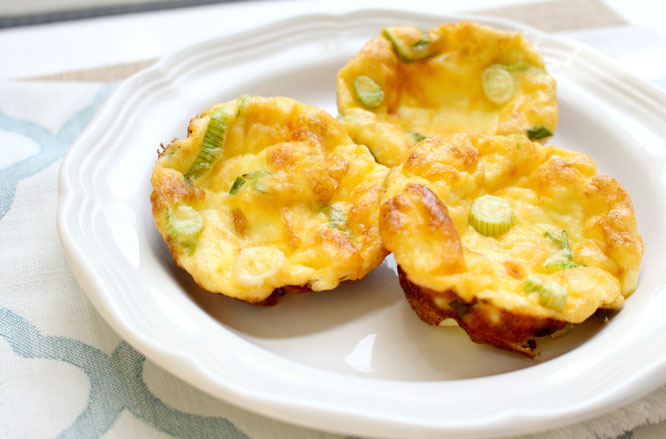 I love breakfast.  Or to be more specific, I love breakfast foods.  I often eat them during the day, not just in the morning, because not only do I find these foods delicious and comforting, but they are typically quick to prepare, affordable, and can be very light.  It may sound a little weird, but why not eat oatmeal for lunch every once in a while? :) 
No matter what time of day you choose to eat your breakfast, this recipe is so simple!  These mini-frittatas come together in minutes, and once cooked, they can be refrigerated and used throughout the week for quick meals.  And for only having four ingredients (egg, cheese, milk, and green onions), these are actually very flavorful!  The cheese gives a nice golden color and the green onions give a mild onion flavor and burst of color!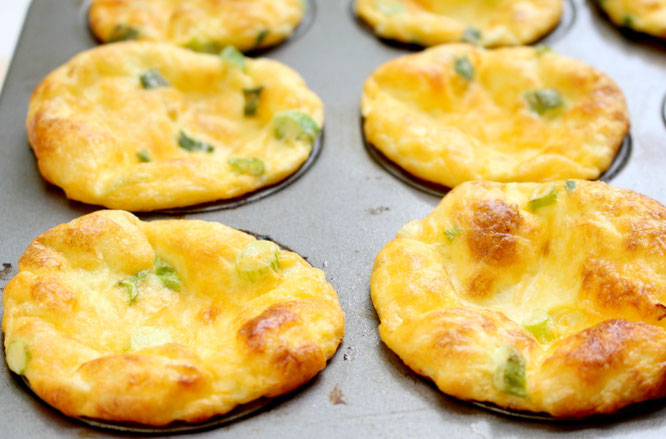 If you're feeling adventurous, you can make these your own by adding things you like - maybe some salsa, chopped baby spinach, green chilies, or roasted red peppers.  There are so many possibilities!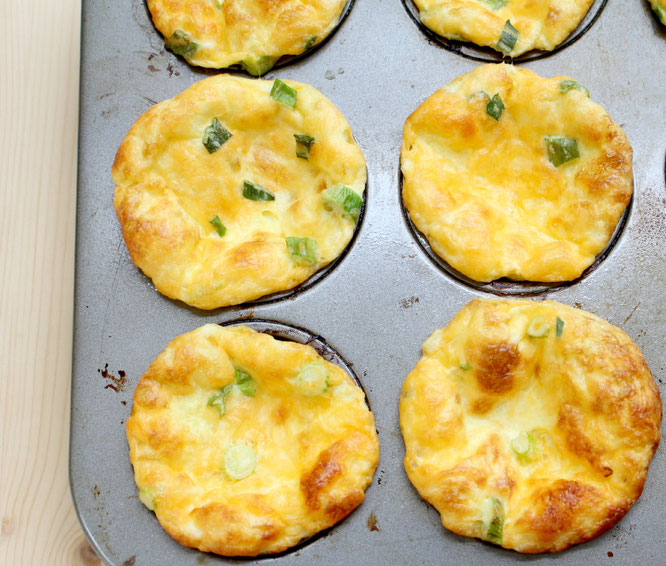 These are also a great dinner option for vegetarians or those who practice Meatless Mondays, because they are packed with protein and flavor, but are still a light healthy meal that will keep your waistline in check! 
To make this a complete meal for lunch or dinner, just add a simple salad on the side, and a cup of your favorite fruit.  You'll have a satisfying, healthy meal everyone will enjoy!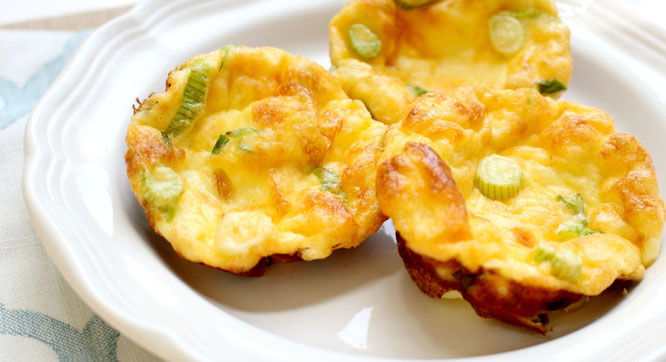 ---
Quick Cheesy Mini Frittatas
Makes about 12 muffins
Ingredients:
6 large eggs

3/4 cup milk

3/4 cup shredded reduced fat cheddar cheese

3 green onions (scallions), sliced

salt and pepper to taste

cooking spray
Directions:
Preheat oven to 400 degrees.  In a large bowl, mix the eggs, milk, salt, pepper, cheese, and green onions until well combined. 

Lightly spray a muffin pan with nonstick cooking spray and pour the egg mixture to fill each muffin tin about 2/3 full.  Bake for about 15 minutes or until the eggs are set and the tops are lightly golden. 

*Note:  These mini frittatas will puff up as they cook, then "deflate" as they cool. 

Happy Eating!
~Amber
---