I combined some hidden treasures from my pantry to make this tasty homemade sour cream and onion mix that can be used to make healthy vegetable dips or season meats and sauces.  I've even included a bonus recipe for healthy sour cream and onion popcorn at the end of this post!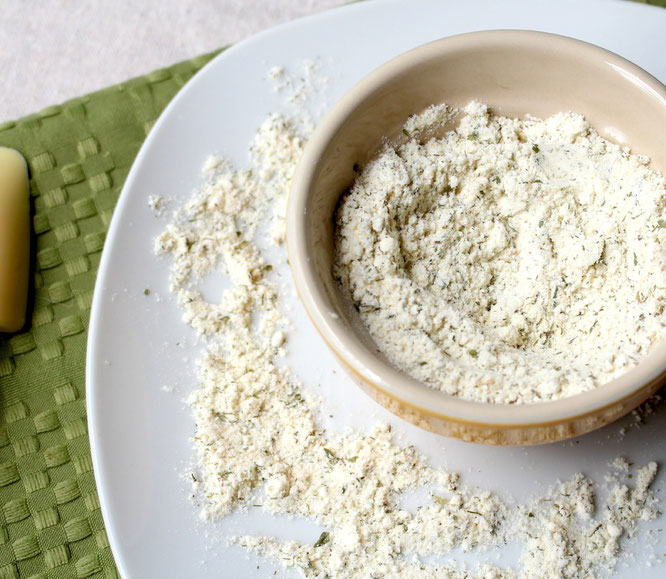 Every month (or two) I try to go through my pantry to re-organize and re-stock with essentials I use all the time.  And almost every time I go through the pantry, I come across something that I forgot was in there.  Then I remember exactly how it got there in the first place:  I usually stick to a pretty tight grocery budget and grocery list, but sometimes at the store as I'm walking through the aisles, I find a new random ingredient I've heard about or just haven't used in a while and think to myself, "hmm, I think I should get that because you never know when I might need it..." then it goes into the pantry and I end up stumbling across it at a much later time than I planned on using it.  I'm sure that only happens to me though... ;) 
So that's how the powdered buttermilk ended up in the back of my pantry.  It's an ingredient I use every once in a while, especially for baked goods and pancakes, but I ran out and had forgotten that I bought a brand new unopened container a while back.  Luckily it was not open and hadn't reached the expiration date (It's best to refrigerate powdered buttermilk after it's been opened).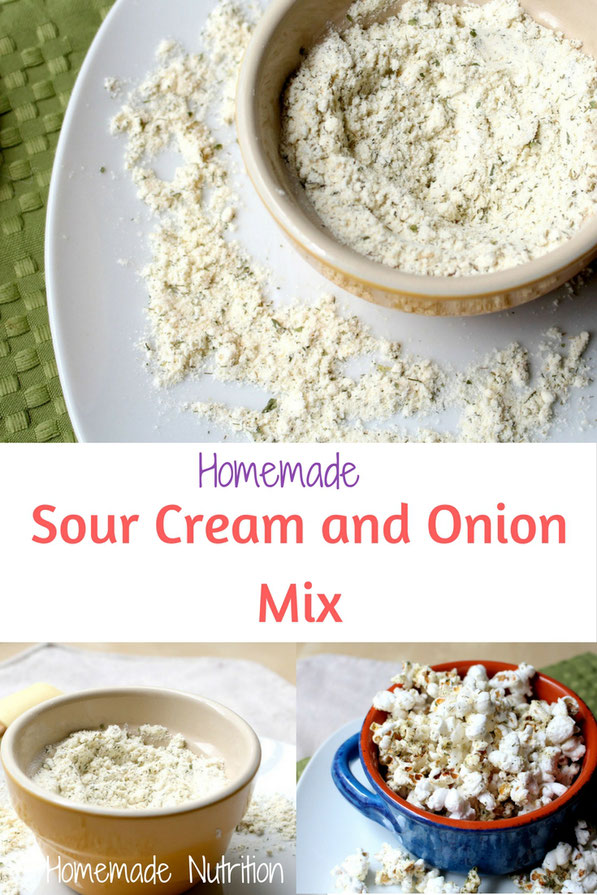 Instead of using it in my usual baked goods, I decided to make a healthier "sour cream and onion" seasoning mix.  What makes it healthier than a regular onion soup mix or ranch seasoning mix?  Less salt, and no MSG - that stands for monosodium glutamate which is a highly addictive flavor enhancer used in many processed salty foods.  It's one of the reasons we love flavored seasoning mixes and the unique flavors of many chips, crackers, canned soups, and frozen meals. 
This recipe uses much less salt than a typical ranch or onion mix does, and even if you decide to add a little more salt to it to fit your taste buds (not that I think it needs it), you'll be in complete control over how much is in there.  There are no preservatives, and you can customize it to fit your taste buds (plus the other ingredients are things you might already have in your pantry or fridge!).  This seasoning mix can be used several different ways, but I've included a bonus recipe for sour cream and onion popcorn in case you're in need of some inspiration.  Enjoy!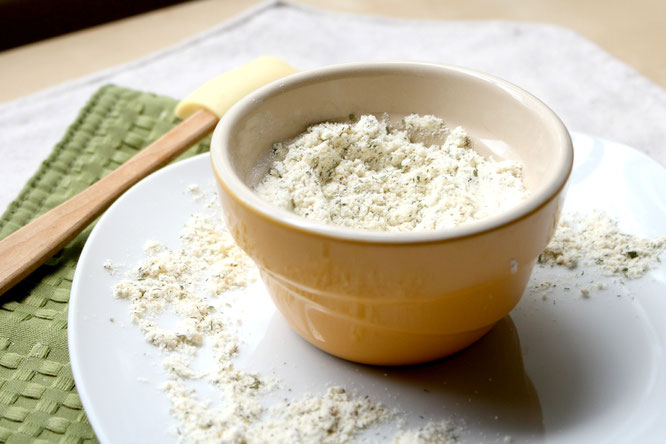 ---
Homemade Sour Cream and Onion Mix

Makes about 1/3 cup powdered mix

Ingredients:
1/4 cup powdered buttermilk

2 teaspoon onion powder

2 teaspoons dried dill

1 teaspoon dried parsley

1/2 teaspoon garlic powder

1/2 teaspoon salt

2 tablespoons finely grated parmesan cheese
Directions:

Combine all ingredients in a small bowl and mix well.  Store in an air-tight container or jar in the refrigerator up to one month. 
*Mix into plain Greek yogurt or sour cream for a creamy sour cream and onion dip for veggies or baked chips or shake over popcorn for healthy flavorful seasoning. 
Happy Eating!
~Amber
---
Bonus Recipe Below!  Sour Cream and Onion Popcorn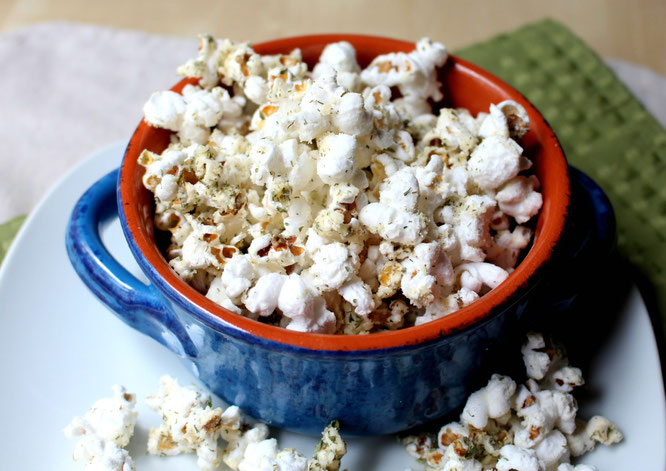 ---
Sour Cream and Onion Popcorn

Makes 1 serving

Ingredients:
3 cups popped popcorn

2 tablespoons dry sour cream and onion mix (recipe above)

2 teaspoons vinegar



Directions:

Place the popcorn in a medium bowl, sprinkle the seasoning over the top and mix to combine. 




Drizzle the vinegar over the popcorn then toss again to coat.
Happy Eating!
~Amber
---
---