These tasty homemade waffles with the nutty goodness of whole grain oats are the perfect way to start the day!  They're also a great freezer-friendly breakfast, so you can have a hearty, homemade waffle on-hand any day of the week!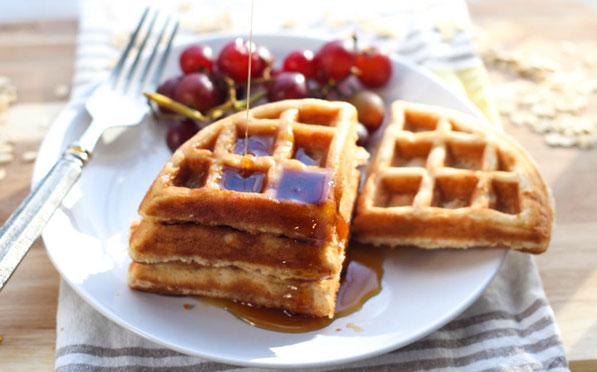 Who doesn't love a good waffle in the morning....especially the kind you can just take out of the freezer and pop in the toaster or microwave?  I've mentioned it a few times recently, but one of my main food-related goals this year is to learn how to make more freezer-friendly or make-ahead meals that can be kept on hand and reheated when I'm short on time.  
I've already whipped up some super affordable and easy-to-make freezer-friendly cheesy potato and egg bowls, and I've got some other fun foods like make-ahead smoothie packs, homemade frozen burritos, and even homemade "uncrustables"  - which are those amazingly tasty peanut butter and jelly sandwiches you find in the freezer section that kids just love.   I'm very excited about all of those recipes, so stay tuned for more! :)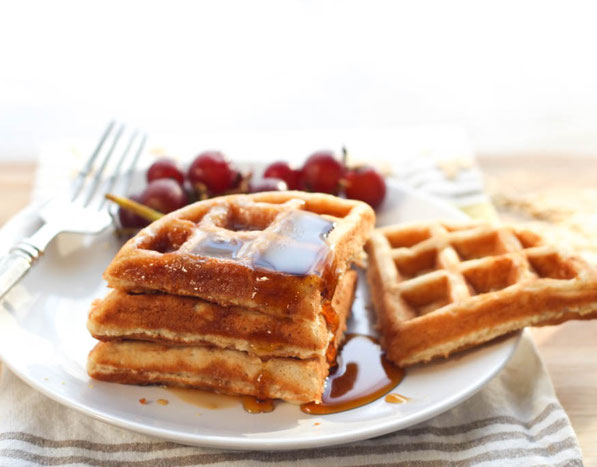 Now on to today's recipe!  A few weeks ago I found my old waffle maker hiding in the back of the kitchen cabinets.  And let me tell you, I had forgotten just how much I love waffles!  So I have been on a waffle kick lately, but the waffles come with a couple of issues:  
First, usually a batch of waffles makes more than just one or two people can (or should) eat in a few days.  And second, they take a little bit of time to make.  These two "problems" make waffles the ideal candidate for the freezer!
Since my waffle maker makes Belgian waffles - the giant ones - I cut the waffles into quarters, then put them in freezer bags with a small piece of parchment or wax paper between them to keep them from sticking together.  Then we can easily just take one or two sections out of the freezer for a quick meal.  I usually heat them up in the microwave so they're super soft, but you can also toast these like you would do store-bought frozen
waffles.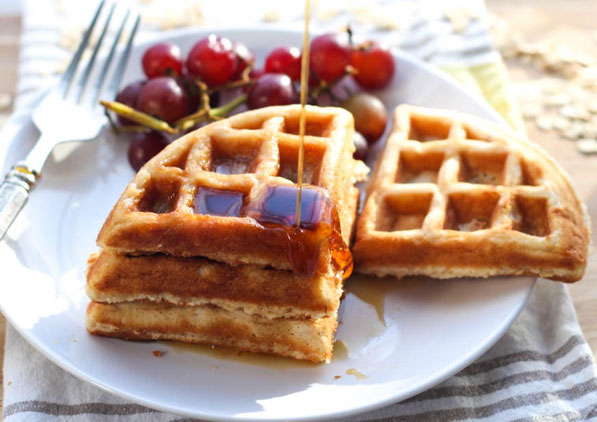 For the ground oats, I just put rolled oats into the blender for a few seconds to break them up into a course flour-like texture.  Using oats as part of the whole grain goodness in these waffles adds a beautiful nutty flavor and more texture to them.  
As a fun twist, I've also made these with the addition of a mashed ripe banana, and it's delicious!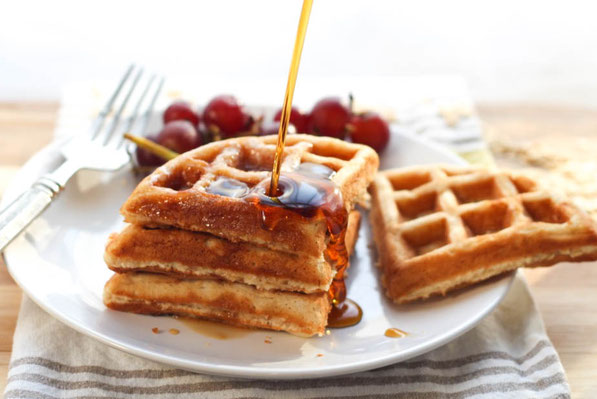 Freezer-Friendly Oatmeal Waffles
Makes 5 Belgian-style waffles - about 10 servings
Dry Ingredients: 
1 1/2 cups all purpose flour
1/2 cup ground rolled oats (measure after grinding them in the blender)*
2 tablespoons sugar
1 teaspoon baking powder 
1/2 teaspoon baking soda
1/8 teaspoon salt
Wet Ingredients: 
2 large eggs
1 1/2 cups milk
1 teaspoon vanilla 
1/2 cup canola, light olive, or coconut oil
Directions:
Preheat waffle maker. 
In a large bowl, combine the dry ingredients and gently mix with a whisk to combine.  
In a medium bowl, add the wet ingredients and whisk well.  
Add the wet ingredients to the dry ingredients, and whisk just until the batter comes together and the ingredients are combined.  Do not over-whisk. 
Make the waffles according to your waffle-maker's instructions.  You can also make these into pancakes.  
To freeze, let the waffles cool completely, divide into quarters if using a Belgian waffle maker or into single-sized waffles from a regular waffle maker.  Place a layer of waffles in a freezer ziplock bag, then top with a layer of parchment paper and add the remaining waffles on top.  
Freeze until ready to eat, then heat in the microwave or toaster to serve 
*To make the ground oats, Add slightly more than 1/2 cup of oats to a blender or food processor, and pulse until a course, flour-like texture forms.  Remove from the blender and measure out 1/2 cup for the recipe. 
Happy Eating!
~Amber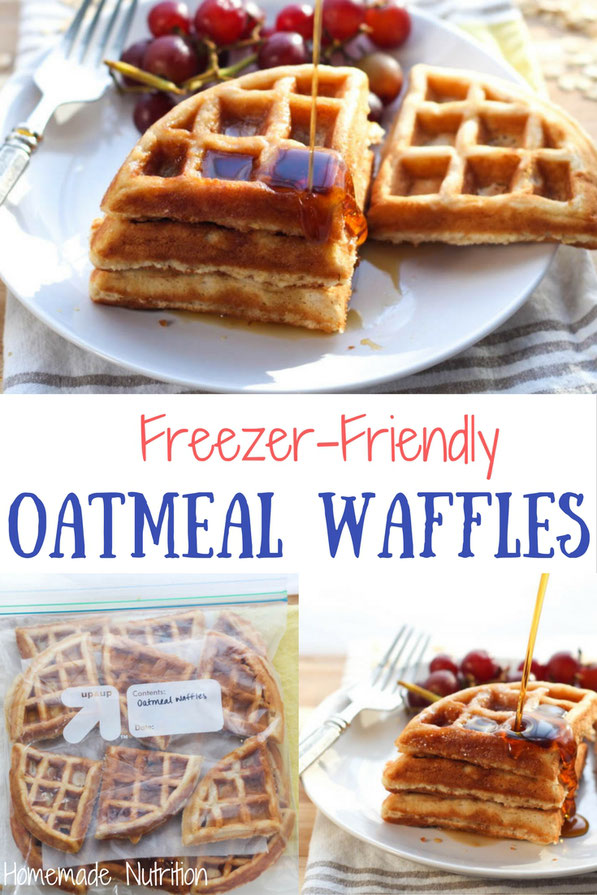 ---
---
---