Looking for a healthy, budget-friendly make-ahead meal that you can eat anytime of day?  These easy (plus freezer-friendly) potato, egg, and cheese breakfast bowls cost just $0.52 per serving!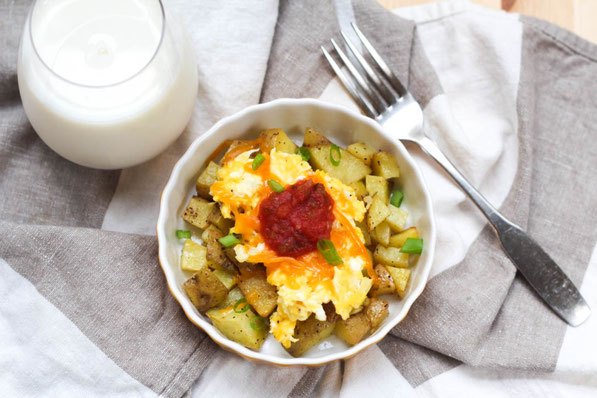 This month's theme for the Recipe Redux is right up my alley:  "How low can you go? Can you make a meal for less than $3 per serving? Whatever your budget, show us your healthy entree recipe to help keep food spending in check in 2017."
I love a good meal on a budget, and for this recipe, I went with a couple of my pantry staples that could serve as a go-to for breakfast, lunch, or breakfast-for-dinner:  potatoes and eggs.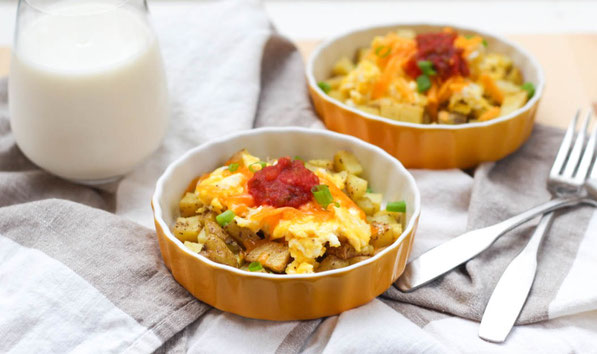 Potatoes tend to get a bad rap when it comes to being a healthy food item, but they can fit perfectly into a healthful meal plan and they happen to be a very, very affordable pantry staple (usually under $1.00 per pound).  To bump up the nutritional value, I almost always use golden (aka Yukon gold or yellow) potatoes.  
I like those golden beauties the  best because the skin is tender and pretty much matches the inside color of the potatoes, so there's no need to peel them.  This saves time and maintains more of the nutrition of the potato since much of the vitamins, minerals, and fiber is found in the skin.  
The other pantry staple in this recipe that I use all the time is eggs.  They're a high-quality protein that's easy to prepare and versatile, so you can eat them pretty much any time of the day.  We try to keep a pretty tight grocery budget at our house, so breakfast for dinner (which always includes some type of egg) is on the menu almost every week.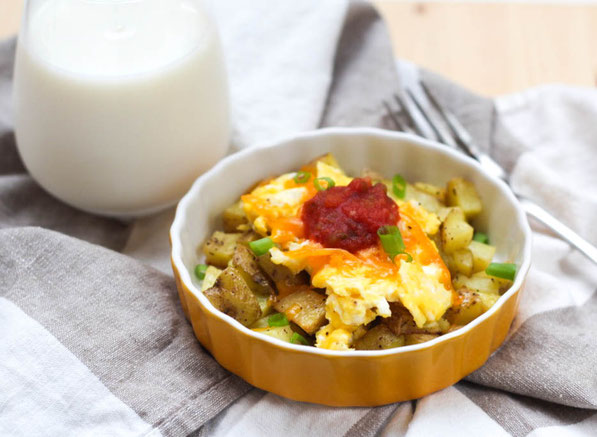 Another beautiful aspect of this meal is that it can be eaten fresh or frozen for future breakfast, lunch, or dinner entrees that are ready in minutes!  One of my goals this year is to come up with more make-ahead, freezer-friendly meals that save time and money, and this one is great! 
There's nothing like having a complete meal ready in the freezer anytime you're short on time.  To freeze these bowls, you can use freezer-safe glass, ceramic, or tupperware containers, or you can just make little packets out of foil, place in a bag, then transfer to a plate when you're ready to heat the meal in the microwave.  
Since microwave times vary quite a bit, after the first minute of heating, I recommend checking on the food every 30 seconds till it's perfect to ensure that it gets heated all the way through without over-cooking.  I hope this budget-friendly meal makes its' way into your menu-plan soon! :)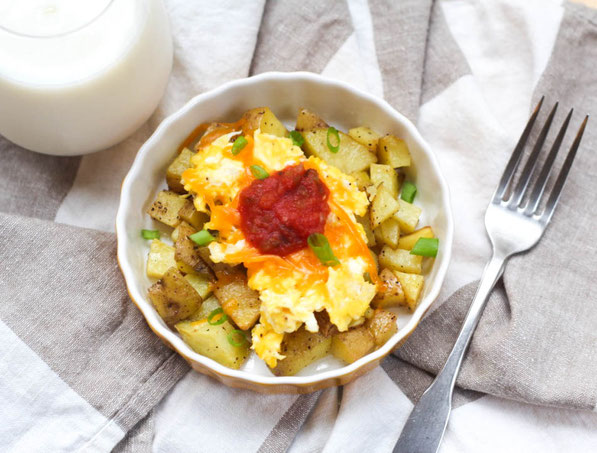 Freezer-Friendly Potato and Egg Breakfast Bowls
Makes 4 servings
For the Potatoes:
3 medium golden potatoes, washed and chopped into bite-sized pieces (about 2 cups)
2 teaspoons light olive oil or canola oil
1/4 teaspoon salt
pepper to taste
For the Bowls: 
non-stick cooking spray
4 large eggs
salt and pepper to taste
2 tablespoons water
1/2 cup shredded cheddar cheese
1/4 cup salsa of choice (optional)
green onion for garnish (optional)
Directions:
Preheat oven to 425 degrees.  Add the potatoes, oil, salt, and pepper to a large bowl and toss to combine.  Spread the potatoes into an even layer on a baking sheet lined with parchment paper or foil.  
Bake for 20 minutes or until the potatoes are just tender and beginning to brown.  Set aside to cool. 
To make the eggs, preheat a non-stick skillet over low heat.  Add the cracked eggs, salt, pepper, and water to a bowl and whisk until slightly frothy.  Add the eggs to the skillet and cook, stirring occasionally, until the eggs are just set.  Remove from heat and set aside to cool. 
To assemble the bowls, Place 1/2 cup potatoes in the bottom of each freezer-safe bowl (or freezer-safe containers or sheets of foil to be folded into a packer).  Top the potatoes with 1/4 of the egg mixture per bowl, 1/4 of the cheese, 1 tablespoon salsa and green onions if using.  
Wrap each of the bowls in foil or seal with lid.  If using bowls with foil to cover the bowls, place each of the bowls in a freezer-safe ziplock bag and label with the recipe name and date.  Place in freezer. 
To heat from the freezer, remove the bowls from the bags and remove any foil.  Microwave on high for 1 minute.  Lightly stir the mixture, then heat in 30 -second intervals until everything is heated through (this might take up to 3-4 minutes, depending on microwave).  
Happy Eating!
~Amber 
---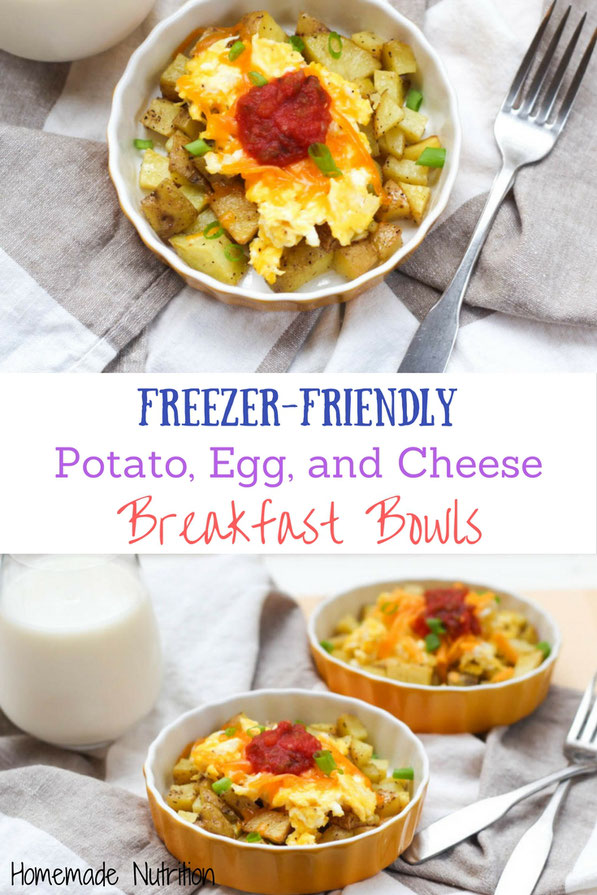 ---
---
---