This one-skillet wonder with sausage, zucchini, and potatoes is a delicious (plus gluten free) dinner the whole family will love!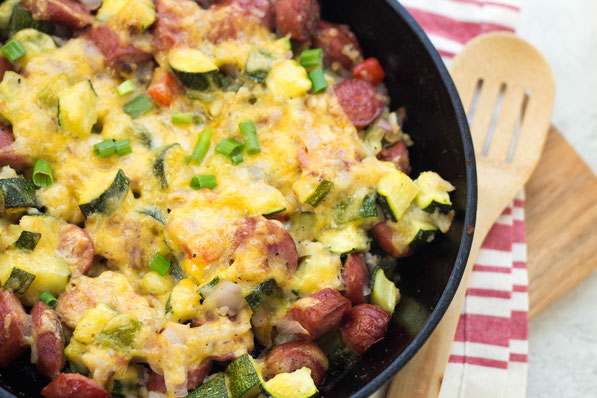 I love one-skillet meals!   Anytime I can get away with a quicker, more efficient way to make dinner that also results in fewer dishes to wash, it's a complete win-win for me!
If you're a fan of one-skillet meals, you'll definitely want to check out my one-skillet pork tenderloin with roasted potatoes and healthy skillet lasagna.  They're both delicious, easy to make, and easy to clean up! ;)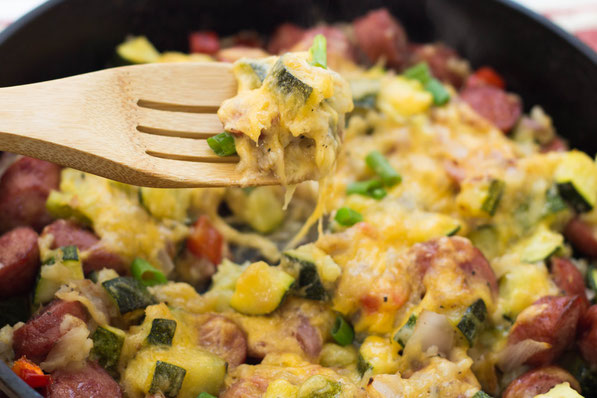 This meal is super family friendly thanks to the star ingredients:  sausage, zucchini, and potatoes.  You just can't go wrong putting those food-friends in the same skillet. :) 
When it comes to picking a sausage to use for this recipe, I recommend looking for one that's labeled "uncured" or "nitrite-free."  Other than that, I try to find ones that are labeled "lower sodium" because as tasty as sausage is, it's usually very high in sodium and I've noticed some of the sausages out there just taste really, really salty which affects the taste of whatever else is in the meal.  
I'm still on the hunt for my "go-to" sausage brand that I'm completely happy with, but when I do find it, I'll be sure to share! (PS if you have an awesome sausage your family loves, I'd love to know the brand so I can try it too!)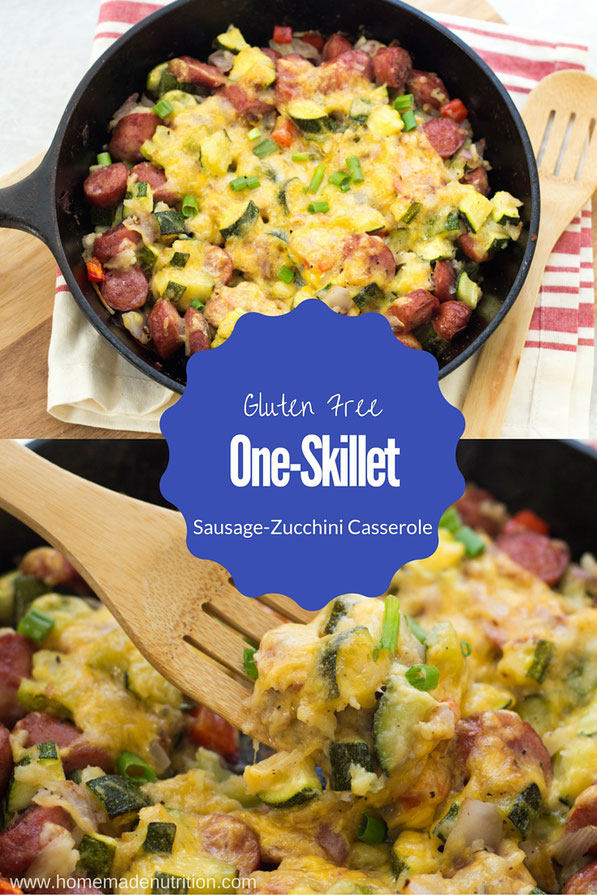 I'm always looking for shortcuts to weeknight meal-prep time, so to make this dinner come together even faster,  I usually chop the veggies and sausage the night before, so all I have to do is pour them into the skillet the next day (making it a true one-dish dinner!).  I also like grating the cheese the night before to save a couple of minutes the next day.  
I find there's usually some extra time for small prep-work for the next days' dinner while I'm cooking today's dinner.  Or sometimes I'll just do the extra prep work for the next day right before I clean up from that night's dinner.  Advance planning and prep is one of the best ways to save time on those extra busy weekdays.  I hope you enjoy this tasty skillet-meal as much as my family does!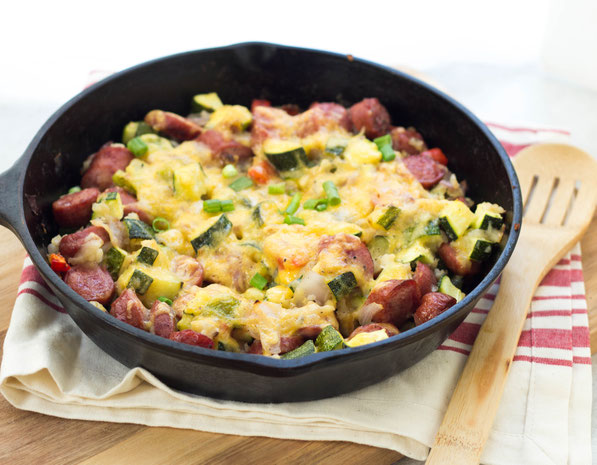 One-Skillet Sausage-Zucchini Casserole
Makes 4 servings

Ingredients:
1 teaspoon light olive oil
2 medium zucchini, chopped
1/2 red onion, chopped
1/4 red bell pepper, chopped
2 cloves garlic, chopped
2 cups frozen shredded potatoes (not seasoned)
6 ounces gluten-free fully cooked sausage of choice (about 1/2 ring of sausage), sliced
black pepper to taste
1 teaspoon paprika
1/2 cup shredded cheddar cheese
Directions:
Preheat oven to 400 degrees.
Heat a large cast-iron or other oven-safe skillet over medium-high heat.  Add the oil, zucchini, onion, bell pepper, and garlic and cook for about 5 minutes.   
Add the potatoes, sausage, and seasonings and stir everything to combine.  
Place the skillet in the oven, and cook for 20 minutes.  
Remove from the oven and stir the skillet contents, then top with the cheese and place back in the oven for 10 more minutes or until the cheese is bubbly and slightly golden. 
 Happy Eating!
~Amber
---
---
---