This easy lemonade made with passion tea is perfect for entertaining or for a light, slightly sweet drink on a hot sunny day.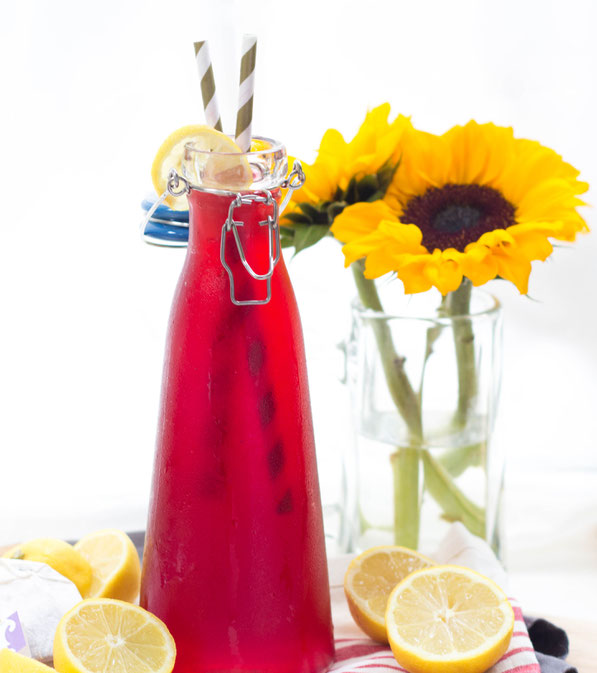 Summer will be here in just a few weeks!  That means hotter weather is on the way, and so is the need for increased hydration.  Here in Texas, summers are long and hot, and sometimes it can get a little old to drink plain water all day long.  
Iced sweet tea is a very popular drink down here, but it usually has just as much sugar as soda (if not more), and that is definitely not friendly on the waistline or for our overall health.  This weekend, I was in the mood for something refreshing, just a little sweet, and just a little different. That's how this lovely recipe was born.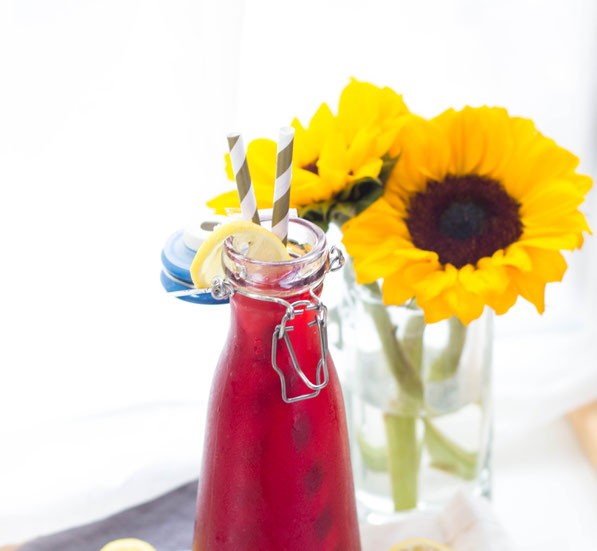 I like to drink different types of hot tea (usually caffeine free) as an afternoon treat, so I always have a variety of tea options around.  For this recipe, I decided to use one of my favorites, which is Tazo Passion tea.  
This one tastes great hot, but is even better served cold!  It doesn't actually contain tea leaves; it's an herbal infusion, so there's lots of beautiful, fragrant ingredients like hibiscus, orange peel, rose hips, and lemon grass.  You can also use any fruity-blend bagged tea that you like. I'm thinking there will be a version of this drink made with peach tea in the very near future....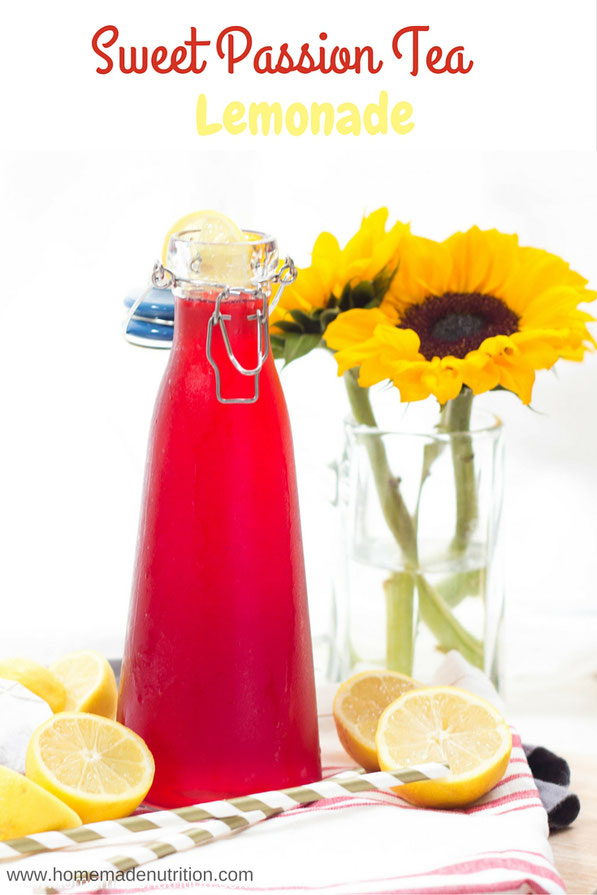 This recipe is really simple to make, and there are only three ingredients (four, if you count the water).  It does have some sugar in it, but it's much less than what you'd find in a soda, sweet tea, or even sports drinks.  And that little bit of sweet is perfectly balanced by bright tartness from the fresh lemon juice.  
It's also a beautiful recipe that's perfect for entertaining.  I made this for my family over the weekend, and there were no leftovers, which is the the best sign of a great recipe. ;)  Enjoy!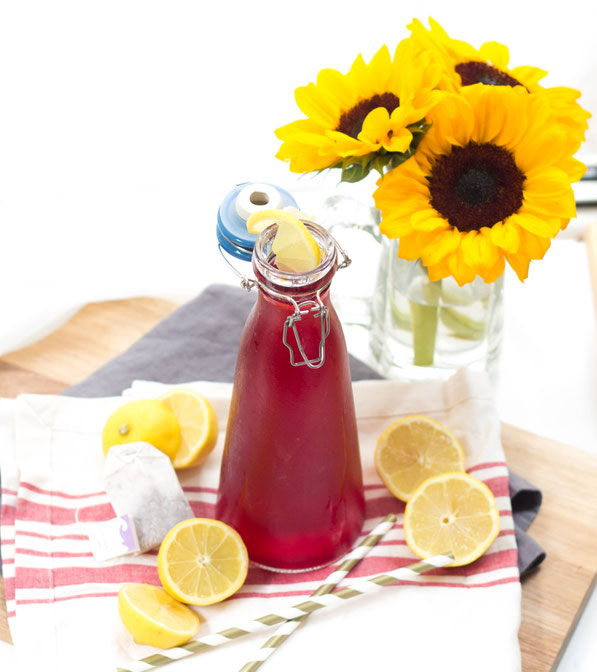 Sweet Passion Tea Lemonade
Makes 6-8 servings

Ingredients:
9 cups water
2/3 cup sugar
6 bags passion flavored tea (such as tazo passion, or other fruity-herb infused tea)
1/2 cup freshly squeezed lemon juice (about 8 lemons)
Directions:

Pour the water into a large pot and bring to a boil.  Remove from heat, add the sugar and stir until the sugar is dissolved.
Add the bags of tea to the water-sugar mixture.  Leave the bags until the mixture has cooled to room temperate.  
Add the lemon juice, stir, and refrigerate until ready to serve.
 Happy Eating!
~Amber
---
---