This creamy green smoothie with avocado and peaches is a refreshing way to start the morning!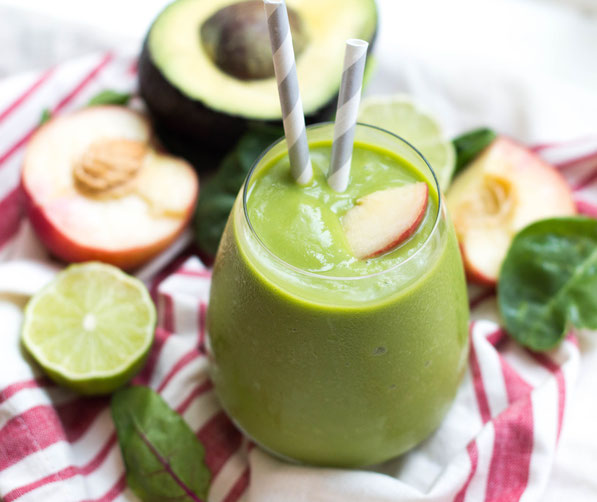 I think this might just be the most refreshing smoothie I've made to date!  I absolutely love starting the day with a smoothie, and one of my favorite things to do in the kitchen is find new combinations of fruit and veggies for smoothies.  
There are two important things I keep in mind when creating a smoothie recipe:  
Must taste good.  I think smoothies should be something you look forward to, not try to chug down just because there's healthy stuff in there. 
Must be pretty, because no one likes a gray or brown smoothie ;).
Of course there are other things to consider like the nutritional value of the smoothie, but those really are my biggest go-to criteria for a great smoothie.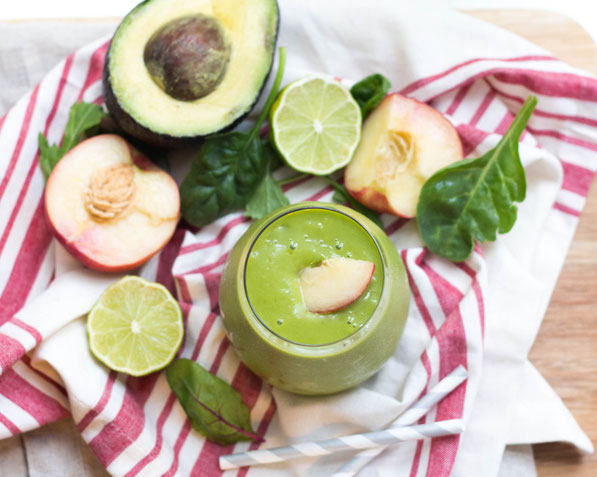 When it comes to keeping green smoothies green in color, there are some things you should avoid adding to the smoothie:  dark berries like blueberries or blackberries.  Use neutral-colored produce to keep smoothies the color you want:  pick one main bold colored fruit or veggie, and pair it with light ones - peaches, mango, and banana work well.  
Peaches are just starting to come into season here in Texas, and I found beautiful white flesh peaches at the store last week.  If the peaches aren't looking so great where you are or they're out of season, you can absolutely use frozen peaches.  Frozen mango would also work beautifully here.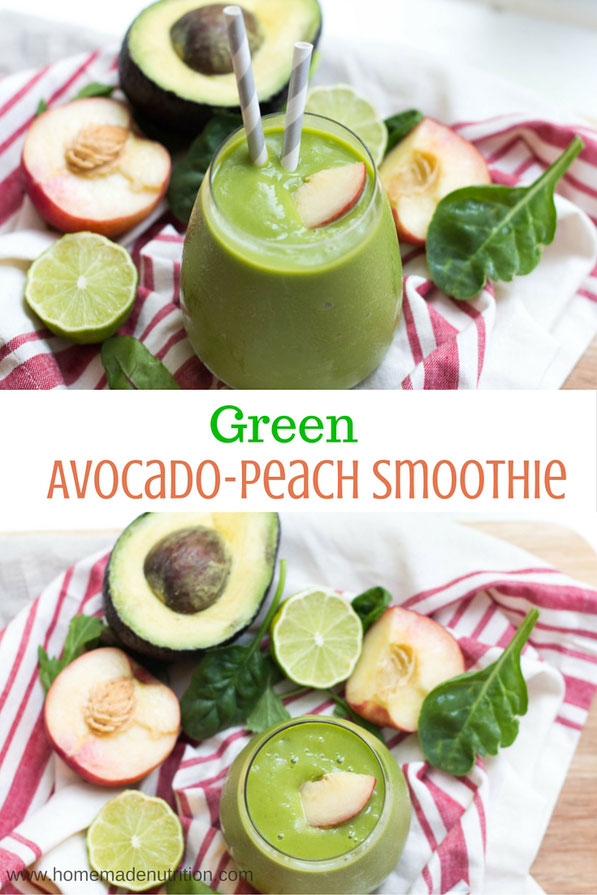 Avocado makes this smoothie super creamy and adds to that gorgeous green glow, and the ingredient that makes it extra refreshing is the coconut water.  
I hadn't tried coconut water until recently.  I wanted to try it because coconut water is excellent for hydration and can act as an electrolyte replacement (much better than sports drinks because it's all natural).  It also contains several minerals and vitamins.  
Now I'm not a picky eater and I almost always like "healthy" foods, but plain coconut water is not my thing. :/  It has a taste that I can really only describe as "unpleasantly odd" and is definitely not something I can drink plain.  But....put it in a smoothie, and it blends right in!  The coconut water really does make this refreshing and a great option for hydration, especially as it gets warmer outside.  If you're not into the coconut water, you can just use plain water in this recipe and that's just fine.  Happy blending!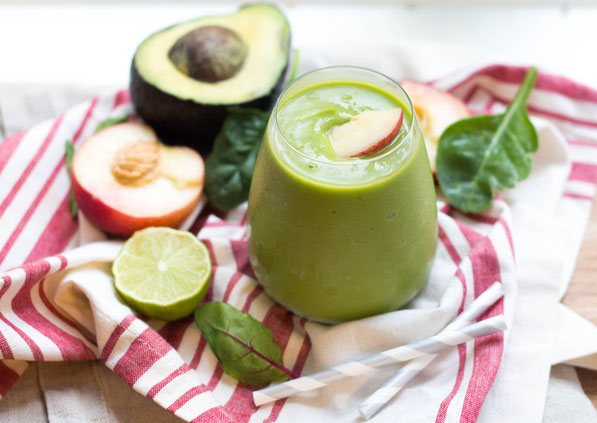 Green Avocado-Peach Smoothie
Makes 1 serving

Ingredients:
1 cup chopped fresh or frozen peaches
1/4 large avocado (about 1/4 cup chopped)
1 cup spinach or greens of choice
1 tablespoon fresh lime juice (1 small lime or 1/2 large lime)
3/4 cup coconut water
2 ice cubes if using frozen peaches or 4 ice cubes if using fresh peaches
Directions:

Place all ingredients in a blender and blend at least one minute or until completely smooth. 
 Happy Eating!
~Amber
---
---