I wanted to see how much flavor I could fit into a bite-sized snack.  And this beautiful, five-ingredient strawberry-basil crostini recipe was the result...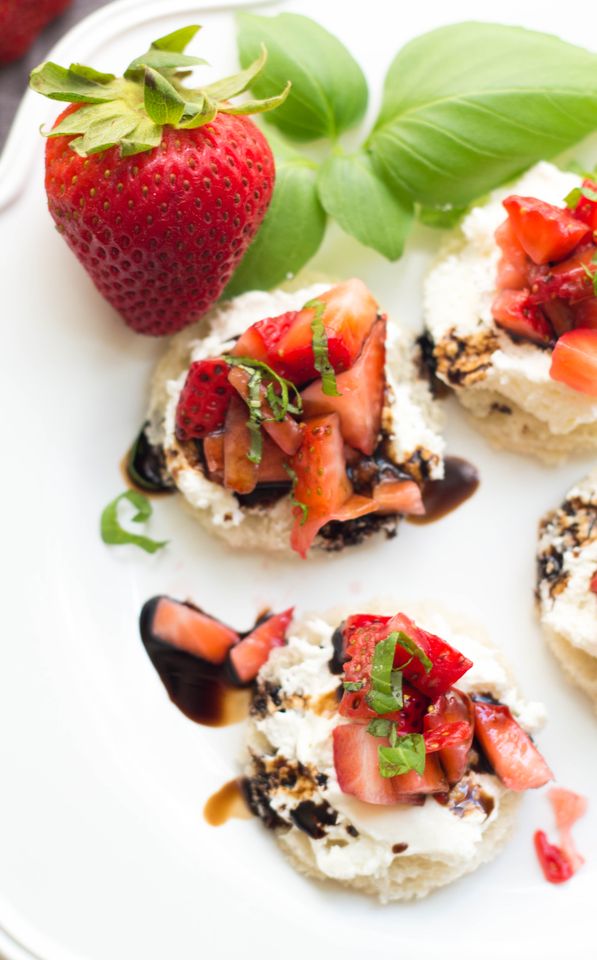 I am absolutely loving all of the spring produce that's available right now!  Spring and summer are definitely peak times to enjoy the sweetest, freshest produce around, and the strawberries I picked up this weekend did not disappoint.  Sweet, fresh strawberries are one of my favorite treats, and I've been thinking about different ways to eat t hem, which has given me a great excuse to eat more of them.  :) 
And since I usually eat strawberries with breakfast foods or just on their own, I wanted to come up with a flavorful snack idea that could also double as an appetizer.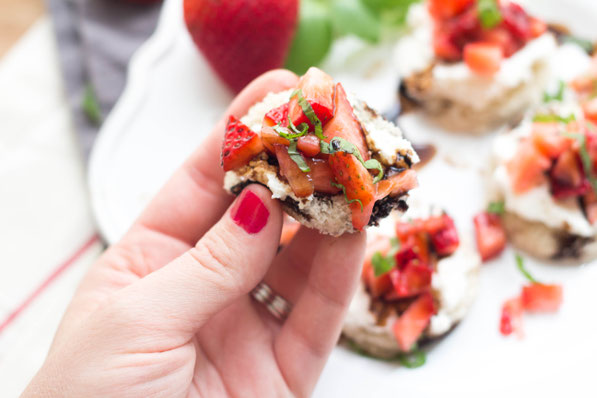 Strawberries and basil are the star ingredients in this dish.  I know it may sound a little weird, but they go SO well together - these two little gems come together to create this amazing fresh, brightness that is what I think of as the epitome of spring and summer flavors.  
I've also used this dynamic food duo in my strawberry-basil lemonade recipe, so be sure to check that out if you're looking for a light, refreshing homemade lemonade recipe to try! 
As far as the bread, I picked up a loaf of fresh, hearty artisan white bread from the bakery section of my grocery store.  You can use whatever bread you like, but I'd recommend picking one that isn't too soft so it can hold up to the other ingredients.  I just popped the bread in my toaster, and used a 1 1/2 inch cookie cutter to cut round shapes out of it for the crostini.  
Cream cheese is the "glue" that goes between the bread base and strawberries.  It brings a lovely creaminess that balances well with the texture of the strawberries.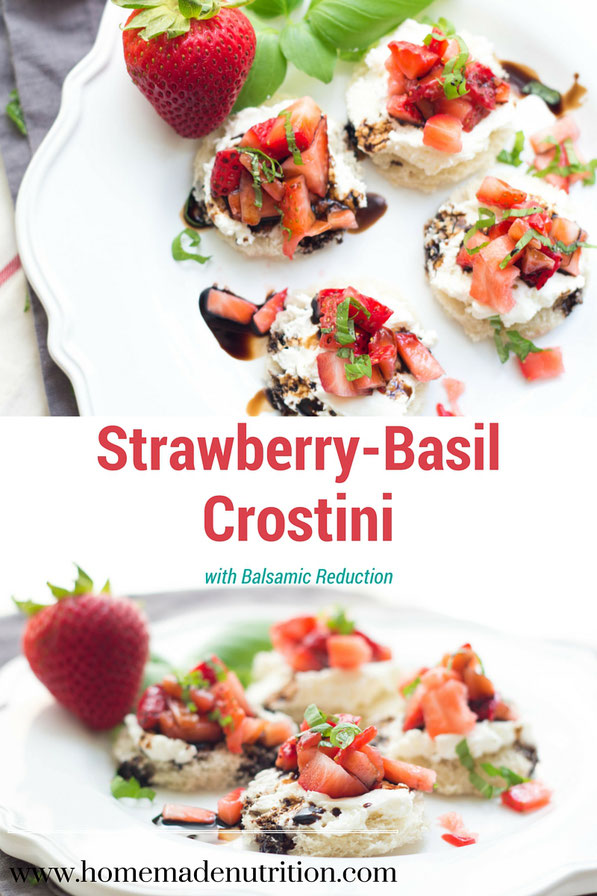 The last (and definitely most flavorful) part of this recipe is the balsamic reduction.  I have to admit, as much as I cook with balsamic vinegar, I hadn't tried making a "balsamic reduction" before, and it was way easier than I thought it would be.   You literally pour some balsamic vinegar into a saucepan and simmer it for about 10 minutes, or until it reduces and thickens slightly.  
The result is this dark, beautiful syrup-like substance that is very, very concentrated and flavorful.  I recommend adding just a few drops of this stuff over each crostini because it's pretty strong, so a little goes a long way.  But the flavor combination with the strawberries and basil can't be beat!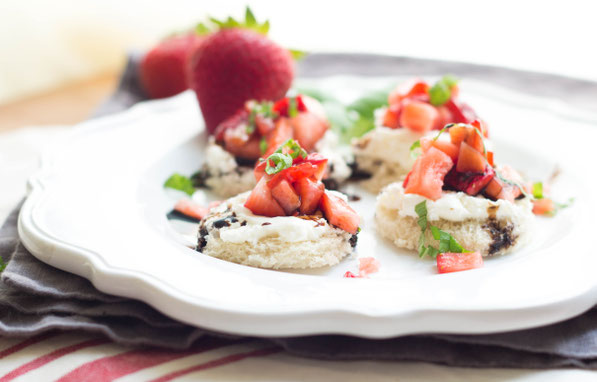 Strawberry-Basil Crostini with Balsamic Reduction
Makes 4 servings

For the crostini:
6 slices toasted bread 
1/4 cup whipped cream cheese
1/3 cup chopped fresh strawberries
4 fresh basil leaves, thinly sliced
For the balsamic reduction:
Directions:

To make the balsamic reduction, pour the balsamic vinegar in a small saucepan and bring to a boil.  Reduce heat to a simmer, and let the balsamic cook for 10 minutes or until it reduces by at least half and thickens slightly.  Set aside to cool. 
Toast the bread in a toaster, toaster oven, or in the oven to desired crispness. 
Use a 1- 1 1/2 inch round metal cookie cutter to cut the round crostini shapes out of each slice of bread.  Each slice should make 2 crostini rounds. 
Spread 1 teaspoon cream cheese on each crostini, then place on a plate or serving platter.  Top each crostini with chopped strawberries then add some of the basil over the strawberries.  
Use a spoon to drizzle a very small amount (a few drops) of the balsamic vinegar reduction over each crostini.  Refrigerate until ready to serve. 
 Happy Eating!
~Amber
---
---