Just when you thought stuffed jalapeno poppers couldn't get any better, this recipe happened!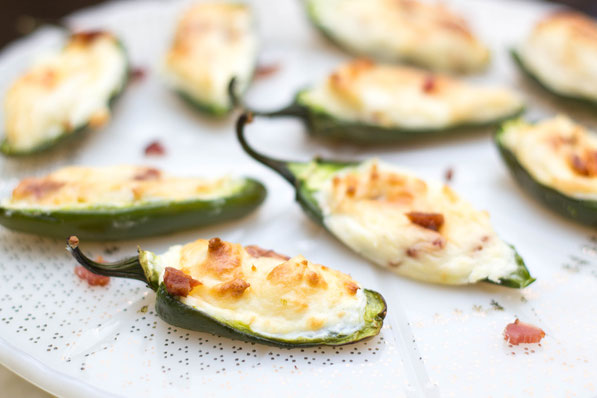 I've always had kind of a love/hate relationship with stuffed jalapeno poppers.  I love all of the ingredients that make them up:  peppers, cream cheese, and of course....bacon!
But the two issues I have with them is that the traditional jalapenos wrapped in bacon are super fatty/greasy and the bacon doesn't cook evenly, so sometimes you can't really even eat it....and anytime you have to throw away bacon, it's a sad, sad day. 
So in my effort to lighten up this super yummy and popular appetizer, I made a couple of swaps and OH MY GOODNESS these things are the absolute BEST!!!!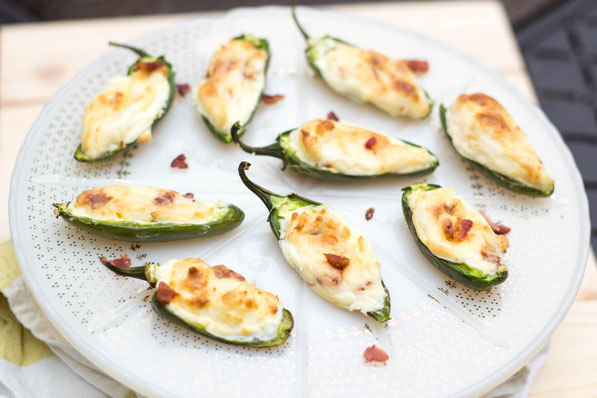 I've made this version three times so far for my family, and these little poppers are practically gone before I put the platter down! 
So what makes them so good (plus a little better for you)?  First, I used reduced fat whipped cream cheese, which isn't all that much lighter, but saves a few calories and the whipped version is so much easier to spread than the regular stuff.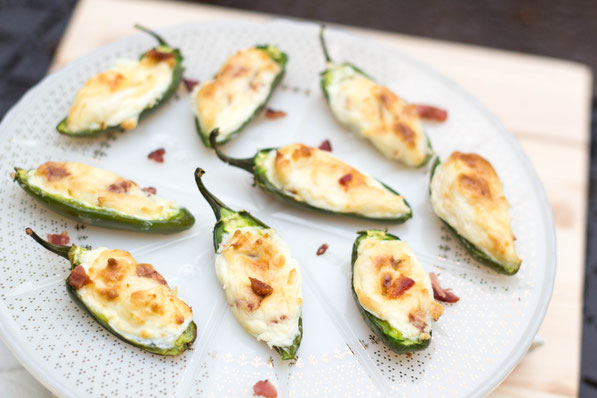 Then comes the biggest and best change to the recipe.  The bacon.  Don't worry, I didn't take out the bacon or replace it with anything weird. ;)  
But I decided to add little bits of cooked bacon (not bacon bits, actual cooked bacon) to the cream cheese itself.  This did two amazingly wonderful things...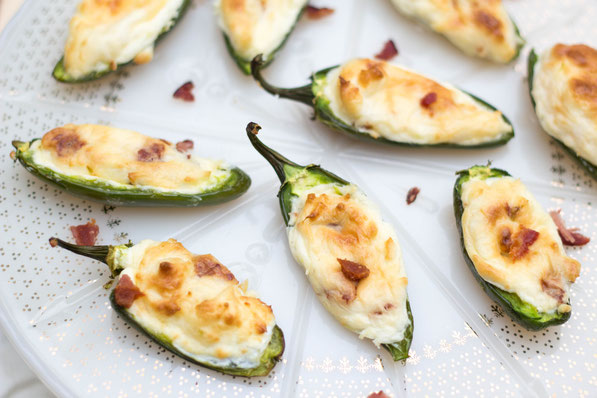 First, the bacon is all cooked, so there are no weird raw bacon pieces to pick through.  Second, you get bacon in every single bite, but overall there is less bacon used in the recipes - so you get more bacon experience plus it's healthier, which means you can eat more of them!! :D
You can prep and stuff these little beauties the day before everyone comes over for the big game, then just pop them in the oven about 20 minutes before you're ready to serve them.  Enjoy, and happy jalapeno popping!!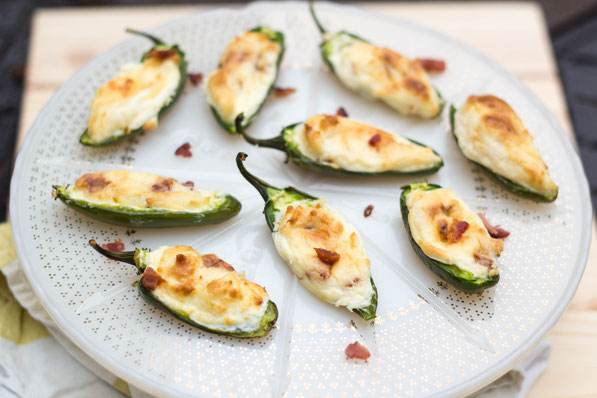 The Best Bacon Cream Cheese Stuffed Jalapenos
Makes 8-10 servings
Ingredients:
12 jalapenos (halved and seeded)*
1 8-ounce container reduced fat whipped cream cheese
1/2 teaspoon garlic powder
4 pieces of bacon, cooked and crumbled into small bits
Directions:

Preheat oven to 425 degrees.

In a medium bowl, combine the cream cheese and garlic powder.  Add the bacon, and continue to mix until the bacon is evenly distributed throughout the cream cheese mixture. 

Use a spoon to scoop about 1 tablespoon of the cream cheese mixture into each jalapeno half.  Place the stuffed jalapeno halves on a baking sheet lined with foil and lightly sprayed with cooking spray. 
Bake the jalapeno poppers for 15-20 minutes, or until the cream cheese is golden on top and the peppers are tender. 
*Tip:  Use a spoon to scrape out the seeds and veins from the inside of the jalapenos to remove most of the heat from the pepper.
 Happy Eating!
~Amber
---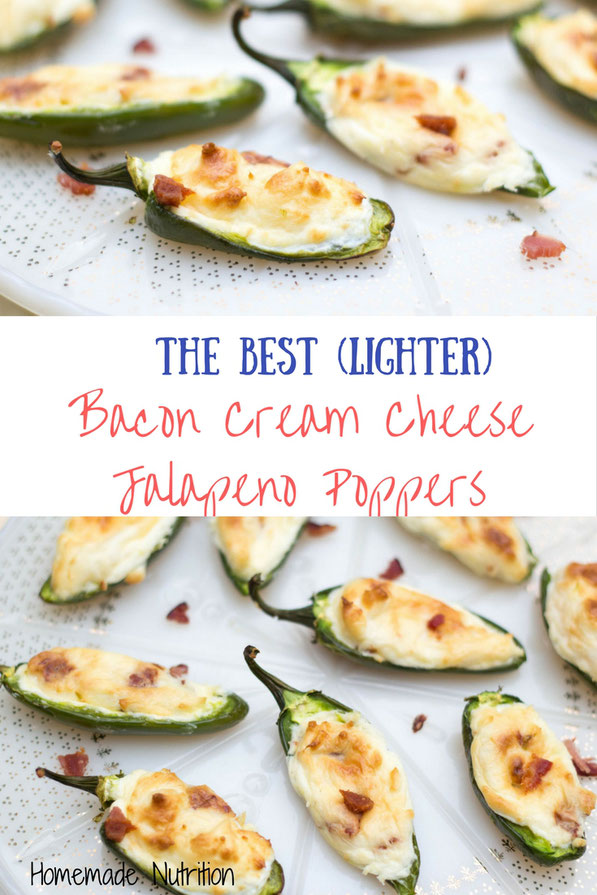 ---