Baked eggplant cutlets create the base of these flavorful pizzas.  Sweet sun dried tomato pesto, creamy ricotta, and caramelized onions add a beautiful combination of flavors in this vegetarian dish.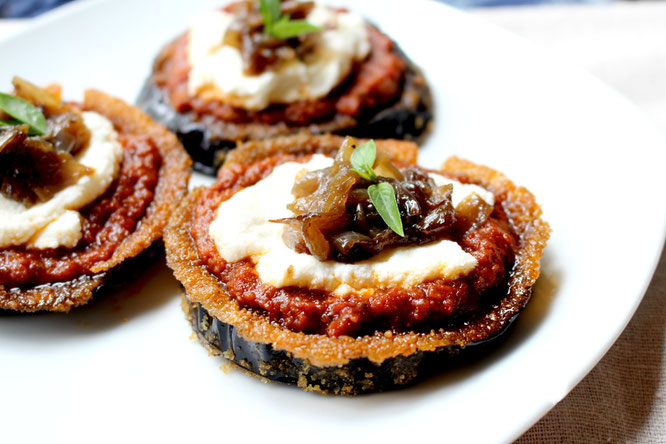 Eggplant is one of my favorite vegetables (though it's technically a fruit) because it has a very hearty texture and picks up flavors of whatever you add to it, so there are plenty of culinary possibilities.  It's also a great substitute for meat because it's more satisfying than many other fruits and veggies.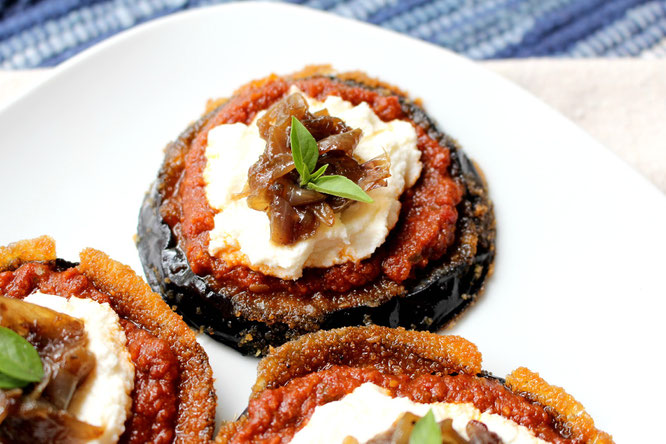 Dominex eggplant cutlets (found in the freezer section) are special for a few reasons - first of all, they leave the skin on the eggplant.  This means much of the fiber and nutrient content is kept with the eggplant...and that's true of most fruits and veggies:  if the skin is edible, leave it on because that's where so much of the good stuff is located!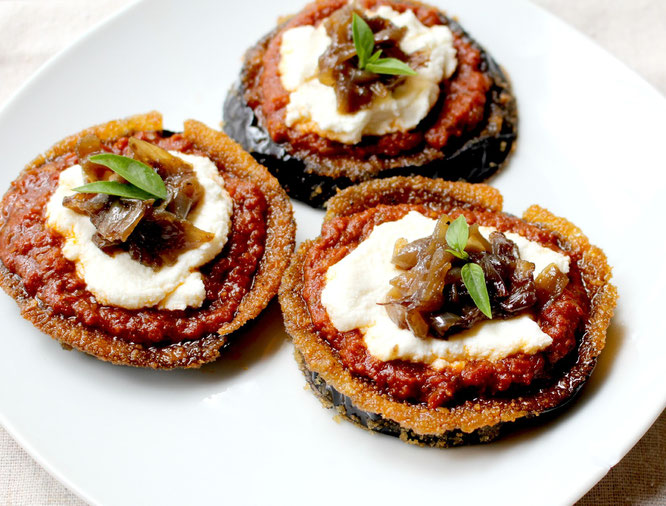 They are also lower in sodium than most of the other eggplant counterparts I found in the store, which is a big deal for a packaged food.  Usually packaged foods are some of the biggest contributors to sodium in our diets, so choosing those with a lower sodium content whenever possible is important. 
These eggplant cutlets are also vegan and have a short, "real" ingredient list, which makes them a great choice for those choosing not to consume animal products and also looking to limit preservatives and chemicals in their food.  Not to mention they are really yummy!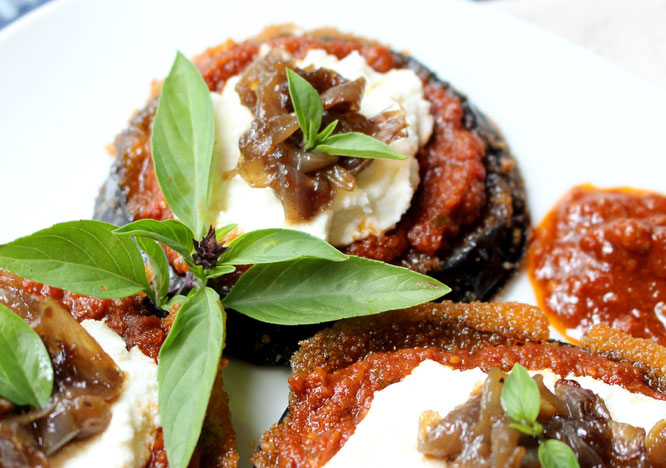 These little pizzas are a different way to eat eggplant than just the standard eggplant lasagna or parmesan that most of us think of.  This recipe uses the baked eggplant cutlets as the base of these "pizzas."  So other than the breading on the eggplant, there's no actual bread crust on these pizzas.  And to add a different flare and flavor profile, I decided to use store-bought sun dried tomato pesto instead of tomato sauce, added ricotta cheese for an awesome creamy richness, and topped it all with sweet caramelized onions.  I also added fresh Thai basil from my garden for a beautiful pop of color and flavor.  This is a really fun way to do pizza night! 
There are two options when it comes to assembling and serving these eggplant pizzas.  You can add the toppings and serve at room temperature (which is how I like them), or you can bake them for a few minutes to heat everything through.  It's all up to you!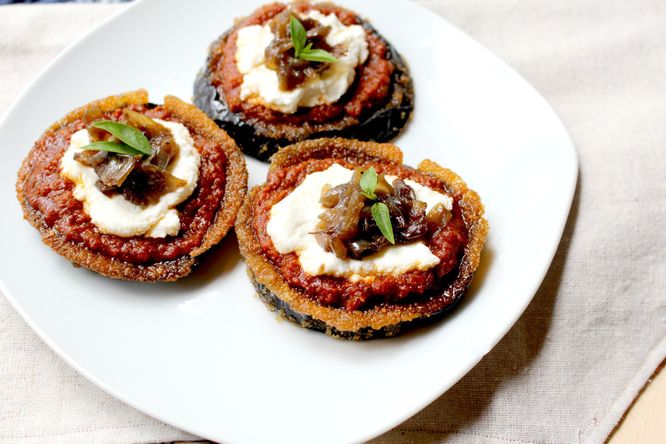 ---
Eggplant Pizzas with Pesto, Ricotta with Caramelized Onion
Makes 7-8 eggplant pizzas (about 4 servings)
Ingredients:
1 box Dominex Eggplant Cutlets, baked according to package directions

1 teaspoon canola oil
1 large red onion, thinly sliced
1 teaspoon brown sugar
salt and pepper to taste
1/2 cup water, plus more if needed
1 jar sun dried tomato pesto

1 cup full fat ricotta cheese

fresh basil for garnish (optional)
Directions:
To make the caramelized onions, heat a medium cast iron or nonstick skillet over medium high heat.  Pour the oil in the pan, then the onion, salt, pepper, and brown sugar.  Stir for 3-5 minutes until the onion begin to soften and brown slightly. 

Reduce the heat to low, add the water, and cover.  Cook for about 25 minutes, stirring occasionally, adding more water 2 tablespoons at a time if needed (if all the liquid has evaporated).  The onions will become sweet, tender, and dark brown in color when done. 

To assemble the eggplant pizzas, top each cooked eggplant cutlet with about 1 tablespoon sun dried tomato pesto.  Next, add 1-2 tablespoons ricotta cheese, then top with 1 tablespoon of the caramelized onions.  Garnish with fresh basil if desired.  Serve immediately, or bake the pizzas at 400 degrees for about 10 minutes to heat through if desired.   

Happy Eating!
~Amber
---
Thanks to Dominex for free samples of Eggplant Cutlets mentioned in this post.  All opinions are my own, and I was not compensated for my time.

---