These Southwestern mini frittatas are hearty and packed with protein and flavor.  Soy-based chorizo makes for the best meat substitute in this recipe and this one is also quick enough to make on a busy weeknight!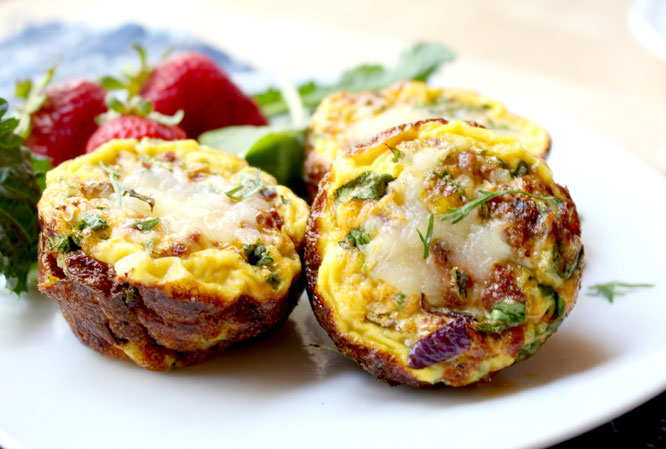 I don't use "fake meat" products very often mainly because I'm not a full-time vegetarian, so when I do eat meat I choose what I want, and if I'm choosing not to eat meat, I usually just go for plant-based proteins straight from nature.  
But this is one of the few exceptions for me.  Chorizo is a Spanish-style sausage that is pretty greasy and honestly kind of weirds me out a little bit.  Lucky for me they sell a substitute for chorizo called "Soyrizo" at almost every grocery store now.  It's right where they sell the other refrigerated meat substitutes and tofu, usually in the produce section of the grocery store.  And it is amazing!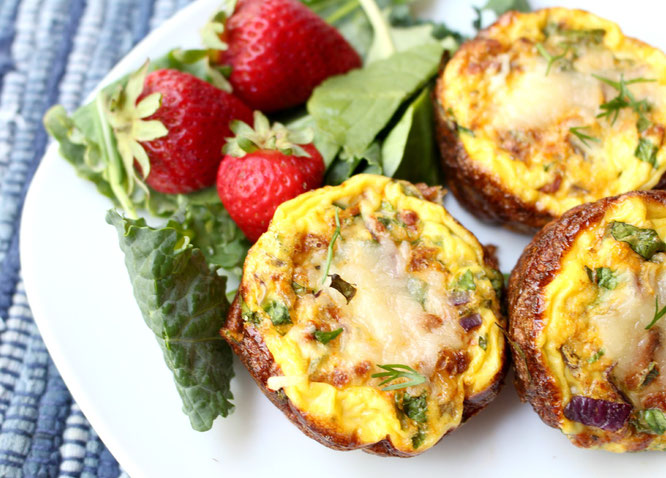 "Soyrizo" has all the flavor of a regular chorizo, but without all the grease and weird factor that I don't like.  It's one of the few meat substitutes I've actually been able to make for my husband and he's eaten it without any complaints or weird looks at it.  I've seen a couple of different brands, so just get whichever one you can find or prefer.  You can also use plant based "bacon" or "sausage" substitutes in this recipe if you want a different flavor profile that's a little more mild but just as delicious.  Use what you love to make this recipe your own!
I used the base recipe for my four ingredient mini-frittatas here, and simply added the soy-chorizo and swapped the green onion for red onion for a nice boost in color.  These mini frittatas are quick to make and are actually quite filling.  If I'm eating them for breakfast, I like fruit on the side, but if I'm eating them for lunch or dinner, I add a small side salad with fruit (baby spinach and strawberries is my favorite combo).   These little frittatas reheat well in the microwave so you can even take them for lunch the next day!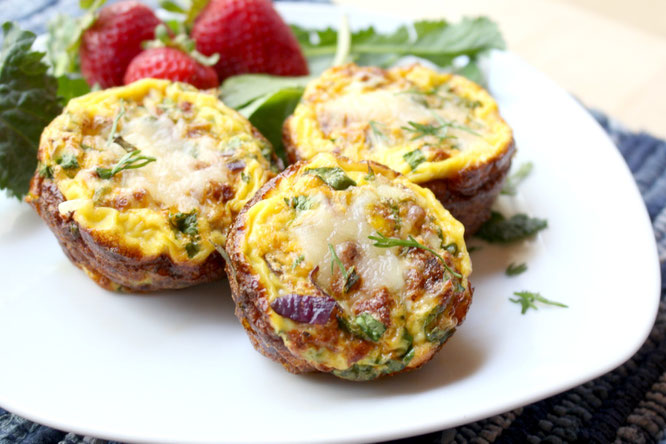 ---
Southwestern Vegetarian Mini Frittatas
Makes about 12 muffins
Ingredients:
6 large eggs

3/4 cup milk

3/4 cup shredded reduced fat cheddar cheese

1/2 cup diced red onion (about 1/3 of a medium onion)


1 cup "soyrizo" or other vegetarian chorizo meat substitute
cilantro for garnish (optional)

salt and pepper to taste

cooking spray
Directions:
Preheat oven to 400 degrees.  In a large bowl, mix the eggs, milk, salt, pepper, cheese, soy chorizo, and onions until well combined. 

Lightly spray a muffin pan with nonstick cooking spray and pour the egg mixture to fill each muffin tin about 2/3 full.  Bake for about 15 minutes or until the eggs are set and the tops are lightly golden.  Top with fresh chopped cilantro for garnish.  

*Note:  These mini frittatas will puff up as they cook, then deflate as they cool. 
Happy Eating!
~Amber
---