These baked taquitos are gluten free, vegetarian and ready in about 20 minutes!  It's a healthy, affordable weeknight meal the whole family will love!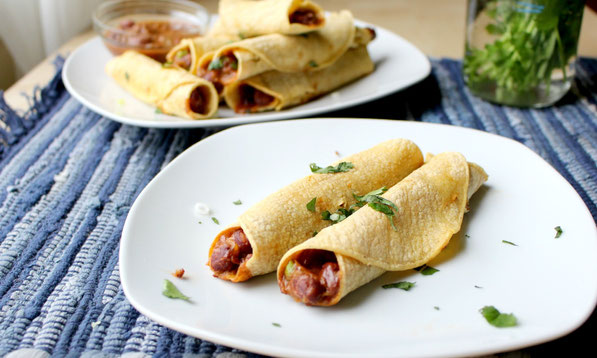 Taquitos are a natural crowd-pleaser!  Everybody loves the crunchy outside and delicious fillings in this tasty treat that you can also conveniently carry around and eat with your hands. :)
But they aren't always thought of as being very healthy or easy to  make, so in order to make this a weeknight-friendly, time saving meal, I have a secret ingredient: canned vegetarian chili.  I know it sounds a little weird, but I really like the convenience, taste, and price of this ingredient, and have found so many ways to use it (like in my mini chili cheeseburgers)! 
Pre-made vegetarian chili is perfect in weeknight recipes because it's a quick source of plant based protein that tastes really hearty, so meat-eaters probably won't even notice the lack of meat (can you say, "sneaky chef?!").  You can use either a bean based chili or tofu based one; they are both delicious! 
The other benefit to using canned meatless chili is that even for an organic, gluten free brand at my grocery store, the whole can of chili only costs $2.  That's a really affordable source of protein that's already cooked and seasoned!  
While there are a lot of canned and frozen products that are full of preservatives, sodium, and lots of random ingredients, they aren't all bad.  You can find some great products that really come in handy when you want to make a quick meal the whole family will enjoy.  It's kind of a "semi-homemade" approach. 
The most important thing to remember is to always check your ingredient list and look for the most "normal" sounding ingredients possible, and try to buy lower sodium versions of packaged foods whenever possible.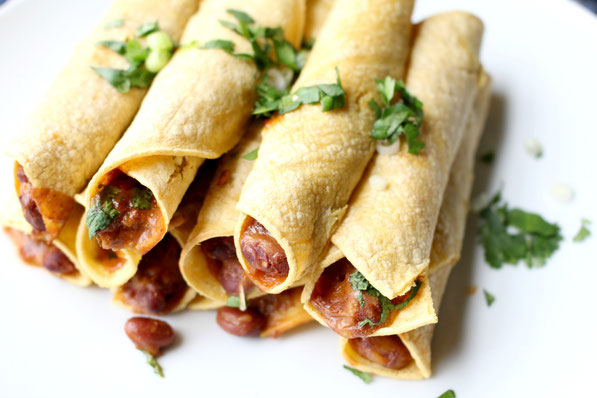 Since canned chili is the base of the filling, I think it's important to jazz it up  with some fresh ingredients.  Fresh green onions and cilantro brighten up the flavor and add nice color to these taquitos. 
I prefer green onions over regular white onion in this recipe because the flavor is much milder.  And I happen to love cilantro, so it goes into many of my meals!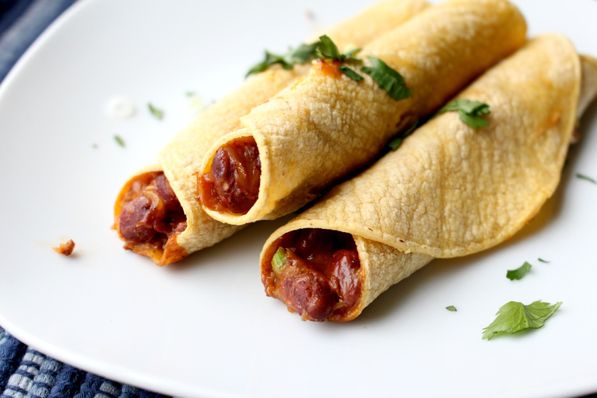 Now for the taquitos themselves:  There are a few issues I've run into when making taquitos in the past.  The main problem is that sometimes the tortillas crack. 
Traditionally taquitos are fried, not baked, so they are coated in plenty of oil that gives them moisture and prevents cracking.  So when baking them at home, sometimes they will split open on the side because corn tortillas are a little dry on their own and there isn't much oil added to them for baking.   
This is normal.  I've found the best way to get around this problem is to heat the tortillas first (preferably on a skillet, but the microwave will work too), spray both sides with cooking spray, then act quickly to stuff and roll them.  The longer they sit out, the more likely they are to split as the cool back to room temperature. 
It's also helpful to spray them with a little more cooking spray right before they go in the oven to prevent cracking.  Sometimes they still split while they cook, but honestly, they taste exactly the same, so I've learned to not stress myself out about it!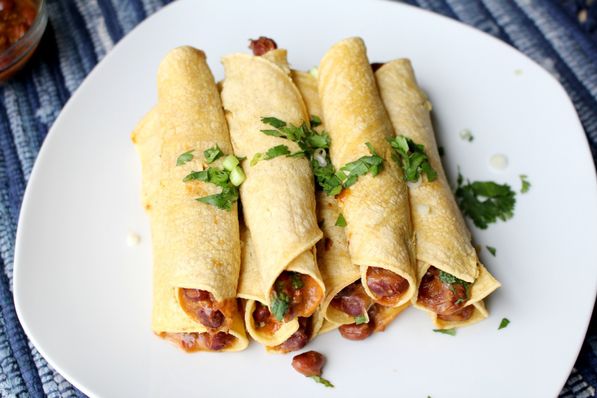 Vegetarian Chili Cheese Taquitos
Makes 12 taquitos
Ingredients:
Cooking spray

12 corn tortillas

1 15 ounce can gluten free vegetarian chili

3/4 cup shredded reduced fat cheddar cheese

2 green onions, thinly sliced

2 tablespoons fresh cilantro, chopped
Directions:
Preheat oven to 400 degrees.  Line a baking sheet with foil and spray with cooking spray or spread with a light layer of oil. 

Heat the tortillas in the microwave or on a skillet.  Lightly spray both sides of each tortilla with cooking spray. 

In the center of each tortilla, spread 2 tablespoons chili, 1 tablespoon cheese, and a sprinkle green onions and chopped cilantro.  Carefully roll each tortilla as tightly as possible without the tortilla cracking.  Place a toothpick in the center of each taquito to hold it closed, and place on the baking sheet (don't worry if some of the tortillas crack a little bit while you roll them or while they bake, they will still be delicious!).

Bake for 10-15 minutes, or until the taquitos are crispy.  Remove the toothpicks, and enjoy!
Happy Eating!
~Amber
---