These overnight oats with raspberry and chia seeds are the perfect protein-packed energizing healthy breakfast.  Plus, they're ready to eat as soon as you wake up with no prep time in the morning!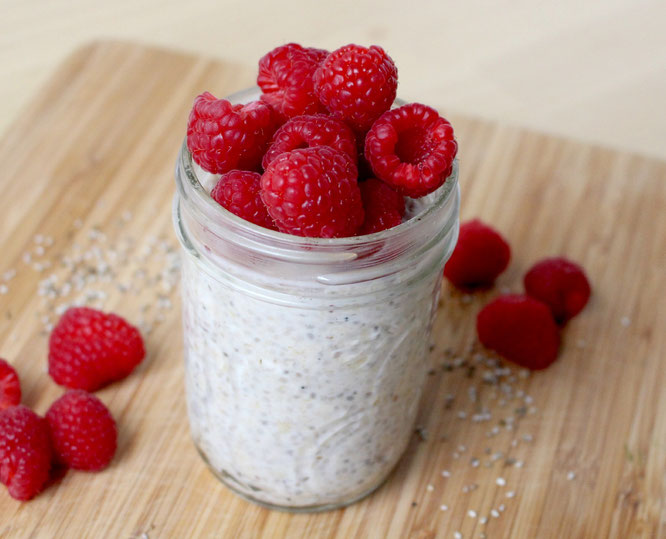 Breakfast really is the  most important meal of the day - it allows your body to get the energy it needs to support daily activities and also support a healthy metabolism.  Time and time again, we hear about studies showing that people who eat breakfast everyday tend to weigh less than those who skip it.  One big reason for this is that if you skip breakfast, you're much more likely to be extra hungry later in the day, so you'll end up eating much more as the day goes on.  Not to mention you'll be grumpy all morning from feeling hungry.  So if you're trying to lose weight, eat your breakfast!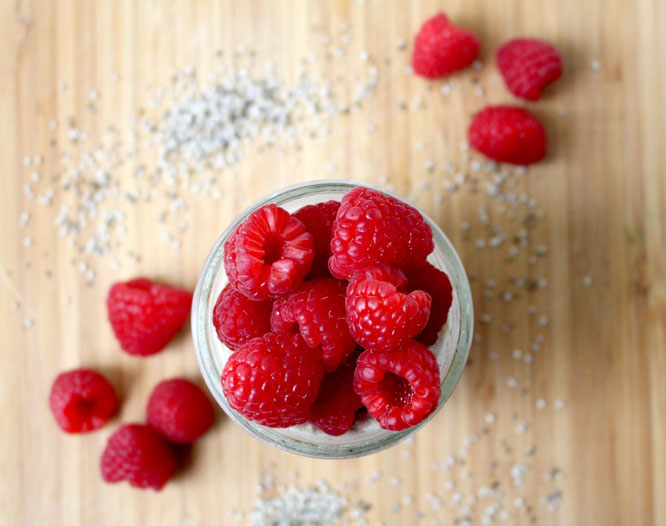 Overnight oats have become really popular because it's probably the easiest way to have a healthy breakfast ready when you wake up with zero prep time.  That's right, you literally wake up, take it out of the fridge, grab a spoon and enjoy!  Or grab it on your way out the door to eat right when you get to work.  Plus, this is a super healthy meal. 

This particular recipe is packed nutrition.  It's filling and provides your body with healthy energy that will last through the morning.  The base is oats, which are a whole grain that provides protein, fiber, and complex carbs for energy.  Greek yogurt brings a huge protein boost along with promoting healthy digestion.  I added some raspberry jam to the yogurt to boost the raspberry flavor and add a touch of sweetness to the recipe.  You can use more or less depending on your taste.  Then there's more calcium from the milk, and lastly, chia seeds.  These little beauties are a great source of heart-healthy fat and fiber.  They are really versatile and have a neat texture, so I definitely recommend giving them a try!  And the only prep for this recipe involves dumping everything into a bowl or jar, giving it a quick mix, then popping it in the fridge overnight!  Couldn't be easier!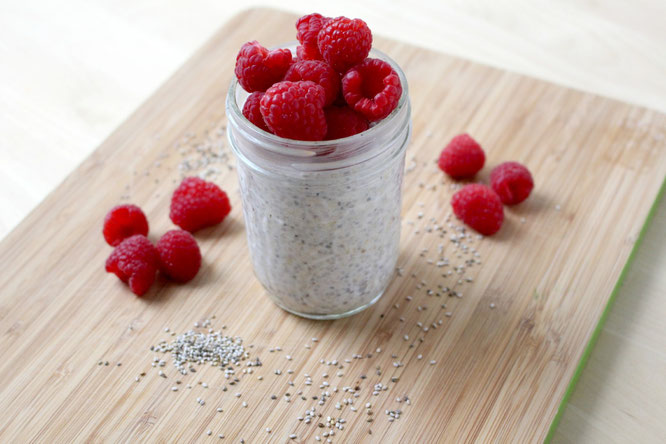 Overnight Raspberry Chia Oats

Makes 1 Serving

Ingredients:

1/2 cup quick cooking (instant) oats




1 tablespoon chia seeds




3/4 cup milk of choice (1%, skim, almond, or soy)

1/2 cup plain Greek yogurt




1-2 teaspoons raspberry jam




1/2 cup fresh or frozen raspberries



Directions:

Place the oats, chia seeds, and milk in a bowl or jar.  In a separate bowl, mix the jam into the yogurt to combine, then add to the oat mixture and mix everything together. 

Cover and refrigerate for at least 2 hours or overnight.  Top with the raspberries when ready to serve. 



Happy Eating!

~Amber

---