The classic combination of broccoli and cheese gets a healthy twist when stuffed inside of sweet potatoes.  These five-ingredient twice baked broccoli cheese sweet potatoes make a fabulous base for a healthy and affordable weeknight vegetarian dinner!  (They also happen to be gluten free...)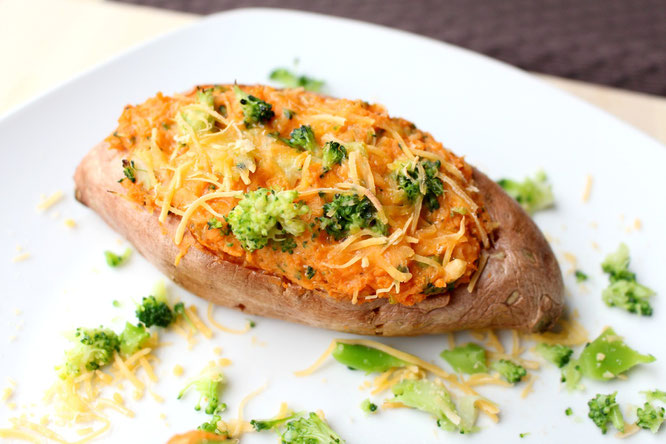 Broccoli and cheese were just made to go together.  The pair can be found as a kid-friendly veggie side at dinner, in casseroles with rice or potatoes, as a creamy soup, or in this case, inside of a baked potato.  Broccoli is one of the staple vegetables of choice in my home because it's simple to make and can be sneaked into just about anything.  I normally use frozen broccoli because it's much cheaper than fresh broccoli and all the prep work has already ben done, so it's a huge time-saver.
It's so easy to open the bag of frozen broccoli and pour it into almost anything you're cooking to give it an instant boost of nutrition.  Broccoli is a good source of vitamin C, vitamin A, B vitamins for energy, calcium, and fiber.  It's also very bulky and filling even though it has just a few calories per serving, meaning it is very "nutrient-dense."  Packed with nutrition and tasty, just the way I like it!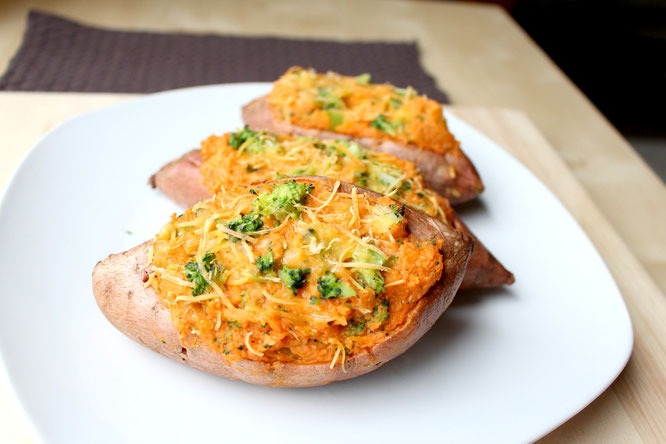 Sweet potatoes form the base of this dish, and I chose them because they are also one of the superstars of the nutrition world.  Like broccoli, sweet potatoes are an excellent source vitamin A, vitamin C, and fiber, plus they have complex carbohydrates that fill you up and digest slowly, which is good for maintaining healthy blood sugar levels. 
Sweet potatoes and frozen broccoli are among the most affordable healthy foods at the grocery store.  Where I shop, I can buy a little box of frozen chopped broccoli that contains 2 cups for just $0.52.  Sweet potatoes tend to run less than $1 per pound where I shop, so this meal (for two) including the cheese and tiny bit (1 teaspoon) of butter costs around $2.  That's a pretty sweet deal for all of these nutrients packed into one dish!  Pair this meal with a bowl of soup or salad on the side and you've got a light, complete, and filling lunch or dinner.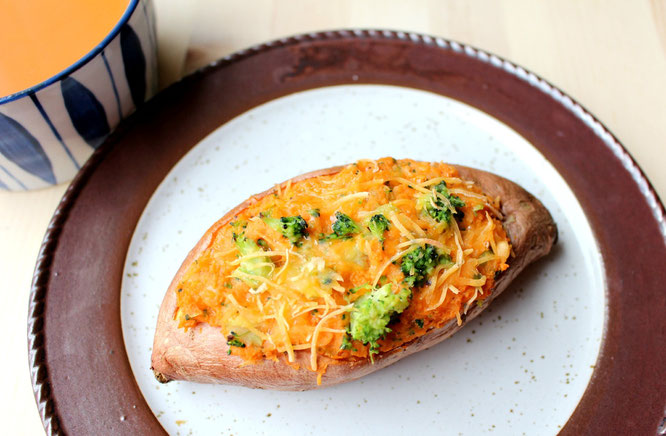 This recipe comes together surprisingly fast for a twice baked potato dish.  First of all, when making baked potatoes you've got two options:  Actually baking them (which takes almost an hour in the oven or on a grill) or microwaving them, which takes about 5-7 minutes.  I'm not the biggest fan of using the microwave as the main cooking method for my recipes, but sometimes you just need a little help to get food on the table a little faster, especially if you're busy and don't want to spend all evening in the kitchen making dinner.  So the microwave can be a nice way to reduce the cooking time significantly.  In fact, if you made this whole recipe using only the microwave, it can be done in under 20 minutes!

If you're not a fan of the microwave or happen to have some time to bake the potatoes a couple days in advance in the oven, that's completely fine.  You'll save even more time if you start out with the potatoes already baked and can finish them in the oven instead of the microwave to melt all the cheese.  This strategy of planning ahead and cooking parts of meals in advance is one of the best time-saving tricks for making more healthy dinners at home.  Sometimes in the evenings, if I'm just cleaning the kitchen, reading, answering e-mails, or watching some TV,  it's easy for me to make a batch of brown rice, farro, quinoa, or even bake potatoes in the oven because they don't require much baby-sitting, just a little time and checking on them every once in a while.  Once they're done, I just let them cool and put them in the refrigerator to use on a different day.  A little planning goes a long way!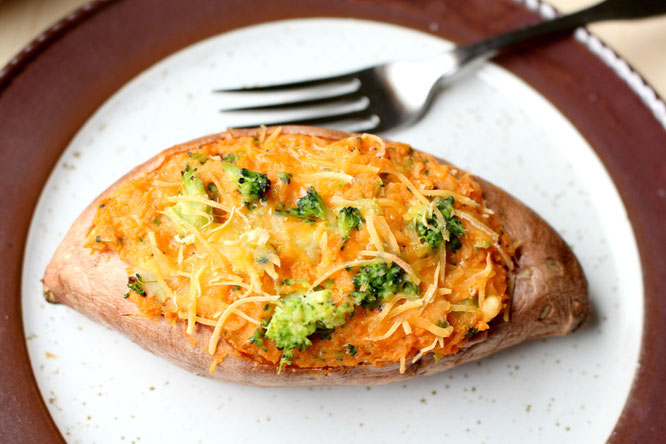 Twice Baked Broccoli and Cheese Sweet Potatoes 
Makes 2 servings
Ingredients:
2 medium sweet potatoes (each about 5 inches long x 2 inches wide)

2/3 cup frozen chopped broccoli, thawed

1/2 cup reduced fat shredded cheddar cheese

1 teaspoon butter

1/4 teaspoon garlic powder

salt and pepper to taste
Directions:
Cook the potatoes:  Wash the potatoes and use a fork to poke holes in several spots on all sides of the potatoes (this helps let steam out while they cook).  Place the potatoes on a microwave-safe plate, cover with a wet paper towel, and cook in 2 1/2 minute intervals, checking the potatoes at every interval by piercing them with a fork.  The potatoes are done when you can easily pierce a fork to the center of the potato.  They should be done 5-7 minutes.

Let cool for a few minutes, then carefully cut each potato in half (they will be hot, be careful!).  Using a pot holder or small towel to hold each potato half.  Use a spoon to scoop out about 3/4 of the potato flesh from each half. 

Use a fork or potato masher to mash the potatoes.  Add the butter, garlic powder, salt, pepper, broccoli, and cheese to the potatoes and mix well to combine all the ingredients. 

Scoop the potato mixture back into each of the potato halves. 

To finish cooking the potatoes, put them back in the microwave for about 1-2 minutes, or bake at 400 degrees for about 10 minutes, until the cheese is melted.  Enjoy!
Happy Eating!
~Amber

---