This barley fried rice is a flavorful, filling vegetarian meal great for Meatless Mondays!  With just one skillet and 20 minutes this dinner beats takeout any day!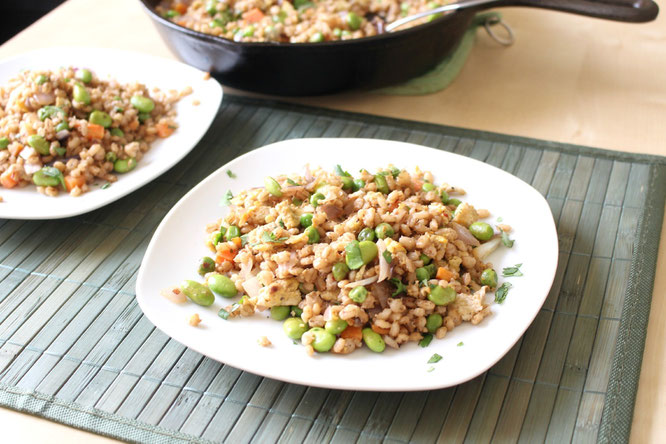 Barley is a really hearty whole grain with a mild flavor.  I've been using it quite a bit lately because I enjoy the texture, taste, and the nice change from the brown rice and quinoa rut I was in.  I think part of eating well is changing up your food choices every now and then because once you get bored with your food, it's really easy to get off track and start eating things that are less than fantastic for our health.  Once that happens, we all know how hard it can be to get back on track.  That doesn't mean you have to eat something different every single day, but if you've been eating nothing but oatmeal for breakfast, peanut butter sandwiches for lunch, and frozen meals for dinner for longer than you can remember, why not change it up a little and surprise your taste buds?  Trying new things can be one of the best ways to keep healthy food exciting!
This recipe uses barley as the star in a healthy version of "fried rice" that can actually be an entrée because it's got all the main components of a healthy meal.  The barley is a whole grain that brings plenty of protein, fiber, and slow digesting complex carbohydrates.  The edamame (soybeans) and eggs bring an extra boost of protein and there are plenty of veggies bringing beautiful flavor, colors, and nutrition to this dish.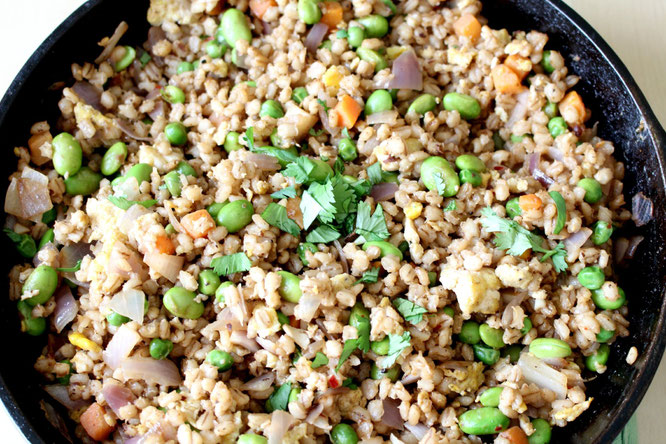 The one really important key to making this dish in under 20 minutes is starting with cooked barley.  As with any fried rice recipe you'll find out there, it's always recommended to start with a rice or grain that has already been cooked and cooled (preferably made a day or two before if possible).  The reason is once the grain has had time to sit in the fridge it dries out and separates a little, which means it will get more evenly coated with everything you put on it, and won't clump together as you mix everything in the skillet. 
Barely does take about 45 minutes to an hour to cook depending on what kind you get, but I have a secret short cut recommendation!  Many stores these days actually sell bags of frozen pre-cooked grains near the frozen veggie section of the store.  You can almost always find plain cooked quinoa and brown rice, and if you're lucky they'll have barley and sometimes farro (which is a grain similar to barley).  If you can only find brown rice, that's completely fine - use that!  Otherwise go with the barley or farro. 
Another short cut option is using pre-cooked grains that some stores sell on the rice aisle in vacuum packed bags - at my store they are right next to the uncooked varieties of those grains.  You simply take them out and microwave them to heat before using.  So don't let the cooking time for whole grains scare you - if you're busy, go for the convenient frozen or packaged versions of the grain. 
Personally, I spend a lot of time in the kitchen, so it's really easy for me to boil some medium pearl barley while I'm doing other things around the kitchen.  I tend to pre cook grains in the evenings or early in the mornings if I'm in kitchen or living room where I can keep an eye on it.  Then I just let it cool and put it in the fridge for another day.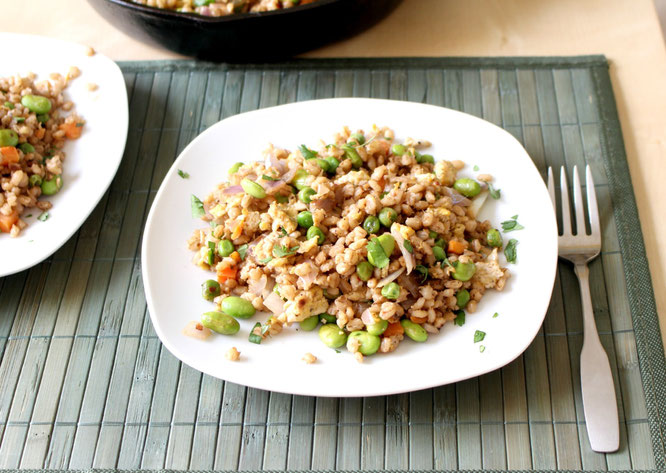 Another nice short cut in this recipe is the use of mostly frozen veggies.  Frozen edamame, or soy beans, are an excellent source of protein, fiber, and heart-healthy fat.  And they are way easier to use if you buy the frozen version (already out of their pods) rather then popping them out of the pods they come in one by one - which I have to say, is a fun activity if you've got kids around to help, but takes a bit of time and patience.  :)  Then there's the peas and carrots - you just can't go wrong that combo of veggies, and you can't beat the convenience of simply pouring them out of the bag and into the skillet. 
The only real chopping and mixing required for this recipe is chopping a bit of onion and garlic and scrambling a couple of eggs, which are a classic addition to fried rice.  The rest is about adding each ingredient in and mixing everything together until it's all beautifully combined.  The result is a huge skillet full of this satisfying, flavorful dish!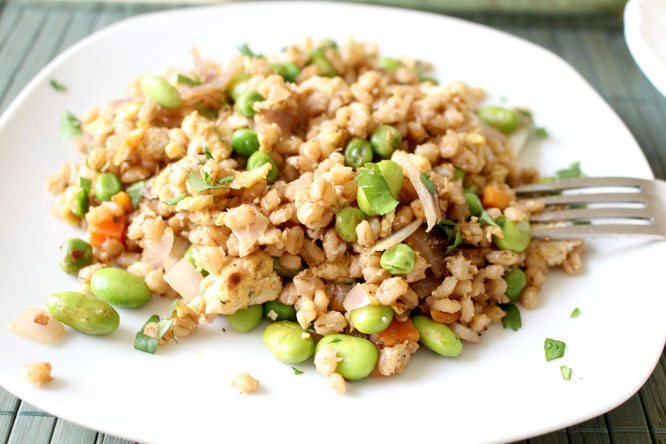 Barley Fried Rice

Makes 4-6 servings

Ingredients:
1 teaspoon unsalted butter

2 large eggs, cracked and mixed in a small bowl

1 tablespoon canola oil or light olive oil, separated

1/2 medium red onion, chopped

2 cloves garlic, chopped

salt and pepper to taste

1 cup frozen edamame (shelled)

1 cup frozen peas and carrots

3 1/2 cups cooked barley (or brown rice)

1/4 cup + 1 tablespoon low sodium soy sauce

1 teaspoon sesame oil

red pepper flakes to taste (optional)

chopped cilantro for garnish (optional)

Directions:
Heat a large cast iron or nonstick skillet over medium low heat.  Melt the butter, and cook the eggs until they are scrambled and just barely cooked through.  Remove the eggs from the skillet and set aside.

Turn the heat up to medium high, add 1 teaspoon of the oil, then add the onion, garlic, salt and pepper.  Cook for about 5 minutes or until the onion begins to soften.  Add the edamame and peas and carrots and cook for about 2 more minutes. 

Add the remaining 2 teaspoons of oil, then add the barley.  Stir the mixture, then let it sit for about 1 minutes, then stir again and let it sit for another minute (this is to allow the barley to brown).  Repeat 2-3 more times. 

Finally, add the soy sauce, sesame oil, red pepper flakes (if using) and cooked egg and mix to combine everything.  Remove from heat.  Top with chopped cilantro for garnish. 

Happy Eating!
~Amber

---