I received free samples of California Dried Plums mentioned in this post. By posting this recipe I am entering a recipe contest sponsored by California Dried Plum Board and am eligible to win prizes associated with the contest. I was not compensated for my time.
These breakfast bites with cream cheese, dried plums, pumpkin seeds, and almonds make for a fantastic sweet and healthy breakfast on the go!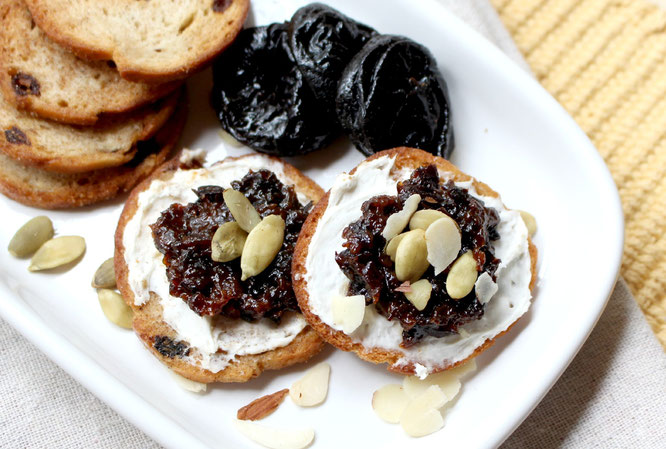 Dried plums are delicious.  I enjoy most dried fruit, but I, like most people had been overlooking dried plums (prunes) for a long time because I just hadn't really thought much about them.  But I didn't realize what I was missing!  Dried plums are so good - they are super sweet and have a moist, chewy texture that makes for a satisfying snack.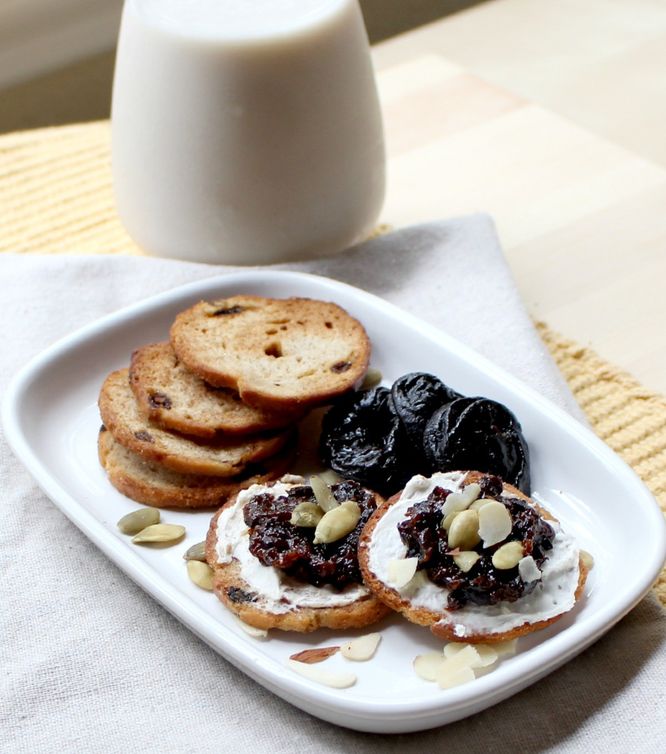 Personally, I find California dried plums are more moist than other dried plums I've had.  They also happen to be packed with nutrition.  Here are just a few fun facts about dried plums:
They support healthy bones and may actually help increase bone density in postmenopausal women.   May is National Osteoporosis Month, so if you're looking to improve your bone health, it's a great time to start eating more dried plums!
They are a huge support to healthy digestion:  Got constipation?  Get some prunes!  They've been found to be more effective than psyllium (commonly used to treat constipation) and taste way better. 
One serving (about 4-5 dried plums) is under 100 calories and is also a good source of fiber, potassium, magnesium, and has more vitamin K thank any other dried fruit . Basically there's a whole bunch of nutrition packed into each one of these little beauties! ;)
They make a great snack because they're affordable, very portable (no refrigeration needed), and have no sodium, cholesterol, and are low in fat.  That's pretty impressive considering many of our typical snacks are packed with processed sugar, fat, and sodium.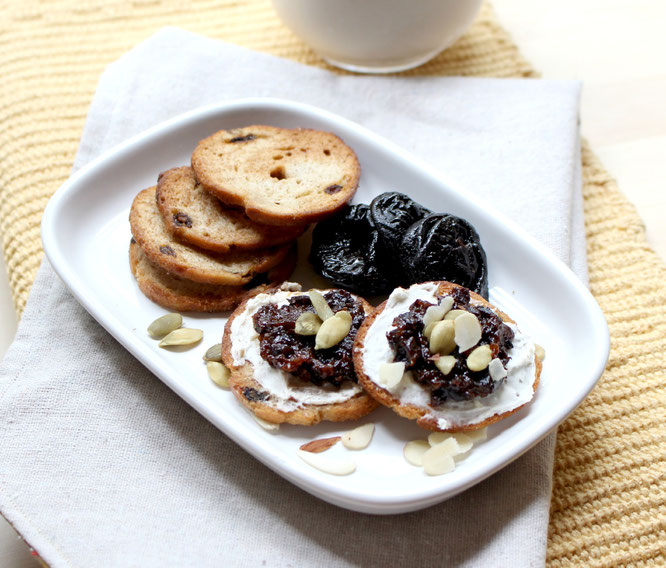 As for baking, using dried plums is a great way to replace some of the fat, reduce sugar, and also add moisture to your favorite recipes.  Just reduce the fat by half and replace with an equal part of dried plum puree.  Also, reduce the sugar in those recipes by about half because the dried plums add plenty of natural sweetness!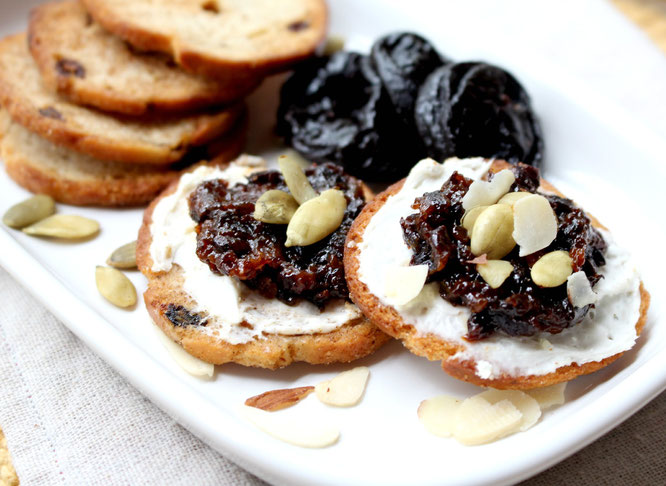 For being such a quick and simple breakfast, this dish is surprisingly complex in flavor and texture.  The cream cheese adds a creamy, rich flavor, the plum puree with cinnamon is sweet and hearty, and the pumpkin seeds and almonds add a small crunch and additional healthy fat, fiber, and protein in this dish.  The whole flavor combination in this recipe is really nice.  I hope you enjoy this tasty breakfast treat!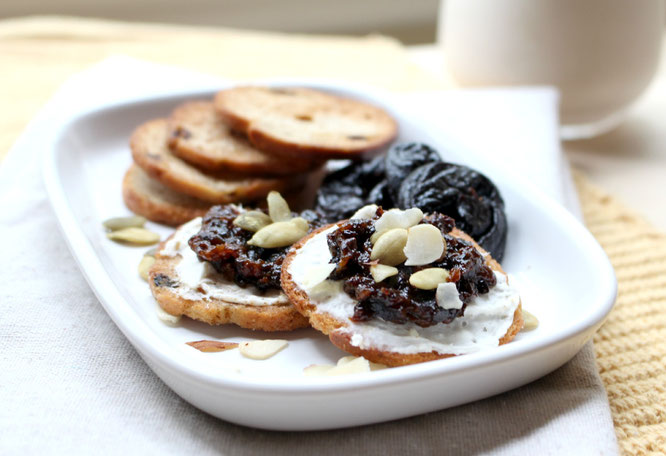 ---
Cinnamon Cream Cheese Breakfast Bites with Dried Plums, Pumpkin Seeds, and Almonds
Makes 2 servings
Ingredients:
10-12 California dried plums

1/8 teaspoon cinnamon
1 teaspoon water
12 cinnamon-raisin bagel chips, whole grain crackers, or 2 slices  toasted cinnamon-raisin bread
1/4 cup whipped cream cheese
1/4 cup pumpkin seeds, unsalted
1/4 cup sliced almonds, unsalted
Directions:
Place the dried plums, cinnamon, and water in a food processor or blender.  Pulse until the mixture comes together in a paste, leaving a few small chunks if desired. 

Spread about 1 teaspoon of cream cheese on each bagel chip or cracker.  Top with about 1 teaspoon of the dried plum mixture, then sprinkle the pumpkin seeds and almonds on top.  Store any extra plum mixture in the refrigerator for up to a week. 
*Serve with a glass of low fat milk or your favorite non-dairy milk for an extra boost of calcium!

Happy Eating!
~Amber
---
---
Here are some other awesome dried plum recipes!