These easy baked eggplant bites are a special snack the whole family will love!  Tender on the inside and crunchy on the outside, these bites will make you love eating your veggies!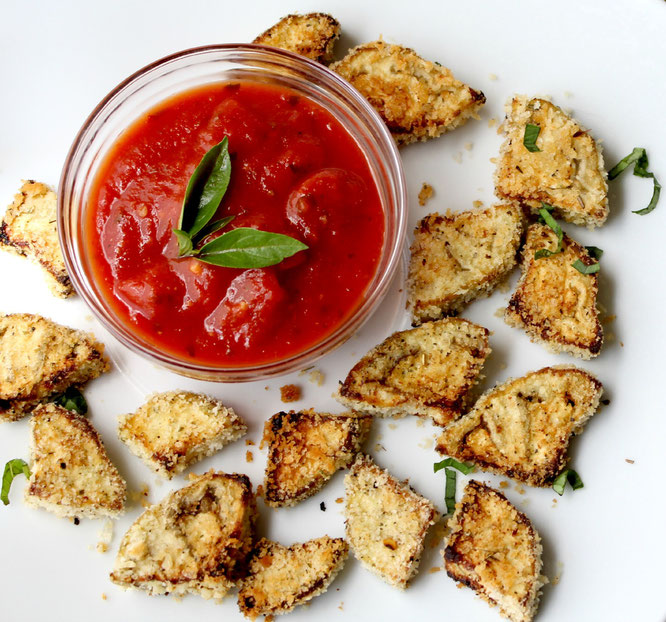 You can't go wrong with a recipe that has only five ingredients.  The inspiration behind this snack is simple.  We're usually hungry when we get home from school or work, which can lead to some not-so-smart snack choices.  I wanted to create something  that would be just as good as some sort of frozen snack food that you'd just heat up and serve, but also healthier. 
Yes, these take a little more time to make than something you can microwave, but they are delicious and 100% worth the extra effort.  Plus it's an awesome way to eat more veggies in one of the most delicious ways possible!  To save on time, you can make a big batch of these on the weekend, keep them in the fridge or freezer, and re-heat in the oven when you're ready to eat them during the week.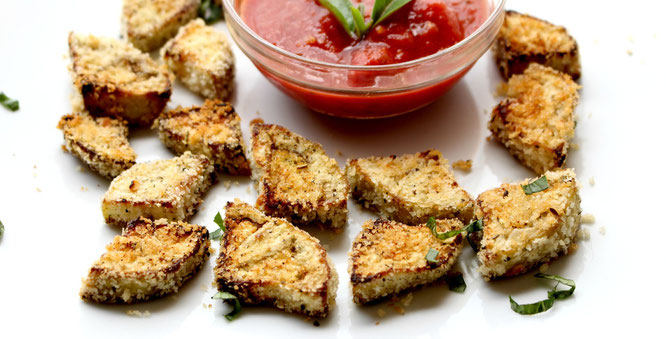 The secret ingredient to making these breaded bites taste just as good as if they were fried is mayonnaise.  Normally we use egg to coat veggies or meat before breading them, but sometimes when you bake those foods they can come out a little dry.  Using mayo as the coating keeps  the food nice and moist and even helps it to brown in the oven because mayo has both eggs and oil in it, so it's like coating the food in everything it needs to turn perfectly tasty. 
The other secret to making these bites crispy even though they're baked is panko breadcrumbs.  These are pretty popular now, but if you haven't used them before, they are course, crunchy breadcrumbs that are quite a bit bigger than regular breadcrumbs.  The result from using panko is food that tastes like it's been fried instead of baked.  It makes for a crispy coating that just can't be replicated with regular breadcrumbs.  They are pretty neat!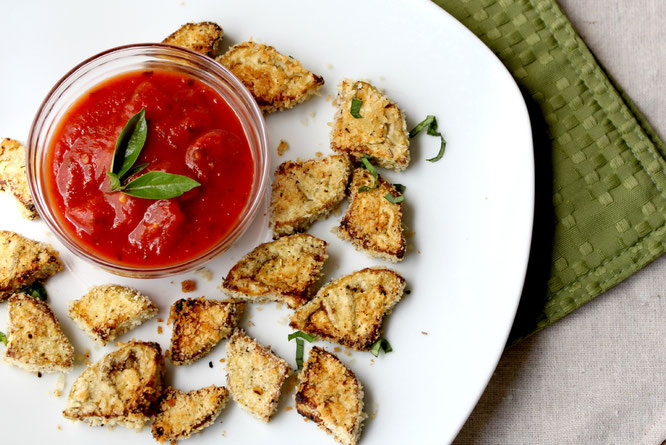 Easy Eggplant Bites

Makes about 2 cups of eggplant bites, or 4 servings

Ingredients:
1 medium eggplant, washed and peeled


2 tablespoons mayonnaise

1 cup panko breadcrumbs

1 tablespoon dried Italian seasoning

1/4 teaspoon garlic powder
Directions:

Preheat the oven to 425 degrees.  Cut the eggplant in half long-ways, then cut each half into 2-3 strips, depending on the size of the eggplant.  Cut each strip into bite-sized pieces each about 1/2 inch thick.

Place the breadcrumbs, Italian seasoning, and garlic powder into a medium bowl and toss to combine.
Place the mayo in a large bowl. 
Place all the eggplant bites into the bowl with the mayo and toss to coat them all in the mayonnaise.
Transfer the bites a few at a time into the panko mixture, tossing them to coat with the breadcrumbs.  Place the bites on a foil-lined and lightly greased baking sheet.
Bake for about 20 minutes, turning the bites over halfway through cooking time for more even coloring.

*Serve with marinara sauce for dipping and garnish with fresh basil if desired. 

 Happy Eating!
~Amber
---
---