This delicious lemon-herb chicken with roasted veggies absolutely delicious as a main dish but also makes the best Italian panini the next day!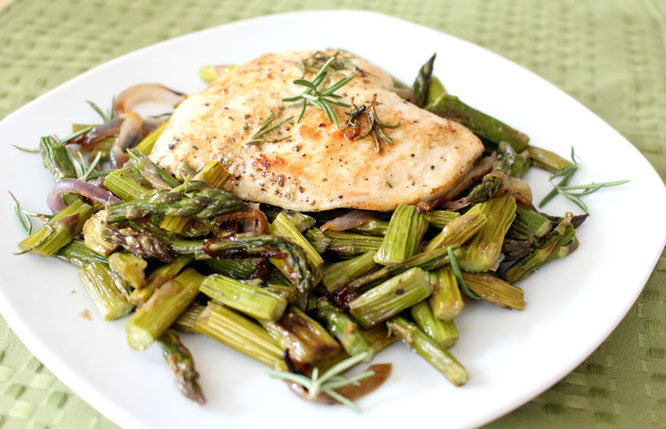 Anytime a recipe can be made one way, then served differently at a later meal, I consider it a huge success!  It's not always very fun to heat up the same old leftovers the next day, but when the same food from yesterday can be tweaked just a little to make a whole new meal, it becomes much more exciting.  And exciting food is way more likely to help us stay on track with eating well than boring food is.  ;)
I've worked with several clients who say they just don't eat leftovers.  The problem with this is not using extra food for leftovers means you either have to start all over and cook something new everyday, or you end up wasting a lot of food.  Neither of those sound very good to me.  I've seen people do very well making a base of 2-3 recipes each week, and  using those base recipes for leftovers for an additional  2-3 other days during the week.  This means you only actually cook new food a couple of times a week (or all at the beginning of each week), then save a lot of time on those other extra busy days.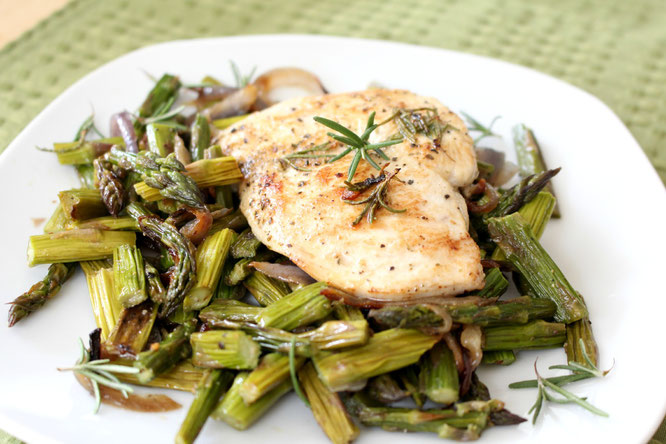 There is so much delicious flavor happening in this dish, plus it's super easy to put together because everything marinates in the same seasonings and bag all at the same time.  The best way to make this is to put the raw chicken and veggies into a bag or container with the marinade the night before, then when you get home and are ready to make dinner the next day, simply put the veggies into a pan and roast them in the oven and quickly cook the chicken in a skillet.  It comes together in right around 20 minutes, and most of that is just waiting for the vegetables to get nice and tender in the oven.  You could serve this meal with just the chicken and vegetables, or make some whole grain pasta to toss with the veggies.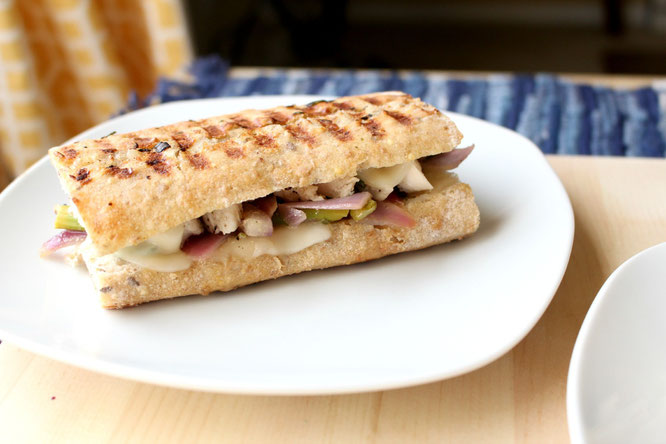 Any leftovers from this chicken and veggies dish make the best panini the next day!  When you put these ingredients between two pieces of multigrain baguette and add a little cheese, it basically tastes like an ultra-flavorful melty chicken parmesan sandwich without the marinara.  To me, it's the perfect light yet filling sandwich.  Serve with some fruit on the side and you're good to go with a brand new way to enjoy last nights' dinner ready in under 15 minutes!

If you're in a smaller household and cooking for one or two, go ahead and make the whole recipe so you'll have leftovers for the paninis.  And if you're cooking for four, it's just as easy to double the recipe so you'll be able to enjoy the sandwiches for another meal too.  Because you won't want to miss this panini recipe - it's pretty awesome, if I do say so myself! ;)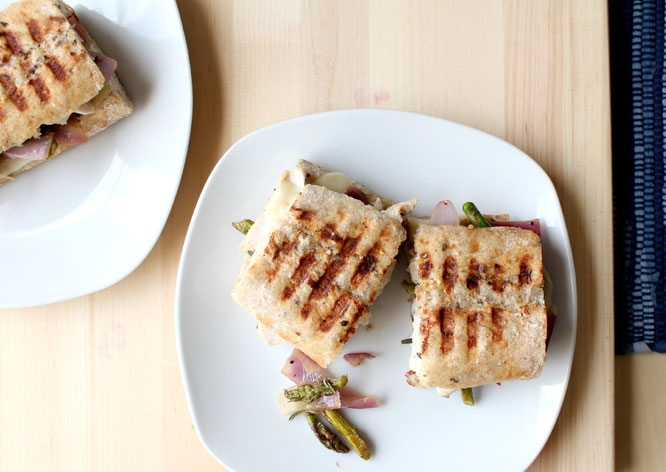 Lemon-Herb Chicken with Roasted Vegetables

Makes 4 servings
Ingredients:
1 pound boneless skinless chicken breast cutlets

Juice of 1 lemon (about 1/4 cup)

2 cloves garlic, chopped

2 tablespoons fresh rosemary, chopped (or 2 teaspoons dried rosemary)

1/4 cup canola oil

1 bunch asparagus, chopped

1 small red onion, sliced

Salt and pepper to taste

Directions:

Place all ingredients in a large zip-lock bag or container and refrigerate at least 2 hours but preferably overnight.



Preheat oven to 425 degrees.  Remove the chicken cutlets from the bag and set aside.  Pour the vegetables and marinade onto a baking sheet lined with foil.  Bake for about 20 minutes, stirring the vegetables about halfway through the cooking time.  The vegetables are done when they are tender.

While the vegetables are cooking, heat a non-stick or cast-iron skillet over medium-high heat.  Cook the chicken for 3-4 minutes per side or until cooked through. 

Serve the chicken and vegetables together on their own, or cook some whole grain penne pasta and mix it in with the vegetables just before serving. 

Happy Eating!
~Amber
---
Use leftover chicken and veggies in these delicious paninis!
---
Lemon Herb Chicken Parmesan Panini

Makes 2 servings
Ingredients:
Non-stick cooking spray

2 leftover cooked lemon-herb chicken breasts, cut into strips (recipe above)


1 cup leftover lemon-herb roasted veggies (recipe above)

2 slices reduced fat mozzarella cheese, each cut in half

2 small whole grain baguettes or 4 slices whole grain bread
Directions:

Preheat panini press or non-stick skillet over medium high heat.  Place half of the cheese on the bottom half of each baguette. 

Top with half the leftover chicken and vegetables, then the rest of the cheese on each sandwich.  Place the top bread on the sandwich.  Lightly spray the outside of each sandwich with cooking spray.




Cook the sandwiches for about 3-4 minutes in the panini press or 2-3 minutes per side in a skillet, or until the cheese is melted and the bread is lightly golden in color. 
Happy Eating!
~Amber
---
---