This mango pineapple chutney is full of flavor and makes a delicious addition to sandwiches, quesadillas, or as a quick snack with some whole grain crackers.  There's also a bonus recipe for avocado chutney quesadillas at the end of the post!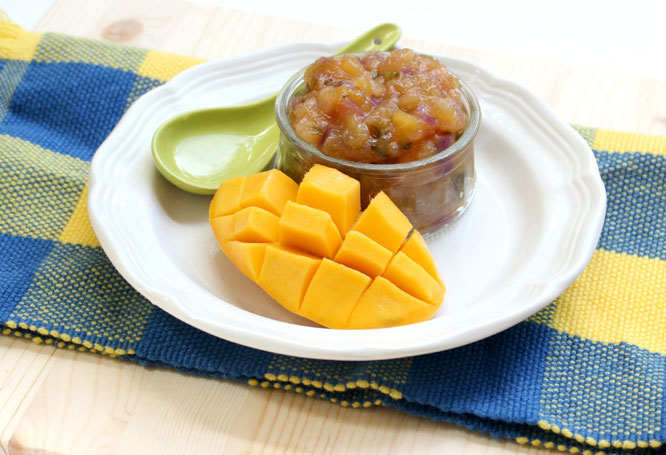 I like to think of chutney as a chunky jelly or jam that usually has both sweet and hot flavors together.  You can buy lots of pre-made versions at the store, but it's actually really easy to make at home.  Making it at home also means you can control the quality of ingredients, especially the amount of sugar, which is usually a main ingredient in chutney.  This version only uses 1/4 cup of sugar, so it's a little healthier than your standard store-bought or restaurant version, but still has all the flavor! 
Fresh mango works beautifully in this recipe, but so does frozen mango.  Frozen mango is a great shortcut here, and you can also use canned crushed pineapple as a quick addition instead of fresh pineapple.   That's the beauty of this recipe:  use what you have and it will come out great every time!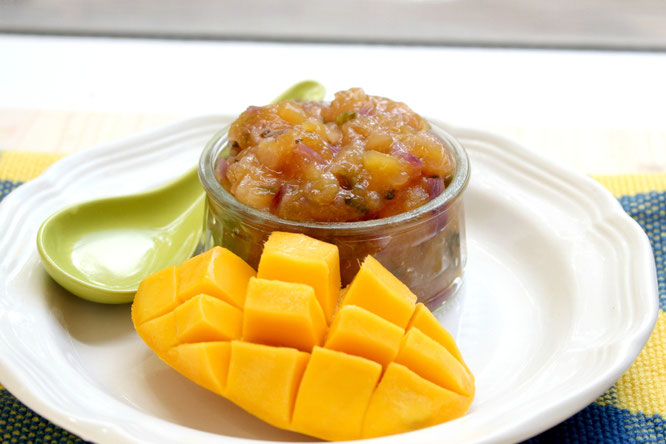 This recipe is really simple.  All you have to do is put all of the ingredients in a saucepan, bring it to a simmer, and cook it for about 20-25 minutes, stirring it a few times.  It thickens and reduces all on its' own.  And if you like the texture to be a little less chunky, you can use a potato masher to mash the chutney about half way through the cooking time.  Once cooked, let the mixture cool and store it in an air-tight container in the fridge and it should last at least a week or two.  You could also portion it out in small baggies or containers and freeze for up to two months.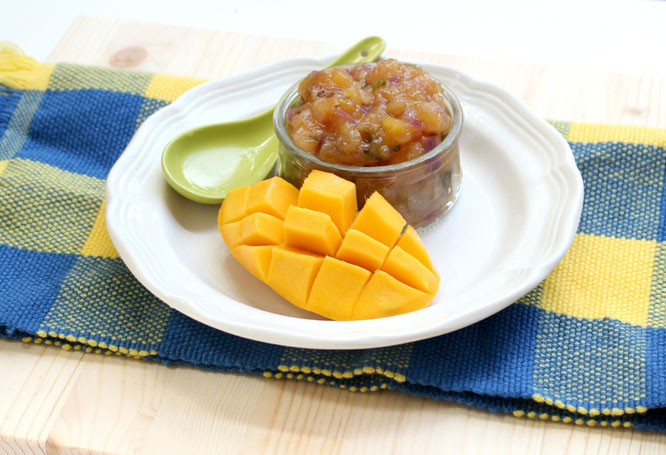 Mango Pineapple Chutney

Makes about 1 cup or 6-8 servings

Ingredients:
1 cup chopped mango, fresh or frozen


1 large jalapeno, seeded and chopped

1/4 cup finely chopped pineapple or crushed canned pineapple with juice

1/4 cup water

1/4 cup sugar

1/4 cup finely chopped red onion

1/2 teaspoon fresh grated ginger
Directions:

Combine all ingredients in a small saucepan and heat over medium-high heat until the mixture begins to boil. 




Reduce heat to low, and simmer for 20-25 minutes, stirring occasionally. 
*Use as a spread on sandwiches, quesadillas, whole grain crackers, or serve over cooked fish or chicken. 
Happy Eating!
~Amber
---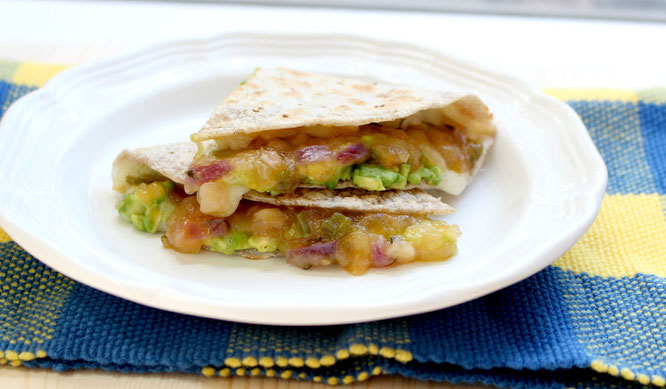 ---
Avocado Mango Chutney Quesadilla

Makes 1 serving

Ingredients:
1 whole grain tortilla


1/4 shredded mozzarella cheese

1/4 cup pineapple mango chutney (recipe above or your favorite pre-made chutney)

1/4 cup mashed avocado
Directions:

Preheat a non-stick or cast iron skillet over medium high heat.  Place the tortilla in the skillet, spread the cheese over the tortilla, then the avocado and chutney. 

Cook for about 5 minutes or until cheese is melted and ingredients are heated through.  Fold the tortilla in half and serve.

Happy Eating!
~Amber
---